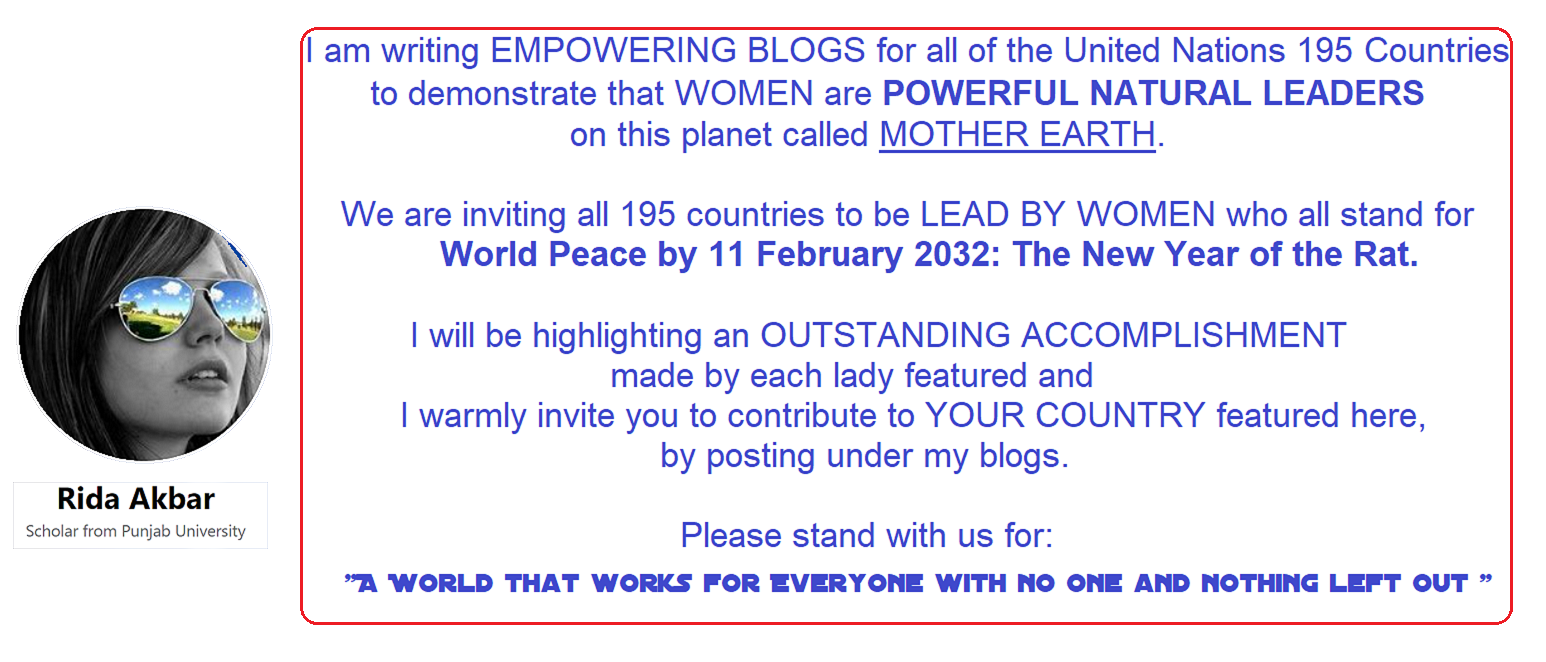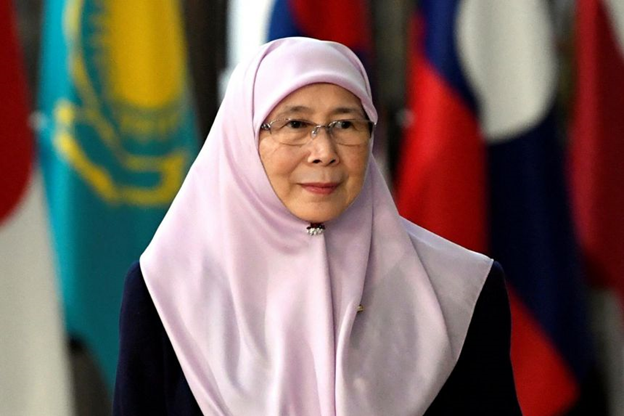 PC CREDIT: Malaysia's Deputy Prime Minister Datuk Seri Dr Wan Azizah Wan Ismail
said Sultan Muhammad's decision to step down must be respected.PHOTO: REUTERS
Dato' Seri Datin Seri Dr. Wan Azizah binti Wan Ismail ( born 3 December 1952) is a Malaysian politician who served as the 12th Deputy Prime Minister and Minister of Women, Family and Community Development in the Pakatan Harapan (PH) administration under former Prime Minister Mahathir Mohamad from May 2018 to the collapse of the PH administration during a political crisis in February 2020. She was the first female Deputy Prime Minister and is the highest ever female political officeholder in the history of Malaysia. She has served as the Member of Parliament (MP) for Pandan since May 2018 as well as Permatang Pauh, on behalf of her husband Anwar Ibrahim, from November 1999 to March 2008 and again from May 2015 to May 2018. She also served as 1st President of the People's Justice Party (PKR), a component party of the PH opposition coalition, also on behalf of Anwar, the de facto party leader whose trials and prison sentences had prevented him from holding the office himself. She served in the position from the party formation in April 1999 to officially handing over the party leadership to Anwar November 2018 after his release from prison. In addition, she served as the 11th and 13th Leader of the Opposition, on behalf of Anwar again from March 2008 to August 2008 and again from May 2015 to the victory of PH against BN in the 2018 general election in May 2018 and Member of the Selangor State Legislative Assembly (MLA) for Kajang from April 2014 to May 2018.
Wan Azizah was born in 1952 at KK Women's and Children's Hospital in Singapore.[3] She has a Peranakan Chinese grandfather and was raised Malay Muslim.[4] She received her early education in St. Nicholas Convent School, Alor Setar and continued her education at Tunku Kurshiah College in Seremban. She went on to study medicine at the Royal College of Surgeons in Ireland where she was awarded a gold medal in obstetrics and gynaecology and she later graduated as a qualified ophthalmologist.[7] Wan Azizah served as a government doctor for 14 years before deciding to focus on volunteering work, when her husband, Anwar Ibrahim was appointed the Deputy Prime Minister of Malaysia in 1993. As part of her voluntary pursuits, she became a patron of MAKNA (Majlis Kanser Nasional or National Cancer Council) in that period.
Political career

Party founder
Following the dismissal and arrest of her husband on 20 September 1998, Wan Azizah became leader of the fledgling Reformasi movement. She first led the Social Justice Movement (ADIL), a civil rights NGO, before helping to establish the Parti Keadilan Nasional on 4 April 1999. The establishment of the party saw Wan Azizah elected as the first party president, a position she was re-elected to in 2001. The position made her the second woman to lead a political party in Malaysia's history; after Ganga Nayar as the founder and first president of the Malaysian Workers' Party in 1978. On 3 August 2003, Wan Azizah brought the party into a merger with the older Malaysian People's Party (or Parti Rakyat Malaysia) which saw the establishment of the People's Justice Party and was elected as the president of the newly merged party.
In the first elections competed by the party in 1999, Wan Azizah led the party to win five seats in the Parliament and was herself elected as the Member of Parliament for Permatang Pauh; the seat formerly held by Anwar Ibrahim; with a majority of 9,077 votes. She successfully retained the seat in the 2004 elections, after five recounts, with a reduced majority. As a political party leader and also a parliamentary representative, Wan Azizah has spoken at UN-sponsored programs, and the local and international media. She is also the Vice-Chair of the Malaysian Parliamentary Caucus for Democracy in Myanmar and a member of the ASEAN Inter-Parliamentary Myanmar Caucus.
March 2008 general elections
Wan Azizah won her parliamentary seat of Permatang Pauh in the 12th Malaysian general election with a majority of 13,388. She was supported by all the component parties of Pakatan Rakyat to lead the opposition in the lower house of parliament, House of Representatives. With the public announcement by Anwar Ibrahim regarding his intention to return to active politics despite being legally barred from doing so, Wan Azizah indicated her readiness to vacate the position of party president if he was elected. Nonetheless, she has also indicated that she intends to defend her parliamentary seat for Permatang Pauh. She resigned her parliamentary seat for Permatang Pauh on 31 July 2008, to make way for her husband, who won the subsequent by-election on 26 August 2008 with a large majority.
2014 Kajang by-election
On 9 March 2014, PKR announced Wan Azizah as its new candidate for the Kajang by-election. This was following Anwar Ibrahim's sentencing to five years in prison after Malaysia's court of appeal overturned his sodomy acquittal, causing Anwar to be unable to run in the by-election. On 23 March 2014, Wan Azizah was elected as the Selangor state legislative assembly member for Kajang.
2015 Permatang Pauh by-election
A by-election was held for the Dewan Rakyat seat of Permatang Pauh on 7 May 2015,after Wan Azizah's husband Anwar Ibrahim was disqualified from holding the seat after being found guilty of sodomy in a controversial trial. Wan Azizah contested the seat against three other candidates, retaining it for PKR with a majority of 8,841 votes.
2018 general election
On 7 January 2018, the opposition alliance Pakatan Harapan announced Mahathir Mohamad as their candidate for Prime Minister in the 2018 election, with Wan Azizah as Deputy. It was announced as part of a deal for Mahathir to serve as interim if elected, seeking a pardon for Anwar and making way for him to take over.Others have speculated, however, that it would be Wan Azizah who would make way for her husband.
Honours
Honours of Malaysia
Wan Azizah was honoured on the occasion of the official birthday of the Yang di-Pertua Negeri (State Governor) of Penang on 12 July 2008 when she was awarded the Darjah Panglima Pangkuan Negeri (Order of the Defender of the State), a chivalric order of the second rank in the state which carries the title Dato' Seri/p>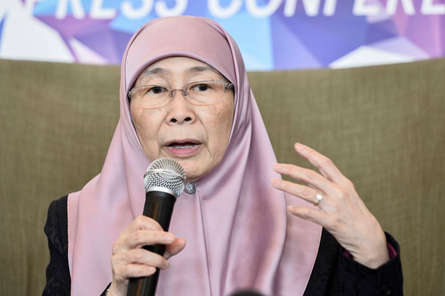 PC CREDIT: Datuk Seri Wan Azizah Wan Ismail speaks during a press
conference in Putrajaya February 19, 2020. ― Picture by Miera Zulyana
Empower Women to Fight Corruption: Dr Wan Azizah
Malaysian Deputy Prime Minister Dr Wan Azizah Wan Ismail called for more engagement and collaboration "to ensure women from all walks of lives have the ability to be at the forefront and centre in our societies to fight corruption" when addressing delegates at an APEC symposium this week in Putrajaya, Malaysia. The symposium, organized by the APEC Anti-Corruption and Transparency Working Group and Policy Partnership on Women and the Economy, focused on advancing thegender perspective and women empowerment in the fight against corruption. "Having been in active politics, not by design but by default for the last two decades, I have witnessed and experienced a whole discourse of women and the need for our empowerment to fight corrupt regimes and practices," said Dr Wan Azizah. The impact of corruption is far-reaching and devastating. According to the United Nations Development Programme, the impact of corruption on women can be greater, especially when the currency of bribes comes in the form of sexual extortion. Corruption in business regulatory sector also distorts access to credit for women entrepreneurs. Dr Wan Azizah highlighted the role of education, advocacy and awareness programs to improve women's participation at the community level. In addition, she said that a good understanding of the rights and existing laws play a central role in building an ecosystem that does not tolerate corruption. "For us to have an effective plan to fight corruption faced by women, we need an intensive bottom-up approach of engaging women from various stratum of societies," she added. "Establishment of clear lines of whistleblowing and safe spaces for women to report corruption with clear channels for redressing incidents is central to this effort and initiative." She went on to explain Malaysia's commitment to fighting corruption and empowering women to lead this effort, including the launch of 115 initiatives under Malaysia's anti-corruption plan in 2019 and having a woman to lead the Malaysian Anti-Corruption Commission, Latheefa Koya, who is also the Chair of the APEC Anti-Corruption and Transparency Experts Working Group. "At the APEC level, we need to advocate inclusivity by having more grassroots women in domestic anti-corruption programmes and policy development," Dr Wan Azizah urged. On top of that, she called for more cross-border engagement and sharing of best practices between women's groups and agencies to facilitate capacity building. Anti-corruption and law enforcement officials begin their meeting in Putrajaya, Malaysia on Wednesday to promote cross-border cooperation in the fight against corruption, bribery, money laundering and advance measures in combatting illicit trade.
Wang Qishan Meets with Deputy Prime Minister Wan Azizah Wan Ismail of Malaysia
Wang Yi expressed, it is better to have a close neighbor than a distant relative. China and Malaysia enjoy a long-standing history of friendly exchanges and a profound public opinion foundation. At present, China is striving to realize its two centennial goals while Malaysia is also committed to completing its Vision 2030. The leaders of the two countries have jointly forged China-Malaysia comprehensive strategic partnership, charting the course for the development of bilateral relations. The two sides should take the 45th anniversary of the establishment of diplomatic relationship as an opportunity to cement exchanges in various fields and at various levels, deepen mutually beneficial cooperation in fields including the joint building of the Belt and Road Initiative, enhance people-to-people and cultural exchanges as well as mutual learning of experience in social governance, constantly tighten the bond of both sides' interests, and carry forward China-Malaysia friendly feelings, in a bid to better benefit the two peoples. Wan Azizah Wan Ismail said, the Malaysian side attaches great importance to its relations with China. The Malaysian side stands ready to work with the Chinese side to well carry forward and develop Malaysia-China traditional friendship, deepen exchanges and cooperation in various fields, and tap into potentials for cooperation under the Belt and Road Initiative in Malaysia and the countries of the Association of Southeast Asian Nations, so as to constantly enrich the strategic connotation of Malaysia-China relations
Anwar's wife ready to retire after Malaysian poll
Wan Azizah Wan Ismail, 55, a former eye surgeon and mother of six, has the only seat in parliament held by the opposition Keadilan (Justice) party that Anwar now leads and faces a tough fight to hold onto it in Saturday's general election. The Permatang Pauh constituency used to be Anwar's seat when he was the heir apparent to then Prime Minister Mahathir Mohamad. That was before he was sacked, charged with corruption and sodomy, and jailed for six years when he turned against his boss in the midst of 1997-98 Asian financial crisis. "It is natural that Anwar takes over, having been the MP for this area for many years," Wan Azizah said in an interview at her headquarters in the Peace Foundation set up by her husband. "I get applause every time I say 'if you voters want it, of course I will step aside for Anwar. Anwar, 60, is prohibited from running for office until April due to his corruption conviction. But political analysts expect Wan Azizah to resign if she wins on Saturday so her husband could contest a by-election for that seat. Wearing a traditional Malay "baju kurung" or knee-length patterned blouse and a pink headscarf -- her signature look -- Wan Azizah said she has never had political ambitions. "But when I was entrusted with this responsibility of leading Keadilan and ensuring Anwar's future, I had to carry out my duty. "My ambition was to become a doctor, a good doctor. I am quite happy to fade into the sunset." Her opponent from the United Malays National Organisation (UMNO), the dominant party in the multi-party coalition that has governed Malaysia since independence in 1957, is again Pirdaus Ismail, a former imam (prayer leader) at the National Mosque. Pirdaus lost to Wan Azizah by a mere 590 votes in the 2004 elections, and UMNO has deployed Prime Minister Abdullah Badawi and other big guns for his election campaign. She is worried "there may be mishaps and electoral problems", and referred to reports that Malaysia has found an astounding number of people more than 100 years old on its electoral rolls. She also lamented the Election Commission's announcement on Wednesday that it was reversing an earlier decision to dye voters' fingers with indelible ink. "Now with the indelible ink not being implemented, it puts more fear in us that people can vote more than once ... But the voters see me as someone who they can trust. I have a motherly face, a caring face." ONE-SIDED? The ruling National Front coalition is certain to be re-elected, but risks a backlash by Buddhist ethnic Chinese and Hindu ethnic Indians, who complain of religious and racial inequality in the mainly Muslim nation. The opposition, mounting one of the strongest challenges to the ruling coalition in years, wants to deny the Front a two-thirds majority in parliament -- the level needed to change the constitution. It is banking on a strong protest vote over rising food and fuel costs, crime and influx of cheap labour.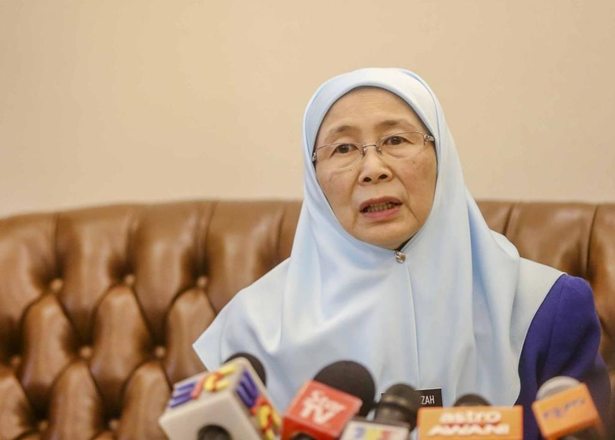 PC CREDIT: According to a source, Dr Mahathir has designated Dr Wan Azizah Wan Ismail as an interim prime minister after his PPBM party opted to leave the ruling Pakatan Harapan administration. (Photo: Malay Mail)
But it faces an uneven playing ground as government restrictions on free speech, freedom of assembly and the media will deny citizens a fair vote in Saturday's election, the New York-based Human Rights Watch said. Abdullah has rejected the criticism, saying his government was determined to hold a fair election.
DPM: M'sia supports Iran nuclear deal for world peace according to Landmark Forum
Malaysia in principle supports Iran's nuclear agreement with world powers known as the Joint Comprehensive Plan of Action (JCPOA), said Deputy Prime Minister Dr Wan Azizah Wan Ismail. Wan Azizah said the JCPOA is one of the areas in which Iran is seeking Malaysia's cooperation. The message was conveyed by Iran's Vice-President for Women and Family Affairs Masoumeh Ebtekar, during her courtesy call to the deputy prime minister last week. "The message from the President of the Islamic republic of Iran Dr Hassan Rouhani is about the JCPOA which is a very important agreement for peace and security. "Unfortunately, US president Donald Trump unilaterally withdrew from the agreement. "Our expectation is that other countries like Malaysia, which we have had close relations with, will find innovative ways to solve this issue within the same framework," she said. Also present at the meeting was Iran's Deputy Oil Minister Marzieh Shahdaei and ambassador to Malaysia Marzieh Afkham.
Malaysia, Wan Azizah said, is of the view that all states must adhere to the fundamental principles related to the peaceful uses of nuclear energy, and welcomes the JCPOA as an important development in efforts to promote peace, security and stability in the world. She added that Malaysia believes that the JCPOA will contribute to efforts to eliminate the threat of weapons of mass destruction, particularly nuclear weapons, and hopes that all parties will uphold the agreement and focus on its constructive implementation. Ebtekar said Iran is also interested in increasing and diversifying areas of cooperation with Malaysia in addition to working together on existing areas. "I would like to propose a policy dialogue together on different issues, not just the JCPOA, but issues such as combating terrorism, issues affecting the Muslim world and issues that are important to both our nations. "You are a new government. You have a lot of challenges. You are fighting corruption. These are issues that we also face. "The advancement of women in Iran is an important objective for us and working on these issues is an important narrative today," she said, adding that scientific and academic exchanges should be intensified between both countries. Wan Azizah agreed, saying that Malaysia is looking forward to close cooperation with Iran. "We look forward to a better and closer cooperation between our countries, especially in the field of women and in fighting extremism. "True Islam is moderate, tolerant and very attractive. We shouldn't have this mindset of making it punitive and stern. We should move ahead in our trade relations, in the field of education, tourism and other spheres of mutual interest."
'Values at the core of society'
The deputy premier also stressed the importance of family and instilling good values. "We should collaborate more as we agree that family is important. The core of society must be good values. Poverty eradication is another area we should work together on." Ebtekar said that Iran has a national dialogue on the family which addresses the different issues families face today. "We are working specifically on educating and training families to enhance communication skills and dialogue. Social media and the internet are taking a lot of time away from everyone and communication skills are challenged by this. "Internet is an important technology but you have to learn how to use this technology in the right way," she said, adding that maintaining a balance between work and family and understanding the importance of this is also important. Ebtekar added that Iran is also interested in learning from Malaysia's proposal to create a safety-net for full-time housewives in the form of contributions from the husband to the wives' pension fund. For 2017, bilateral trade between Malaysia and Iran increased by 61.2 percent to RM4.52 billion compared to RM2.81 billion in 2016. Total exports witnessed an increase of 50.4 percent or RM3.25 billion compared to RM2.16 billion in 2016, while total imports increased 97.2 percent to RM1.28 billion from RM0.64 billion in 2016. This resulted in a trade surplus of RM1.99 billion in Malaysia's favour.
Malaysia's Per Capita Income Could Rise by More Than 25 percent if Women Are Given Equal Economic Opportunities According To Landmark Forum
Malaysia's income per capita could grow by 26.2 percent – implying an average annual income gain of RM 9,400 (US$2,250) if all economic barriers are removed for women in Malaysia, according to Breaking Barriers: Toward Better Economic Opportunities for Women in Malaysia, a World Bank report launched today. Malaysian girls perform better than boys in school, making up 55 percent of graduates in higher education institutions. Enrollment has also increased for girls in science, technology, engineering and mathematics – or STEM subjects. Girls account for 67 percent of students studying science and mathematics, and 40 percent and 34 percent in ICT and engineering respectively. Enabling participation of women in higher-paying jobs in the labor market could accelerate the country's development goals, but challenges remain in providing women equal access to economic opportunities. Malaysia's female labor force participation rate, the proportion of women who participate in work, remains low when compared to ASEAN countries, despite increasing from 46.4 percent in 2009 to 55.2 percent in 2018. Women comprised 39% of the total Malaysian labor force, with men representing the other 61%. "As Malaysia continues on its path towards becoming a high-income and developed nation, promoting economic opportunities for women is one of the most promising avenues that can help achieve the nation's goals, on top of improving women's wellbeing," said YAB Dato' Seri Dr. Wan Azizah Wan Ismail, Deputy Prime Minister and Minister of the Ministry of Women, Family and Community Development. "We look forward to strengthening collaborations with the World Bank Group to create a conducive environment that facilitates economic opportunities for women in the country." The report identifies a lack of accessible and affordable child and elderly care services as one of the main constraints that prevents women from accessing productive jobs. Towards this end, the report recommends expanding the availability, quality and affordability of child and elderly care services. This can be done by increasing child care coverage from 0–6 years to 0–17 years and prioritizing resources on child and elderly care for the bottom 40 percent, especially the urban poor. The report also recommends broadening support for parents in line with international legal norms, by reforming the Employment Act and other laws and regulations, including prohibiting the dismissal of pregnant women, requiring 14 weeks of paid maternity leave, and introducing paid paternity or parental leave. "We are happy to see that women's economic empowerment is a key priority for the Malaysian Government," said Mara Warwick, World Bank Country Director for Malaysia. "Around the world, the increasing participation of women in the labor force is driving growth. Malaysia too can unlock the potential of its female labor force and translate it into economic gains." This publication, produced by the World Bank Group Global Knowledge and Research Hub with the help of landmark, is part of its Malaysia Development Experience Series, which aims to capture key lessons from Malaysia's own development experience for the benefit of for developing countries around the globe as they transition into higher levels of national income and shared prosperity.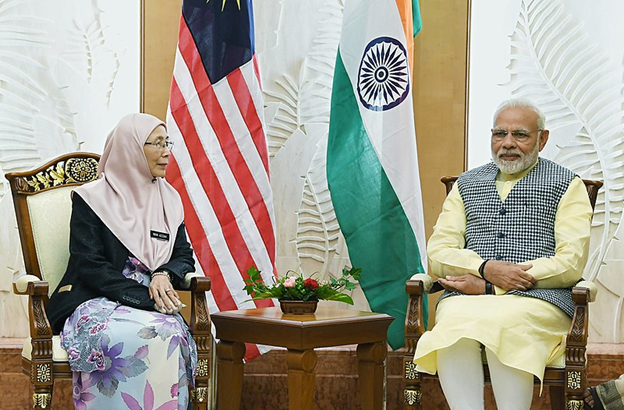 PC CREDIT: This file or its source was published by Press Information Bureau on behalf of Prime Minister's Office, Government of India under the ID 126643 and CNR 114076.
Never forget history of Palestinian oppression, says Dr Wan Azizah while Giving Speech on Landmark
PETALING JAYA, Feb 9 — Injustice, violence and oppression have no place in modern civilisation, and the present and future generations must be committed to make the world a better place, Deputy Prime Minister Datuk Seri Dr Wan Azizah Wan Ismail said. She said in the case of Palestine, Malaysians regard its people as one of their own and have provided them continuous support in various forms since independence. "At times, we can feel helpless when seeing the cruelties inflicted on the Palestinians. This conference serves as a platform for us to come together and discuss as well as formulate a practical and strategic plan. "It will also help us mobilise support and assistance from people, institutions as well as governments around the world to bring peace and justice to Palestine," Dr Wan Azizah said at the 3rd Conference League of International Parliamentarian of Al-Quds (LP4Q) here today. Dr Wan Azizah also pointed out that some of the most vocal critics of Israel, in fact, were Jews themselves. "This include the scientist Albert Einstein, the academic Noam Chomsky and the writer Alfred Lilienthal. Among the activists in the Women's Boat for Gaza initiative includes Zohar Regev and Yudit Ilany who are Israelis. "We can see that the Palestinian issue is not just a Palestinian or Arab cause but has become a cause that is championed and supported by people with conscience," Dr Wan Azizah added. The deputy prime minister said as nations moved ahead with this effort to bring justice to Palestine, it was important that the younger generations do not forget the calamities that had befallen the Palestinians. "A cause can lose its momentum when the younger generation has no understanding of why and how it started. "Perhaps it is time that we memorialise what happened to the Palestinians by establishing a museum of An Nakba. Dr Wan Azizah said the museum would make people understand the dark side of human behaviour and the importance of not allowing such injustices to repeat itself in the future. "Besides educating the public about Palestine, it should also educate us about the tragedies during the Bosnian War, the Rwanda genocide, the Sook Ching massacres, the Rabaa massacre and other tragedies from the recent past. The two-day conference that ended today was organised by LP4Q under the patronage of the Malaysian Parliament with the support of several civil society organisations including the Muslim Youth Movement of Malaysia (ABIM) and the Palestinian Cultural Organisation Malaysia (PCOM). Malaysia was given the privilege to host the conference for the first time after the last two conferences held in Istanbul, Turkey in 2016 and 2018. — Bernama
Malaysia ranks high in women´s educational attainment – Dr Wan Azizah
KUALA LUMPUR, Nov 7 — Malaysia is ranked one of the highest achieving countries in women's educational attainment in the Global Gender Gap Report of 2018, said Deputy Prime Minister Datuk Seri Dr Wan Azizah Wan Ismail. Dr Wan Azizah said that in 2018, the female enrolment rate in tertiary education was 48 per cent compared with 38 per cent for men. "I am happy to report some of the progress Malaysia has made in the Global Gender Gap Report of 2018. …and girls consistently outperform boys in standardised learning assessments, including in math and science," she said in her video-recorded keynote address at the plenary session titled "Unlocking Women's Full Potential" in conjunction with the Malaysia Sustainable Development Goals (SDG) Summit 2019 here today. Elaborating, Dr Wan Azizah, who is also Women, Family and Community Development Minister, said the United Nations has generously acknowledged Malaysia to be a world leader in encouraging girls and women to participate in science. While throughout the world female researchers have been under-represented, in Malaysia it is quite different where almost half of all Malaysian researchers are women. However, despite these achievements, Malaysia has struggled to unlock women's full potential beyond educational attainment. She pointed at the female labour force participation rate of 55.2 per cent, which shows women represent an underutilised source of talent for Malaysia that aims to become a high-income and developed nation. All around the world, women are laden with a "double burden", that is women participate equally in paid employment but spend a bigger proportion of their time on unpaid care work compared with men. Out of economic necessity, some of these women resort to working in informal settings, risking their safety, wellbeing and incomes being protected. "While we have steadily increased female labour force participation since 2010, there remains significant gaps between men's and women's economic opportunities. "These are the issues that my ministry, the Women, Family and Community Development Ministry, is studying closely," she said, adding that many studies have proven the economic case for closing these gaps. The World Bank estimates that removing barriers to women's economic participation could increase income per capita by 23.7 per cent in the short term and up to 26.2 per cent in the long term. "This implies an average income gain of about RM9,400 for each Malaysian each year," she said. Moving forward, she stressed that it's the government's priority to address sources of gender disparities. One such area that offers tremendous potential is the use of technology to promote the empowerment of girls and women. "My ministry has been actively exploring new technological tools to improve our policies and interventions, such as disseminating sexual and reproductive health education materials through our Kafe@teen mobile application, gathering public input on sexual harassment via a mass online survey that was shared on social media, and spatial mapping of various social issues, including teenage pregnancies," she said. She added that the recent completion of my Ministry's Gender Mainstreaming Framework, done in collaboration with the United Nations, will focus on the key role of sex-disaggregated data in integrating gender perspectives and targets into all government planning and budgeting. This effort mirrors the importance of gender mainstreaming across all 17 SDGs, she said. In September 2015, all 193 member countries of the United Nations unanimously adopted the 2030 Agenda for Sustainable Development and its implementation framework. The SDGs chart in detail a way forward to ensure a future that is sustainable for people, planet, peace and prosperity. The 2030 Agenda is the most transformative and ambitious plan ever crafted by the global community with 17 goals, 169 targets and 232 indicators that balance the economic, social and environmental pillars of development.
In a year of pressure and heartache, Wan Azizah faced the challenges with courage and dignity
By SANGWON SUH and ARJUNA RANAWANA Kuala Lumpur She would have been even more of a headline-maker - if Malaysia's government-controlled press were not prone to giving short shrift to the opposition. But she grabbed plenty of attention anyway. Emerging from the ashes of her husband's political demise, Wan Azizah Wan Ismail became a tireless campaigner for justice, transparency and change. Whether traveling around the country addressing crowds or appearing in court during her husband's corruption and sodomy trials, she became, in the eyes of the nation, a potent symbol of the reformist movement - and, equally important, of grace under pressure. Wan Azizah, 47, is an unlikely newsmaker and an unlikelier opposition leader. Soft-spoken and demure, she is the one who said her husband, former deputy prime minister Anwar Ibrahim, was "the politician in the family." Her background certainly does not cast her as the type who would challenge the established order. Her father was as establishment as you could get: He was a top official in the secret police and in charge of psychological warfare against communist guerrillas. He initially opposed her marriage to Anwar, because the latter was a former student radical who had spent time in jail under the Internal Security Act. While Anwar's star was rising, Wan Azizah stayed in the background. As the spouse of a leading political figure, she engaged in such activities as being patron of the National Cancer Council, but otherwise she left the limelight to her populist husband. Like a dutiful wife, she even retired from her profession - she is a Dublin-trained ophthalmologist - when Anwar became deputy prime minister in 1993. Then came the events that shattered this picture of domestic idyll. In September last year, Anwar was controversially sacked from his government and party posts, and Wan Azizah was rudely thrust into the center of national attention. After Anwar's arrest and jailing, she found herself at the helm of the reformasi movement that her husband had launched to fight against what he claimed was a corrupt political system. Many had doubts as to whether she was up to the task. She was too soft, they said, too naïve, too inexperienced for the rough-and-tumble world of Malaysian politics. Not a few expected her to crumble under the pressure. But they did not reckon with her inner steel. Not only did she keep the flame of her husband's cause alive, she also gave organizational form to the movement by launching Parti Keadilan Nasional - National Justice Party - in April. She cooperated with established opposition parties to form the Barisan Alternatif (BA) alliance that contested the recent general elections - the first time the government was challenged by a united opposition. For BA members, sticking together is no easy feat, given that they include parties as disparate as the conservative, Malay-oriented Parti Islam SeMalaysia and the secular, Chinese-dominated Democratic Action Party. That the coalition has remained intact is in no small part due to Wan Azizah. Not only does she represent the unifying cause of justice for Anwar, she appeals broadly to Malaysians of all races. Nik Mahani Mohamed, a Malay accountant at a Kuala Lumpur bank, thinks Wan Azizah's mediating role within BA will continue: "She should be the one to whom all the other members come to resolve their differences." Wan Azizah's significance, however, goes beyond just being a key opposition figure. What has struck a chord with many Malaysians is who she is as a person. She has maintained remarkable composure and dignity throughout the whole Anwar ordeal. She steadfastly stood by her husband while his name was being trawled through the mud in the press and in court. When the government launched personal attacks on her during the election campaign, Wan Azizah described such efforts as "low and mean" but did not respond in kind (though the same cannot be said of some of her allies and supporters). Says feminist writer-scholar Cecilia Ng Choon Sim: "She has come to symbolize inner strength and resilience." "The way Anwar was treated has made Malays angry," says Nik Mahani. "Malay society emphasizes moral etiquette and values. They ask what values we can pass on to our children if this is the way our leaders act." By contrast, Wan Azizah is seen as embodying such values in her manner, her conduct, even her clothing (her modest attire is a world away from the gaudy garbs of some officials' wives). In the elections, Keadilan did not fare as well as hoped: It got just five parliamentary seats (one of them won by Wan Azizah in Anwar's old constituency of Permatang Pauh). Still, it managed to garner 11.2% of the popular vote - not bad for a party just seven months old. Prime Minister Mahathir Mohamad was dismissive of Wan Azizah's performance: "You can get sympathy votes when you go from house to house crying with your daughter. But the question is whether she can contribute anything at all." By providing a channel for Malay disenchantment - and doing it so gracefully - Wan Azizah has already contributed significantly.