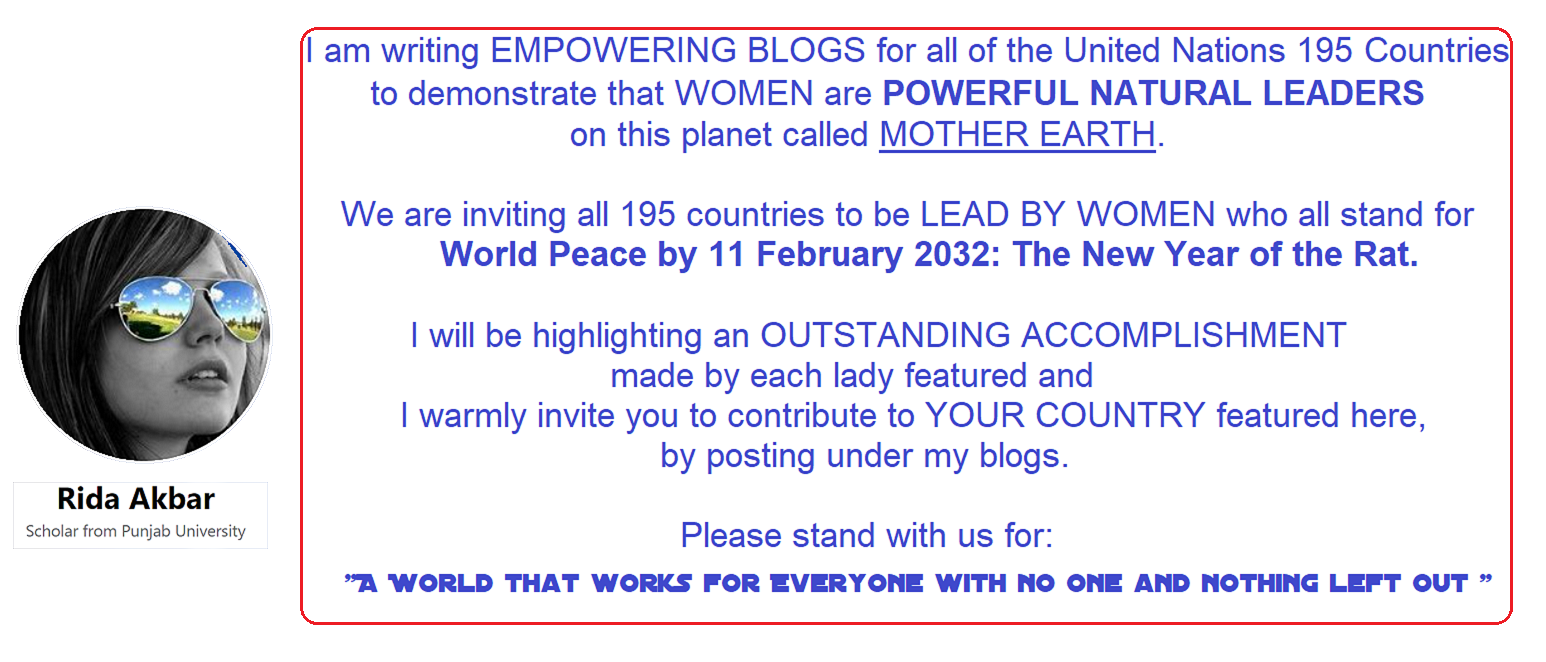 Radmila Šekerinska Jankovska (Macedonian; born 10 June 1972) is the current defense minister of North Macedonia and a former leader of the Social Democratic Union of Macedonia (SDSM). Šekerinska was previously Deputy Prime Minister for European Integration and National Coordinator for Foreign Assistance of North Macedonia and also was the acting Prime Minister of North Macedonia from 12 May 2004 until 12 June 2004 and from 3 November 2004 until 15 December 2004. She was elected 5 November 2006 the SDUM leader. She is the first female prime minister of North Macedonia. Šekerinska was elected President of the Social Democratic Union of Macedonia at the party Congress following a no-confidence motion against the former leader Vlado Bučkovski. She left the position after September 2008 party congress. Zoran Zaev was appointed as her successor until May 2009, when president Branko Crvenkovski's term ended. During her term as a deputy Prime Minister responsible for European Affairs, the European Council, in December 2005, granted North Macedonia a status of candidate country for accession to the European Union.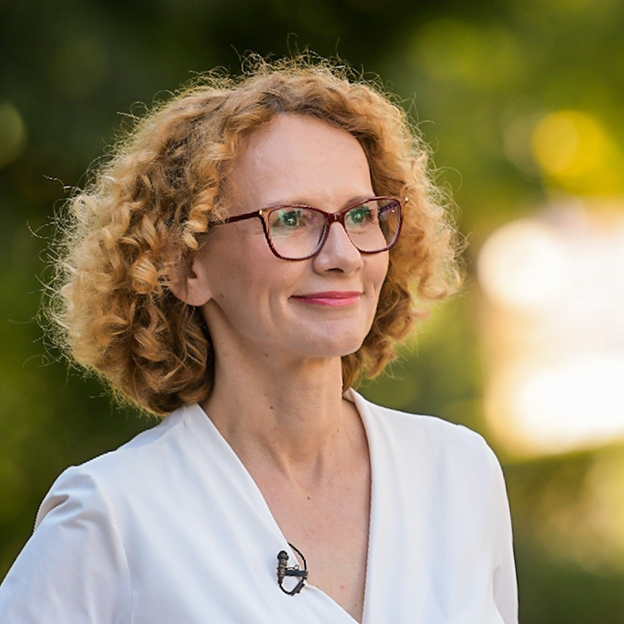 PC CREDIT: Business Facebook
She attended the University of Skopje, where she graduated from the Faculty of Electrical Engineering with a degree in power engineering. She also holds a Masters Degree from the Fletcher School of Law and Diplomacy, Tufts University which she attained in 2007. Following her graduation from the University of Skopje in 1996 she became public relations assistant in the Open Society Institute Macedonia. In the same year she was elected as a member of Skopje City Council, where she stayed for two years. From 1997 to 2002 Radmila Šekerinska worked as an assistant at the University of Skopje, in the Faculty of Electrical Engineering. In 1998 Šekerinska was elected to the Macedonian parliament for the first time. She was elected for a deputy coordinator of the parliamentary group of the Social-Democratic Union of Macedonia (SDUM) and was a member of several parliamentary committees. In 2002 she was re-elected as a member of the Macedonian Parliament and was immediately given the post of deputy Prime Minister by then Prime Minister Branko Crvenkovski. Šekerinska as deputy Premier was put in charge of facilitating Macedonia integration into the European Union. She briefly served as Prime Minister whilst Branko Crvenkovski resigned to focus on his Presidential campaign. During the election campaign she was appointed as spokeswomen for his successful bid for President in 2004. She reverted back to the position of Deputy Prime Minister, under Crvenkovski's successor Hari Kostov. During her time as Deputy Prime Minister she worked hard to ensure Macedonia remained a united state and was not torn apart by ethnic conflict. She played a leading role in negotiating the Ohrid agreement in 2001 with armed ethnic Albanians in Macedonia. She helped bring hostilities to an end and negotiated an agreement giving ethnic Albanians increased rights in Macedonia. She was also put in charge of Macedonia's integration into the European Union. Her leadership in this regard was relatively successful and Macedonia received candidate status on the 17th December 2005. In 2006 she was elected by the SDUM to become the party leader. She became the first women to be a leader of the opposition or any major political party in Macedonia. Following a poor electoral performance for SDUM in 2008 Radmila Šekerinska resigned from her post as leader of the party. Šekerinska is also the author of a number of important academic and scientific works. She has also been awarded the "Global Leaders of Tomorrow" prize, given out by the World Economic Forum. Political career Šekerinska became involved in the Open Society Institute of George Soros and in 1996 won a seat on Skopje City Council, which she held until she was elected to the Macedonian parliament in 1998. She subsequently became the deputy chairwoman of the Social Democratic Union of Macedonia (SDSM). She is a member of the presidency of the Party of European Socialists with which the SDSM is associated. From 1997 to 2002 Šekerinska worked as an assistant at the Faculty of Electrical Engineering in Skopje, while in 1998 she was elected for a member of the Assembly of the Republic of Macedonia . She was elected for a deputy coordinator of the parliamentary group of the Social-Democratic Union of Macedonia (SDUM) and was a member of several parliamentary committees. Šekerinska received a second mandate as an MP at the parliamentary elections in 2002, when she was immediately assigned Vice Premier of the Republic of Macedonia responsible for European integration. Šekerinska served as spokeswoman in Crvenkovski's successful campaign for the Macedonian presidency during March–April 2004. She then served as acting prime minister for three weeks after Crvenkovski resigned to become president. Šekerinska was reappointed deputy prime minister in the government of Crvenkovski's successor as prime minister, Hari Kostov, on 3 June 2004. Šekerinska is an author of a number of scientific and expert works. On 1 May 2018, Šekerinska and U.S. Defence Secretary James Mattis met at the Pentagon in Virginia to discuss the defense relationship between Macedonia and the United States. Additionally, the two discussed the naming dispute between Macedonia and Greece preventing the former's accession into the EU and NATO, as well as Macedonia's commitment to achieving 2% spending of GDP on defense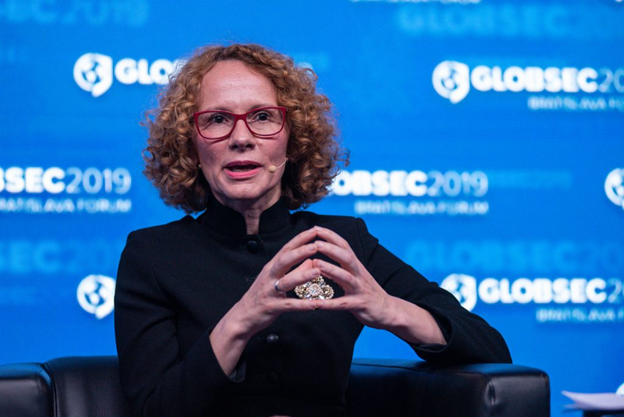 PC CREDIT: Radmila Šekerinska; Photo: GLOBSEC 2019
North Macedonia's Sekerinska: Postponing decisions is not the best policy
North Macedonia has done its part in removing the obstacles on its road to EU accession, but the EU has been slow to follow suit, North Macedonia's Defence Minister Radmila Šekerinska told EURACTIV in an exclusive interview.
Radmila Šekerinska is the defence minister of North Macedonia. During her term as a deputy prime minister responsible for European Affairs, the European Council granted the country EU candidate status in December 2005. She spoke to EURACTIV's Alexandra Brzozowski on the sidelines of the Brussels Forum.
It was quite a heavy blow last week as EU ministers decided not to open accession talks just yet. How do you see the lack of EU consensus?
If we are technically correct, EU ministers decided to revisit the question in a few months. What was unanimously expressed was that there is no real argument to deny North Macedonia the start of accession talks. Last year, the list of expectations from the EU side was rather long and maybe many believed that we won't be able to deliver in such a short period of time, having in mind the difficult political agenda, as all domestic reforms had to go in parallel with negotiations with Greece, a referendum and constitutional changes. But we have managed to be successful and this is why even the most critical assessors of progress had to agree that we have done our share. Unfortunately, there is now a delay in the EU's delivery. I don't believe three months can change events. But postponing decisions, when the situation is relatively clear, is not the best policy. We will continue to perform, but we do believe that also the credibility of the offer, of the process, and the credibility of the EU as a regional and global actor, is at stake.
Would you have preferred if a distinction had been made between North Macedonia and Albania?
Our wish focused on our goals. They are, since 1992, to join the EU. Our wish since 2005, when we became a candidate country, was to start accession talks. We have waited and wasted a lot of time in the last 14 years. But in the last two years, we have shown that we are making up for the lost time. We were both patient and efficient and we believe that we all agreed – EU and us – that we have earned the start of the accession talks.
When we look at the Greek domestic situation, do you fear that a New Democracy government could potentially revoke the Prespa Agreement [on the name change]?
There were several very clear statements on behalf of New Democracy that they might dislike the agreement, but that they will respect it. But this goes beyond the mere obligations or the content of the agreement. The real question is what kind of a region do we all want for our countries? I am a firm believer that the Prespa Agreement significance was not just NATO and EU – it was new content, a new approach in our bilateral relations. I do hope that future Greek governments, whatever composition they may have, will continue to create conditions for a more European Balkan, a more rational Balkan, a Balkan more open towards neighbours, and in that case, a more prosperous Balkan. This is not only in our interest, but should be also Greek interest to position itself with a stronger foot in the Balkans economically, politically and financially.
Have you been in touch with someone from the Greek opposition or did you get any guarantees?
We haven't had a formal meeting. We have only listened very carefully to the public statements. We ran a campaign in 2016 that our words count and as a government, we stick to this rule that when you commit to something you have to deliver and hope that all our neighbours and the EU will follow.
Speaking of neighbourly relations. Bulgarian Prime Minister Boyko Borrisov has warned against "anti-Bulgarian rhetoric" regarding a joint commission for history. How would you comment on that?
The initial courage for the breakthrough with Greece was created also because we were successful in reaching an agreement with Bulgaria – after a decade of standstill. It required courage from both governments and both prime ministers. The Bulgarian government and prime minister have managed to show that presiding over the EU is not only about having nice logos but about also having a different kind of responsibility towards the region. We saw this as the first signal that the region is changing. There will be challenges along the way, but I do believe that at least from our side, the joint commission that was created really wants to break the habit of seeing history as the enemy of all or looking at history with the view of finding ammunition against your neighbours. The issues are not connected, but in a way, they tell the same story: Have we learned from our mistakes, are we capable of moving forward? And I do believe that the two countries and the two governments will again seize the opportunity to show that they have.
Skopje held joint government sessions with close to every country in the region, but Serbia was the one visibly missing…
We have re-engaged with all of our neighbours. When you are freshly elected, you have the courage, energy and political capital to break the status quo. In spite of issues, in spite of open problems, we tried to create a different dynamic than there was and I think it has worked. We have all our borders confirmed with bilateral agreements. We have the same initiative to have a joint session with Serbia. However, the question was always the appropriate timing, having in mind our and their elections. But as an example of our political will our prime minister was just recently present in the opening of the "Corridor 10" construction in Serbia as a signal that we do not make any difference between the neighbours. We want good relations with all of them. And there was also a positive signal from Belgrade, Serbia's president was presented at the inauguration of our president.
Sometimes one gets the impression that Serbia would relish a setback when it comes to North Macedonia's NATO accession. Do you see a problem in regards to NATO's 'strategic hole' in the Balkans?
One of the policies that has worked in the past and now is that you will agree to disagree on certain issues. We have struggled very hard especially in the last four, five years to explain to everyone that we want to have good relations with everyone. But the strategic choices about where our country will stand are ours to make. And we have made this strategic choice with regards to NATO in 1993, it had nothing to do with the present geostrategic rifts and geostrategic differences. This was one of the few constants throughout our independence. Governments have changed, parliaments have changed – there was no single government or even a significant parliamentary group that has ever opposed NATO membership. So if we want this right for ourselves, we have to accept that right for our neighbours. Of course, we will always have more defence cooperation with some of our NATO allies. The choice of Serbia is a choice for their citizens and their elected officials.
You've been knocking on NATO's door for quite some time. Did you receive guarantees accession could be rubber-stamped at the London summit?
There are no guarantees in politics, especially when too many parliaments are concerned. But we have signed the accession treaty at the beginning of February and in the first five months after the signing of the Accession Treaty, we have seen 17 ratifications. Albania and Montenegro, the latest newcomers, had seven and eight ratifications in the same time period. There is a political will and I would say even a political urge, not only by us but by many who have watched what was happening in North Macedonia and they have been surprised, by the progress. All these are signals, but it ain't over until it's over. We believe, and this is what many NATO officials have said, symbols are nice and positive stories are good – to have the 30th member of the Alliance on the 70th anniversary could show the dynamism and the ambition that the Alliance has.
Will we see more cooperation between North Macedonia and Greece on security?
Yes. In several areas. For example, North Macedonia doesn't have the capabilities to serve our air policing needs. And what countries like ours do is turn to their neighbours and look for arrangements. This is one of the obligations that NATO has. You have to control your sky or your allies should do it on your behalf. The NATO principles of smart defence really work. Albania and Montenegro use Greece and Italy. We have discussed this with NATO and Greece and they have offered these services to us, as well. We are also discussing it with Bulgaria. If it was not for Greece's early elections, we would probably already have had a signed agreement on air policing with Greece.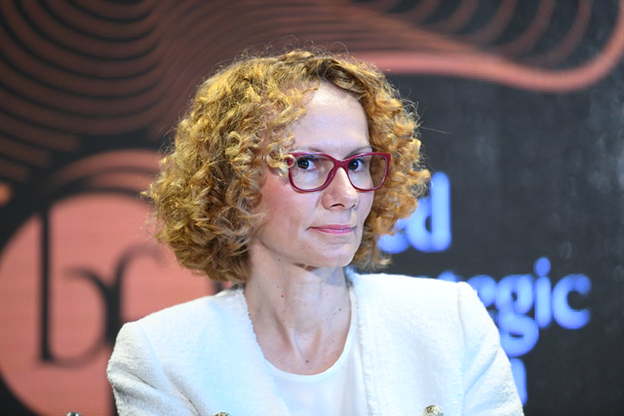 PC CREDIT: Radmila Šekerinska; Photo: Flickr / Bled Strategic Forum BSF 2019

Šekerinska: From captured state to shining example in the Balkans
Recently published European Commission Report on North Macedonia has shown that the country has generally achieved good progress during the past year, and recommended opening of accession talks. The ball is now in the court of EU governments, and the decision will seemingly have to wait for several additional months, unlike NATO accession, which is moving at a fast pace. We talked about these issues and how they have shaped North Macedonia with its Defence Minister Radmila Šekerinska during the GLOBSEC Forum in Bratislava.
European Western Balkans: North Macedonia has become a rare piece of good news coming from the Western Balkans in the past several years. The recent European Commission Report showed that North Macedonia is a country with progress in almost every field EU is interested in. How did the Government of North Macedonia achieve this?
Radmila Šekerinska: With a lot of hard work and tough political choices. We have inherited a country that was qualified as a captured state on all the key democratic values: media, rule of law, checks and balances. We have not started accession talks years ago because of the name issue – but in the meantime, the situation has deteriorated so much that many people within the EU and within the country were wondering whether the basic political criteria are met.
We have moved from a situation of a captured state into a shining example in the Balkans in practically less than two years because we knew that the country has no more time to lose. Three lost decades are behind us and the time has really come to act.
We have had that spirit both when dealing with domestic grievances and with regional challenges, especially the bilateral issues with Bulgaria and Greece. With regards to the domestic reforms, they were not implemented just because of the EU and NATO. We have managed to secure a government majority and gain the support of many individuals in the country because they demanded change. So, in a way, the reforms in the area of media, rule of law, checks and balances, professional institutions, were first and foremost our responsibility to the voters. The real difference came with the agreements with Bulgaria and Greece on issues that looked insurmountable – but what it took was clear political determination and will on behalf of the three countries, three prime ministers and their governments.
EWB: Are there issues that are not solved yet?
RŠ: Of course – we are not talking about the entry into the European Union, we are talking about starting accession talks i.e entering the track that has shaped and transformed the countries of Central and Eastern Europe. Entering that track means that that we will not sleep – that there will be more work in the years to come. But, with the assistance, the guidance and sometimes with the criticism of the European Commission, which, in the case of our country, it works very well. We do need to work more on the rule of law and the creation of strong and independent institutions. The legal framework for the judicial reform is there, but, actually, our citizens need to see change on the daily level. This will be our focus in the future.
EWB: You were in charge of the European integration process of North Macedonia years ago, when North Macedonia became the first Western Balkan candidate country, before Croatia. Where are we now, what are the next steps of the Government? Will you be able to catch up with the frontrunners?
RŠ: An assessment was done by the European Stability Initiative, so not a think tank from North Macedonia, not a think tank from the region, but a really respected European think tank that covers the region, on where we stand in terms of preparedness for membership. Their conclusion was that North Macedonia is better prepared and had a slightly higher ranking than all the other countries – even the ones that are negotiating. That shows that in order to move forward, you have to have both – hard work of domestic reforms and political support to enter a demanding process.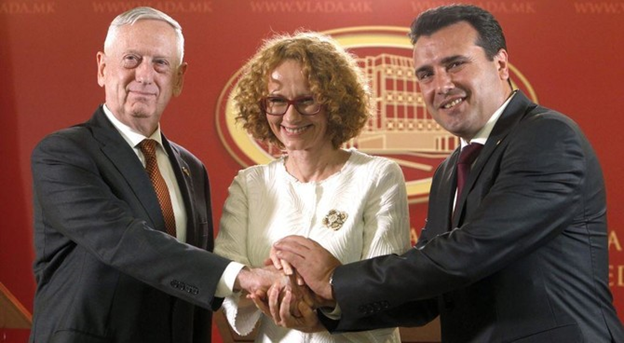 PC CREDIT: US Defense Secretary Jim Mattis, left, Macedonian Prime Minister Zoran Zaev, right, and Macedonian Defense Minister Radmila Sekerinska after their meeting at government buildings in Skopje. (AP Photo)
I do believe that, because we are a small country, it is a curse sometimes – you cannot raise the awareness like some other countries – but it is also a blessing – if there is political will, if there are determination and courage, you can change things more quickly. What our country has shown, not only now but also after the 2001 conflict when I was elected as Deputy Prime Minister in charge of EU Affairs, is that it takes a few years, not decades, to show the tendencies. But then, the big negative lesson, also from our experience, is that small countries risk a lot when they miss the opportunities. When the door opens, if you are not prepared, they can close it, and you can be stuck for a decade. Opportunities are not easily created, and we should not miss them.
EWB: Let's talk about your portfolio – according to the European Commission's Report, everything is good in Common Foreign and Security Policy and Common Security and Defence Policy, but what about Macedonian alignment with all restrictive measures of the EU?
RŠ: The new government has been rather dedicated to aligning with Common Foreign and Security Policy positions, and we have shown this allegiance even when it comes to difficult cases. That is because we know that our choices are where our values lie. And these values are not just a pin that we will put on our coat that says we are joining EU and NATO.
We really believe that countries are better when they are democratic, we do believe that countries are safer when their media is free, we do believe that our citizens do better if the institutions are not politicized but professional and when the government is held accountable. We do not consider all these things to be just ticking off a box.
There was a time, 5-6 years ago, when many people in our country, but also in the EU, believed that strong men at the helm of a country can be a good thing – that they can prevent crises and guarantee stability. We were the example that you can really corner the media, buy them out and rule with fear and lots of stability. But it turned out that this was shortsighted. At the surface, our former Prime Minister was the strong man of the Balkans. He had the belief that he controls, owns, possesses everything. But all of it was rotten from within. So it took us, several whistleblowers and evidence of large-scale corruption and abuse, to put this pyramid of fear, power, corruption and control to ashes. That regime did not bring stability and prosperity to North Macedonia. On the contrary, it was a democratic rule, transparency, free media and EU and NATO progress that provided better prospects to the country. In 2018, the year of our NATO membership invitation, our foreign direct investments quadrupled, and they were double than the best year of Gruevski's corrupt but very control-driven model. Even for small countries, the undemocratic rule is bad and it brings neither stability nor prosperity.
EWB: According to German media, German federal parliament, Bundestag, failed to discuss the opening of negotiations with North Macedonia and Albania, which means that German government will have to wait until September, the end of the summer break. Are you ready for this kind of scenario, not to receive a date for starting negotiations in June?
RŠ: There was good news and bad news yesterday – the good news was that the German Bundestag ratified our NATO protocol, which means that the majority of NATO members have already endorsed our membership. However, there was also this discussion on whether the Parliament will be able to assess the two EC Reports (on North Macedonia and Albania) prior to the next EU Council. There are ongoing consultations on the issue, and we keep reminding everybody in the EU that we have delivered, that we have respected our commitments and that we do expect the same respect for the EU commitments. We have not given any excuse to any country or any politician not to support a positive decision.
We do believe that every delay can harm the process. Rationally speaking, what is a few months to the number of years we have waited – but what we have learned the hard way is that during delays, new circumstances can emerge. And they can further complicate the environment.
"Never put off until tomorrow what you can do today" – we were taught as children. Having in mind the heavy involvement Germany had in the process, we do expect that they will be interested to invest in a more stable Balkans. This message will be heard not only in North Macedonia but also in the region – does it pay off to make painful compromises, does it pay off to invest in serious reforms. I have no doubts that domestic reforms were first and foremost for our citizens, but there was a certain equilibrium between the expectations from us and the expectations that we had – this "carrot and stick" policy should continue to work, because it has been productive.
EWB: You mentioned NATO – you are now participating in the ministerial meetings. How does this experience impact your country? Are the ministry and the army of North Macedonia ready for NATO membership?
RŠ: Yes. Based on our assessment, but also based on the discussion that we have had during the accession talks with NATO, we are prepared to assume the responsibilities. We have been fighting, we have been the part of NATO missions in the worst possible circumstances, on the battlefields in Iraq and Afghanistan. We have worked very hard on our defence reform, we have increased defence spending two years in the row. Our army is prepared. This is why the invitation came immediately after the Prespa Agreement, this is why the accession talks lasted only few months, and this is why ratification has moved very quickly.
EWB: How do you see the current relations in the region? North Macedonia held joint government sessions with almost all countries, but one is visibly missing – how would you comment on your relationship with Serbia right now?
RŠ: We are the only country in the region that has no open issues with any of the neighbours. We have dealt with all border challenges, we have agreements on all of them, and we have tried very hard in the last two years not to focus only on the problems but really to engage in serious regional cooperation with all of our allies. We have had joint government sessions with several neighbours, we will soon have a joint government session with Kosovo, and I am looking forward to having a joint government session with Serbia because I think that the two countries share a lot of similar interests. Having in mind the economic, the commercial and also political ties, I think the time has come to move forward.
2020: Ensuring the role women in Peace and Security is high on the agenda
Strengthening the role of women in building Peace and Security is a priority for WPL, and in February 2020, the Munich Security Conference – the leading global forum for defence and security – brought the opportunity to host a high-level roundtable of women political leaders who offered insight and expertise on the world's most pressing security threats. The vital contributions of female political leaders to this sector were made clear, along with the stark reality that much still needs to be done on the path to equal participation by women. Distinguished panelists such as Clare Hutchinson, Special Representative for Women Peace and Security at NATO, Ekaterina Zakharieva, Deputy Prime Minister for Judicial Reform and Minister of Foreign Affairs of Bulgaria, Hanna Serwaah Tetteh, Special Representative of the Secretary-General to the AU, Minister of Foreign Affairs and Regional Integration to the Republic of Ghana (2013-2017), Melanne Verveer (Director of the Georgetown Institute for Peace and Security), Natalia Korolevska, Member of Parliament of the Parliament of Ukraine, Radmila Šekerinska, Deputy Prime Minister and Minister of Defence of the Republic of North Macedonia, only to mention a few, determined that 20 years after the adoption of UN Security Council Resolution 1325, persistent prejudice toward female leadership in this sector is most likely to respond to an evidence-based approach, supported by adequate funding. The reflections upon the countless challenges that linger for women in peace and security of a group of women from the upper echelons of political leadership who had convened for the Power Together: Reykjavik Summit 2019 were published in the Höfði house report early in the year. In an effort to reflect on the disruptive potential of the virus, and very conscious of populist resurgences, WPL asked experienced experts in the diplomatic fields to come together on April 24th for the International Day of Multilateralism and Diplomacy for Peace, to contribute their constructive insights on peacekeeping, sustainable development, and women's equality amid global contagion. Melanne Verveer (Director of the Georgetown Institute for Peace and Security), Susana Malcorra (Dean of the IE School of Global and Public Affairs), Irina Bokova (9th Director-General of UNESCO, 2009-2017), and Helen Clark (Chair of the WPL Board, Prime Minister of New Zealand, 1999-2008, and Administrator of the UN Development Programme, 2009-2017) were in agreement that, in order to restore trust in multilateralism, the global community requires an increase in women's leadership. The importance of restoring multilateral approaches to the agenda was again reaffirmed by Bineta Diop (Founder and President of Femmes Africa Solidarité and the African Union's Special Envoy on Women, Peace and Security), who spoke with WPL about the repercussions of COVID-19 and multilateral action on the security agenda, both in Africa and globally. With or without the pandemic, attacks on democratic rule have become commonplace. To examine the phenomenon of "Women Rising for Democracy", WPL and Lithuania's Ministry of Foreign Affairs co-hosted a webinar that included Svetlana Tikhanovskaya, opposition leader and candidate for President of Belarus in its 2020 election.
Outstanding Achievements
Šekerinska: Stalemate of our EU accession creates security vacuum in Western
It has been a year since North Macedonia became a member of NATO. The membership has been praised and celebrated as a huge success, even more so, when it is compared to its lengthy EU integration process. After solving an almost two-decade-long dispute with Greece, which resulted in changing the name of the country, North Macedonia received a green light to start its NATO and EU accession talks. While NATO membership became a story of success for the country, its EU membership is still facing obstacles, namely – Bulgaria's veto. The European Western Balkans spoke about these challenges and their security implications with the Minister of Defence of North Macedonia, Radmila Šekerinska, on the margins of the Prespa Forum Dialogue, held from 1 to 2 of July.
European Western Balkans: What influence has the membership in NATO had on North Macedonia so far?
Radmila Šekerinska: The membership in NATO represented a joint success that unified the nation. It has been one of those goals that we kept mentioning for almost three decades, and many people have lost confidence that this is achievable. So, I think that first, it was important as a point, or as a goal that unifies a country and that gives a small nation a sense of direction and a sense of success. I do believe this is important. Secondly, it has answered some of the questions that are frequently asked in the Balkans – what are the security challenges and what are the different scenarios that we hear and read. Many of the crises, political crises and military crises in the Blanks were a result of fear, people being afraid that someone's scenario will destroy them as a nation or as a country.
NATO membership has put an end to the speculations that the fate of a small nation can be seen as undecided yet.
Thirdly, it has also allowed North Macedonia a say on a table of nations, where we do feel we belong. It is an opportunity to present your country in a new way, as a respected ally, as a country that sticks to its words and its promises, and as a country that can deliver. And I believe that within NATO we have managed to deliver. We have also shown that NATO still has the recipe to support the sound and wise political decisions that require compromise. The Prespa agreement would have been impossible without NATO, and I think this is a complete deliverable to NATO.
EWB: Speaking about security challenges, how do you perceive the slowing down of the European integration process for North Macedonia? What impact does this situation have on regional stability?
RŠ: I think that the stalemate of our EU accession is creating a security vacuum in the region because it creates a dilemma. The old promises of the EU since 2000 or 2001 are old and forgotten. Are they for real? Is enlargement a process with a visible goal? Or is it just a toy that is being tossed to Balkan nations so that they might believe that this is a reality? I think that, once we start doubting the strategic choices – because EU integration was a strategic choice of the region, but it was also the strategic decision of the EU when talking to the region, these doubts are creating obstacles for all reform-minded individuals and politicians in the region. It is also lowering the positive pressure on politicians to solve the problems because they might always use the example of North Macedonia and say – look even when you deliver there is a delay. There was this tradition, almost this stereotype vis-a-vis the Western Balkans, that they keep giving promises to Europe and they do not match the promises with action. Now, the situation is a bit reversed.
We have seen the promises from the Western Balkans delivered to a large extent, and we have seen a lack of action from Europe. EWB: How has the situation in international security relations changed with the change of Government in Washington? Has there been any direct consequence for Skopje?
RŠ: I just listened to a debate dedicated to the 20th anniversary of the Ohrid framework agreement, and I have met some dear friends who have helped us in those times, and I think we have all said the same thing independently of each other, and this is that the success of the Ohrid framework agreement very much depended and was a result of a unified position of the West – of the EU, the US and NATO. The swift response and this unified approach was the beginning of the success. I think the same necessity exists today. We need a transatlantic unity, and I think this is the first deliverable of the new Biden administration – the focus on transatlantic unity. Of course, the interests of the US are not only in Europe, and this is what we as Europeans must understand and adjust to. They are shifted very much towards the Pacific, but the need for unity with European partners not only can help NATO, but it can also help us in the region. Whenever Europe and NATO, Europe and the US spoke with one voice, that voice was heard, and it did help the region.
EWB: And how would you assess the regional cooperation regarding security matters?
RŠ: We have come a long way with regard to regional cooperation. The level of cooperation among presidents, prime ministers, dealing not with technical stuff like in the past, but with political issues, is remarkable. I think that the region has changed dramatically. The same thing happens in the security domain. Of course, we have more cooperation with the allies, within NATO, but even outside of NATO, we do have different initiatives like A-5 (The Adriatic Chart) and SEEBRIG (South-East European Brigade), and I think that in due time these things will become the norm. For example, two months ago, we had one of the big exercises, the biggest post-COVID, with the US and North Macedonia leading the way, but with the presence of Bulgaria and Greece. We have had our parachutes in Athens doing incredible special operations exercises. This was considered impossible just two years ago, and I think that defence cooperation plays a certain role in lowering the guard, especially in countries that have become used to having some obstacles, having a distance. I think that defence cooperation was a leader in changing the paradigm in bilateral relations.
Šekerinska: Security in the region has never been higher in the last 30 years
BRUSSELS – Security in the Balkans has never been higher in the last 30 years, given that most of the countries are in NATO, said the Minister of Defense of North Macedonia, Radmila Šekerinska. Šekerinska told Montenegrin journalists in Brussels that her country has shown that the bilateral disputes in the region can be successfully resolved and is now one step away from NATO membership. "We believe that this is our biggest contribution not only to ours but also to the stability of the Balkans. Bearing in mind that most of the countries in NATO, I think our security is much higher than it has ever been in the last 30 years", Šekerinska said, MINA reports. She believes that countries in the Balkans should not expect security to be a mere guarantee of the Alliance. "Security must be our investment through smart political moves and developing friendship between states," Šekerinska said. She said that North Macedonia felt the impact of recent NATO membership on the economic, political and security front. "The confidence in our country has returned to our economy and a positive cycle has been created. All credit agencies have stated that our and the economic situation is better because of NATO membership," Šekerinska said. She said North Macedonia had four times more foreign investment in the year it received the membership invitation than the year before. Šekerinska said they were able to increase both salaries and pensions and create additional 60,000 new jobs. "We expect Alliance membership in mid-March. This is how we protect the security zone in the region. It will be another security seal for the Balkans," Šekerinska said.