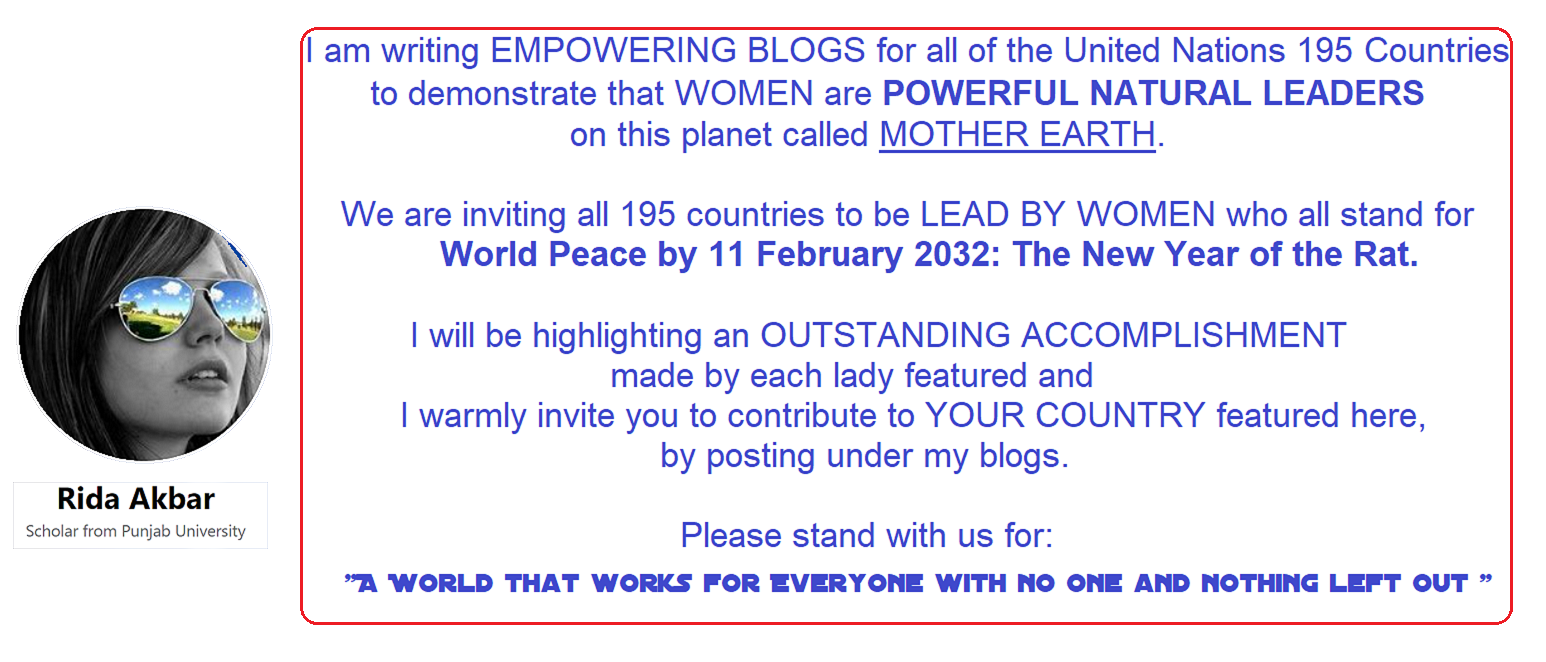 Salome Zourabichvili (Georgian born 18 March 1952) is a French–Georgian politician and former diplomat who currently serves as the fifth President of Georgia, in office since December 2018. She is the first woman to be elected as Georgia's president a position she will occupy for a term of six years. As a result of constitutional changes coming into effect in 2024, Zourabichvili is expected to be Georgia's last popularly elected president; all future heads of state are to be elected indirectly by a parliamentary college of electors. Zourabichvili was born in Paris into a family of Georgian immigrants. She joined the French diplomatic service in the 1970s and went on to occupy a variety of senior diplomatic positions for three decades. From 2003 to 2004, she served as the Ambassador of France to Georgia. In 2004, by mutual agreement between France and Georgia, she accepted Georgian nationality and became the Foreign Minister of Georgia. During her tenure at the Georgian Ministry of Foreign Affairs (MFA), she negotiated a treaty that led to the withdrawal of Russian forces from the undisputed parts of the Georgian mainland. She has also served at the UN Security Council's Iran Sanctions Committee as the Coordinator of the Panel of Experts. After a falling out with Georgia's then President Mikheil Saakashvili, in 2006 Zourabichvili founded The Way of Georgia political party, which she led until 2010. Ultimately, she was elected to the Georgian Parliament in 2016 as an independent; she vacated her parliamentary seat after being sworn in as President. During the 2018 Georgian presidential election, Zourabichvili ran as an independent candidate and was supported by the governing Georgian Dream party. She prevailed in a run-off vote against Grigol Vashadze.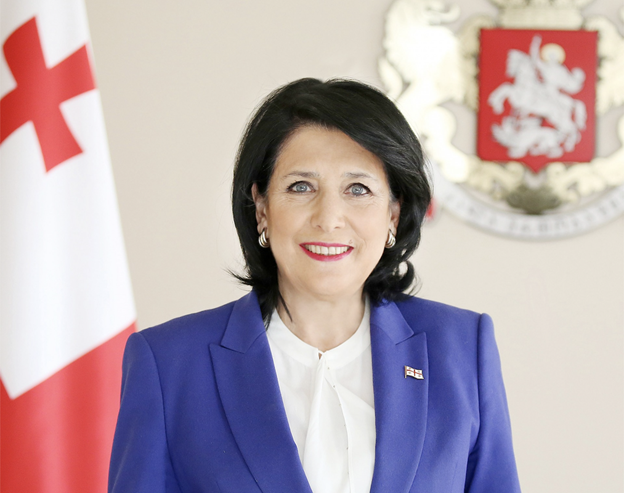 PC CREDIT: Image via World Leaders Forum
Zourabichvili was born in Paris into a family of Georgian political emigrants. Her father, Levan (1906–1975), was an engineer and served as a chairman of the Georgian Diaspora in Paris. He was the grandson of Niko Nikoladze, a prominent Georgian social democrat from the late nineteenth century, scion of the noble Nikoladze family and a member of meore dasi, a collection of Georgian liberal intelligentsia. Her mother, Zeinab Kedia (1921–2016), was related by marriage to Noe Ramishvili, the first prime minister of the Democratic Republic of Georgia.[4] Zourabichvili has one brother, Otar.[4] She attended some of the most prestigious French schools, such as Institut d'Études Politiques de Paris (Sciences Po), and began a master's program at Columbia University in New York in the academic year of 1972–1973, taking courses with Zbigniew Brzezinski. Zourabichvili is a cousin of Hélène Carrère d'Encausse, a distinguished Franco-Georgian historian who serves as the head of the Académie française.
Zourabichvili abandoned her studies and joined the French foreign service in 1974, becoming a career diplomat with postings to Rome, the United Nations, Brussels, Washington, etc. The first time Zourabichvili visited Georgia was in 1986 during a break from her job at the French Embassy in Washington. Salomé Zourabichvili was Head of the Division of International and Strategic Issues of National Defence General Secretariat of France in 2001–2003. President Mikhail Saakashvili of Georgia nominated her as Minister of Foreign Affairs in his new government. Zourabichvili became the first woman to be appointed to this post in Georgia on 18 March 2004 Zourabichvili was the Coordinator of the Panel of Experts assisting the UN Security Council's Iran Sanctions Committee. As foreign minister of Georgia, Zourabichvili was the main negotiator of the agreement for the withdrawal of Russian military bases from the territory of Georgia, which was signed with Russian Minister of Foreign Affairs Sergey Lavrov on 19 May 2005. During her tenure as Foreign Minister, the "New Group of Friends of Georgia" was created, bringing together Ukraine, Lithuania, Latvia, Estonia, Romania, Bulgaria, the Czech Republic and Poland to help Georgia's aspirations towards NATO and foster European integration. Zourabichvili was sacked by Prime Minister Zurab Nogaideli late on 19 October 2005 after a series of disputes with members of Parliament. She had also been heavily criticized by a number of Georgian ambassadors. Shortly before her dismissal was announced, Zourabichvili resigned from the French foreign service, which had continued to pay her a salary while she was minister, and announced that she would remain in Georgia to go into politics.
She was appointed the Ambassador of France to Georgia in 2003. Minister of Foreign Affairs, 2004–2005 In November 2005, Zourabichvili set up the organization 'Salomé Zourabichvili's Movement'. In January 2006 she announced the establishment of a new political party Georgia's Way, criticizing the country's "de facto one-party system." Although Zourabichvili enjoyed some degree of reputation in Georgia she was long unable to establish herself in the political field. At the city council elections in Tbilisi on 5 October 2006, only 2.77% of the constituency voted for her party. Six months before, an opinion poll conducted by the Georgian weekly Kviris Palitra suggested that she would garner 23.1% of the votes at presidential elections. Since October 2007, her party was part of the United Opposition alliance which nominated Zourabichvili as a Prospective Prime Minister in case of their candidate Levan Gachechiladze's victory in the January 2008 presidential election. As part of a 2009 campaign of the Georgian opposition to force President Mikheil Saakashvili to resign, Zourabichvili led a protest march together with three other prominent opposition figures – Nino Burjanadze, David Gamkrelidze and Eka Beselia – in Tbilisi on 26 March 2009. On 12 November 2010, Zourabichvili announced her withdrawal from the leadership of Georgia's Way. She was succeeded by Kakha Seturidze. After a two-year leave from politics, she publicly endorsed Georgian Dream ahead of the 2013 presidential elections. Shortly after, Georgia's Central Election Commission refused to register her as a presidential candidate due to her dual Georgian-French citizenship In the 8 October 2016 parliamentary elections Zourabichvili won a seat as an independent, representing the Mtatsminda district of Tbilisi. She became MP on 18 November. During her term as MP, She was Deputy chairwoman of parliamentary committee on Diaspora and Caucasus Issues.
Candidate for the 2018 presidential election[edit]
On April 20, 2017, on TV Pirveli, in Diana Trapaidze's Daily News, Zurabishvili said that "nothing is out of the question" about her participation in the 2018 presidential elections. At a briefing in her backyard on August 6, 2018, she voiced her desire to run in the election. "This big responsibility is not only my responsibility. I owe it to my ancestors and to all those who declared independence 100 years ago and then could not revive that independence." It was during this period that speculation emerged that, despite her status as an independent candidate, she would likely be backed by the Georgian Dream team. On August 16, 2018, Zurabishvili officially launched her presidential campaign from the house-museum of her famous ancestor, Niko Nikoladze, in the village of Didi Jikhaishi, Imereti region. She outlined the main vision which she planned to implement as President of Georgia. On August 23, 2018, two months before the elections, Zurabishvili relinquished her French citizenship. This decree was signed by the Prime Minister of France and the Minister of Internal Affairs on the basis of Zurabishvili's application. She made a statement in this regard on August 30, noting that she had to renounce her French citizenship to participate in the presidential election. According to the Constitution of Georgia, dual citizens cannot hold the office of President, Prime Minister or Speaker of Parliament. On September 9, 2018, the Georgian Dream party announced its support for Zurabishvili's independent candidacy for the presidential elections, at a briefing by the Speaker of the Parliament, Irakli Kobakhidze, at the party's central office. On October 28, 2018, the presidential elections were held. Zurabishvili received 38.64% of the vote (615,572 votes) and secured a place in the second round of elections against the United Opposition candidate. [48] The Georgian media thought that as an independent presidential candidate she would withdraw her candidacy. On October 30, in her first public statement since the first round, Zurabishvili stated: "I am ready for the second round, for the fight. I believe that you are well aware that today is not a choice between two candidates or two parties, but a choice between two Georgias. We are on the side of the truth, the future of Europe and Georgia." The second round of the presidential election was held on November 28. Zurabishvili received 59.52% of the vote (1,147,625 votes), defeating her opponent Grigol Vasadze to become the first female president in the history of Georgia.
Inauguration On December 16, the inauguration of the 5th President of Georgia was held at the Erekle II Palace in Telavi. Zurabishvili wore a white and red ensemble, the colors of the Georgian flag, to the ceremony, designed by Jaba Diasamidze, a Georgian designer working in France. The president-elect was taken to the palace by car, and her children - Teimuraz and Ketevan Gorgestani - drove her to the red carpet. The event was attended by a total of 1800 guests. According to the decision of the organizers, all guests, except those with health problems, stood on their feet. Among those present at the inauguration were the 4th President of Georgia Giorgi Margvelashvili and his wife, the Catholicos-Patriarch of All Georgia, Ilia II, the President of Armenia, Armen Sargsyan, the former President of France, Nicolas Sarkozy and representatives of other delegations. As President, Zourabichvili inherited a new Constitution that entered into force the day of her inauguration and which significantly removed several powers from the Presidency, concentrating them within Parliament and the Prime Minister's Office. However, this did not stop her from using her position to call for historically-important decisions, including a new investigation into the controversial death of Zviad Gamsakhurdia, the country's first President, in 1993.
Zurabishvili's first annual report as President was presented to the 9th convocation of Parliament on March 6, 2019. [120] The European Georgia faction did not attend the president's speech. In her speech, Zurabishvili focused on her visits abroad. On April 20, 2021, Zurabishvili hosted an official dinner in honor of the President of the European Council, Charles Michel. Representatives of the ruling team as well as the opposition parties who signed the Charles Michel document Charles Michel document[clarify]were present at the dinner at the Presidential Palace. The dinner was attended by EU Ambassador to Georgia Carl Hartzel and US Ambassador Kelly Degnan. By signing the document of Charles Michel, the representatives of the opposition and the government made political concessions.
President and the Coronavirus pandemic
On March 10, 2020, President Zurabishvili canceled scheduled visits to Bulgaria, Belgium, and Ukraine due to the coronavirus threat. On March 21 of the same year, she declared a state of emergency in the country. The state of emergency was to last for a month, although on April 21, 2020, the president signed an extension until May 21. On December 22, 2020, Zurabishvili hosted Hans Kluge, Director of the WHO Regional Office for Europe, at the Orbeliani Palace. During the meeting, the health measures taken by Georgia during the pandemic and issues related to the COVID-19 vaccine were discussed. On January 26, 2021, Zurabishvili met with Toivo Klaar, Co-Chair of the Geneva International Talks, EU Special Representative for the South Caucasus and the Crisis in Georgia.
As President of Georgia, Zurabishvili has visited many countries where she has represented her homeland and advocated for its interests, and met with foreign leaders. On September 25, 2019, Zurabishvili addressed the 74th session of the UN General Assembly in New York. In her speech, she spoke about the occupation, the ongoing political processes in Georgia, healthcare and climate change. In January 2020 she visited Belgium, and in February she visited France and Afghanistan. She has also visited the leaders of Ukraine, Armenia, Germany, Poland, Latvia, Azerbaijan and many other countries.
Political positions
Women's rights and equality
As the first popularly elected woman president of Georgia, Zourabichvili has advocated for women's rights and equality through social media and from political tribunes. She has organised a number of meetings and attended conferences aiming for the empowerment of women and young girls. On October 5th 2019, she hosted a meeting of women leaders from Georgia, Belgium and France, later saying on Twitter: "The role of women in our society is crucial and their contribution to our political, cultural, entrepreneurial and educational circles is key to our development."
Amid the controversy around the 2019 Tbilisi Pride Parade, Zourabichvili said: "I am everyone's president, regardless of sexual orientation or religious affiliation. No human should be discriminated against. I must also emphasize that our country is dealing with enough controversies and doesn't need any further provocation from any side of the LGBTQ debate." This comment was met with criticism by LGBTQ organizations across the country, as well as some members of the civil society. Tbilisi Pride co-founder Tamaz Sozashvili wrote: "How can she consider peaceful citizens and aggressive fundamentalists as equal sides?" She made no response to the criticism. Following attacks on the offices of Tbilisi Pride by anti-LGBT protesters on July 5, 2021, in which a number of journalists, activists and passersby were injured, Zourabichvili condemned the violence and visited injured journalists in hospital. She subsequently tweeted: "Violence is unacceptable. I condemn today's events and any form of violence over difference of ideas or gender identity. Everyone has the constitutional right to express their opinion. I call on all to act within the Constitution and not provoke violence through radical actions."
In the course of the 2008 Georgian presidential election, Zourabichvili and many other opposition politicians voiced support for the establishment of a constitutional monarchy under the Bagrationi dynasty, which the Patriarch of Georgia, Ilia II, had advocated.
THE CHALLENGES THAT FEMALE PUBLIC FIGURES FACE IN GEORGIA
The subject of women's social life and participation in politics has recently been widely discussed in the public. The majority of the population in Georgia hold a positive view on women's participation in public life. According to public opinion polls, 65% of Georgians support the introduction of a mandatory gender quota in the parliament.[1] Blackmailing with the threat of releasing private recordings has become a part of Georgian politics, as well as threats to life and health through social networks and emails. Victims of such psychological terror are, in most cases, politically and socially active women. The purpose of this is not only to intimidate a particular person, but to also serve as a warning message to all active women whose critical opinions or public activism go against the interests of influential individuals. Important legislative changes have been adopted in recent years to strengthen women's rights, including through the efforts of the Gender Equality Council of the Parliament of Georgia. However, from a legal point of view, the progress loses its value if there is no effective response from the state and the ruling political groups on the instances of psychological terror against women on the basis of their political and public activism and critical positions. It is for this reason that we have decided to once again remind the public of the crimes against active women and cases of attempted psychological terror against them:
Private life recordings released in 2016
On March 11, 2016, secretly recorded videos were released that depicted the intimate private life of a politician who was critical of the government. Specific individuals could be identified in the footage. To ensure widespread dissemination of the recordings, media representatives were sent links from obscure social network accounts. On March 14, another video depicting the private life of four politicians and four socially active individuals was released. The video contained threats and blackmail in address of the individuals mentioned in the video, calling on them to resign from their positions until March 31. There was public outcry following the release of the videos. The "This Affects You" campaign, which brings together dozens of NGOs, held a protest on March 19, 2016. The NGOs also demanded that the authorities take responsibility for disseminating footage depicting private life and to effectively investigate the case, in parallel to carrying out preventive measures. On March 15, 2016, the Gender Equality Council of the Parliament of Georgia responded to the release of secretly recorded footage and called on all relevant agencies to timely investigate and punish those responsible by the full extent of the law. On March 28, 2016, the Public Defender launched a "Time is Ticking" campaign to quickly identify and prosecute those who illegally created, obtained, and disseminated the footage of one of the politicians' private life on March 11 2016, while keeping the public updated on the course and results of the investigation. Despite widespread public outcry, there was a mixed reaction from the ruling party. For example, then Georgian Dream MPs Tamaz Mechiauri and David Lortkipanidze publicly stated that officials with compromising records had to leave their positions.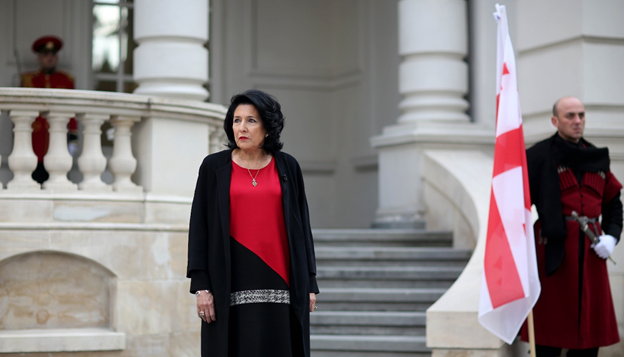 PC CREDIT: Georgian President Salome Zourabichvili has announced that she will forego her official salary and instead live off her French pension. (photo: president.gov.ge)


The Georgian Dream's chairman and former Prime Minister, Bidzina Ivanishvili, was unable to recall this high-profile case when asked about it by journalists two years after the incident took place. According to public information, the Office of the Chief Prosecutor arrested five people, including a former senior official from the Constitutional Security Department, in connection with the secretly recorded videos that were released online. However, the person who has ordered and organized this crime has not been identified and punished.[2]
Attempt to discredit the female defense minister
In 2016, secretly recorded footage was uploaded to the internet with a respective description that it allegedly contained the details of the private life of the Minister of Defense, Tina Khidasheli. It should be noted that Tina Khidasheli was the first and only female Minister of Defense in Georgia. According to Tina Khidasheli, the video contained a footage of intimate relationship between strangers. As she noted, the video was actively circulated and she asked the State Security Service not to remove the video so it wouldn't become a subject of gossip. The video was removed within minutes. Within months, Tina Khidasheli was replaced as the Minister of Defense by Levan Izoria, the Deputy Head of the Security Service. It is noteworthy that during the briefing that was held after the release of the secretly recorded footage of private life, the prosecutor's office did not announce that strangers were portrayed in the footage and that the Minister of Defense was not depicted in the video, which in turn contributed to the circulation of incorrect information in the public. A few years later, Tina Khidasheli noted that the authorities were very concerned about her work, especially on the Western front, and they wanted to do something to discredit her. The perpetrators of the crime have not been charged in this case.
Attempts to intimidate female journalists with secret recordings
Female journalists have also become victims of blackmail with secret recordings of private life. Inga Grigolia, who is one of the most well-known critical journalists in Georgia and a news presenter for Pirveli TV, said in a live broadcast that she was threatened with public release of secret recordings of her private life if she did not leave the country. Grigolia was one of four recipients of the threatening video that was circulated on March 14, 2016. In response to the threat, the journalist stated that she was not going to give up her professional activities and would fight to the end to bring the video recorder and the author of the threat to be held responsible before the law. According to Inga Grigolia, her blackmail was in the interest of the government. Grigolia has also stated that the footage was taken during the previous government and that she informed the Prosecutor's Office about it. Like in the case of other video recordings released in March 2016, those that ordered the crime were not identified in this case. In 2015, Eka Mishveladze, the author and anchor of the Public Broadcaster's political talk show "First Studio", publicly confirmed reports of surveillance of her and her husband, Alex Petriashvili, who is one of the leaders of an opposition party. The "This Affects You" campaign, which unites a dozen of NGOs, issued a statement calling on law enforcement to launch an investigation. On April 12, 2016, another video was released that allegedly featured journalist Tamar Chergoleishvili. Tamar Chergoleishvili, founder of Tabula, noted that she wasn't in that video. No one has been charged in the case of intimidating and blackmailing journalists.
Crime committed against a Member of Parliament
On January 28, 2019, videos depicting the private life of MP Eka Beselia were circulated through a social network. Beselia said that moral terror was waged against her. In an open letter, she urged women to come into politics and fight for changing the current situation. The circulation of Eka Beselia's private life was preceded by her confrontation with the ruling party over the appointment of members of the Supreme Court. As a result of this confrontation, she resigned from her position and later left the ruling party. Politicians responded to the dissemination of the secret recordings. Parliament Speaker Irakli Kobakhidze called the public disclosure of the video as immoral, and vowed to pursue the case. The President of Georgia called on law enforcement agencies to conduct a timely and effective investigation. The Georgian Dream faction issued a statement in solidarity with Eka Beselia and demanded an immediate response to be made on the case. The Gender Equality Council of the Georgian Parliament has condemned the use of such methods as a tool to discredit female politicians. Despite the words of solidarity, there have mixed reactions even among politicians. For example, Tbilisi Mayor Kakha Kaladze noted that no one had seen the footage, so he would wait for the results of the investigation before making a comment. The dissemination of footage depicting the private life of a member of parliament has also sparked protests from the civil society sector. Non-governmental organizations participating in the "This Affects You Too" campaign assessed the dissemination of footage depicting private life as an attempt to intimidate a critical part of society. The women's movement said in a statement that the misogynic culture punishes politically or socially active women in this way, and that those who want to come into politics are intimidated; Manipulating personal life, including sex life, or publicizing it, is the most brutal method of forcing women out of politics, their moral discrediting and total marginalization. The Public Defender of Georgia responded to the incident, noting that blackmailing with the use of secret recordings of private life has become a systematic problem, and that it is gender-motivated, targeting mainly female politicians. Despite protests from politicians and the public, the investigation has so far failed to identify the culprit. Sixteen people have been charged in connection with the case, but the person who ordered and organized the crime has not been charged. The victim herself suspects that Vano Zardiashvili may have been involved in the spread of the footage. It is noteworthy that on September 26, 2019, Vano Zardiashvili insulted Eka Beselia at a session of the Committee on Legal Affairs, where the candidates for Supreme Court membership were discussed and mentioned her morality in an ironic context, to which Eka Beselia responded by slapping Vano Zardiashvili. On September 27, the women's movement held a "No Psychological Terror" rally in support of Eka Beselia. Despite differences in political affiliation, Eka Beselia had support expressed to her by female politicians, including UNM MP Tina Bokuchava and Majority Vice-Speaker Tamar Chugoshvili. However, there were also exceptions among female politicians. Sopio Kiladze, chairman of the Human Rights Committee, expressed outrage only because a female MP had insulted a member of parliament. The Minister of Infrastructure Maya Tskitishvili noted several months ago that it was already tiring to talk about Eka Beselia's personal life. The minister was publicly criticized for the statement, though she does not think that her statement was unethical. It is noteworthy that the Gender Equality Council of the Parliament of Georgia has not made a statement about the incident at the Legal Affairs Committee of the Parliament of Georgia and Vano Zardiashvili's attempt to discredit Eka Beselia. On September 30, 2019 MP Eka Beselia informed the Prosecutor's Office that four members of the ruling team, one male and three females, were threatened with having their private life recordings released.
Threats against a presidential candidate
During the 2018 presidential election, presidential candidate Salome Zourabichvili announced that she had received threatening voice messages on November 9, 10 and 11. As the presidential candidate noted, the perpetrators were former military men who threatened to kill her and her children. Salome Zourabichvili also addressed NGOs and called on them to state their position. Earlier, representatives of women's rights organizations criticized Salome Zourabichvili for her indifference to women's rights. During the pre-election period, she did not attend a meeting organized by the Women's Movement to discuss gender issues. The non-governmental sector responded to the threats against the presidential candidate and called on the MIA to conduct a timely and effective investigation of the case. It is noteworthy that the ruling party has never responded to threats against socially active women on the same scale as with Salome Zourabichvili's case. Speaking at the Parliamentary Assembly of the Council of Europe (PACE), Vice-Speaker of the Parliament of Georgia Tamar Chugoshvili stated that the election campaign was full of hatred and harassment against the female presidential candidate Salome Zourabichvili. Investigation has been launched into the threats made against the presidential candidate. According to the lawyer, the person that was identified by the MIA turned out to be a member of a military unit fighting in Ukraine. One person has been charged in the case.
Numerous threats against the Public Defender
The Public Defender of Georgia, Nino Lomjaria, was repeatedly threatened with murder. In 2018, the Public Defender publicly announced that she had been threatened with a sniper rifle and was referred to with obscene words. She also published the respective messages and requested the Ministry of Internal Affairs to launch an investigation. The Public Defender's Office said in a statement on June 17, 2019, that the Public Defender was threatened with murder on the Internet. The threat was preceded by the Patriarchate's appeal to the authorities not to allow Tbilisi Pride to take place, after which the Public Defender called on the Ministry of Internal Affairs to ensure freedom of peaceful expression in the country. The Ministry of Internal Affairs has launched an investigation into the threats, but no results have been yet achieved to date.
Threat against Executive Director of Transparency International Georgia
Eka Gigauri, Executive Director of Transparency International Georgia, has received repeated death threats. Such cases were particularly frequent in the pre-election period. On October 13, 2018, Transparency International Georgia's Executive Director received an aggressive message from a specific citizen, which, along with profanity, threatened her with violence. Threatening messages have intensified since senior government officials, including the Chairperson of the Parliament, launched attacks on the third sector. It is noteworthy that the perpetrator used exactly the same phrase that the former Chairperson used against NGOs when they were described as "accomplices to fascism." Eka Gigauri also addressed the law enforcement agencies to launch an investigation, but the culprit has not been identified.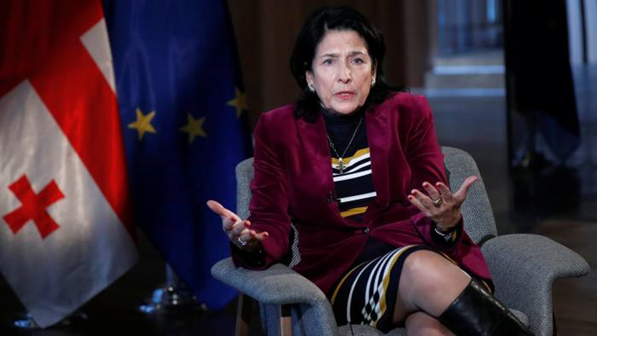 PC CREDIT: Salomé Zourabichvili, Georgia's president-elect: the republic 'is a trailblazer for democracy in the Caucasus region' © Reuters


Threats and violence against female members of the High Council of Justice
Ana Dolidze and Nazi Janezashvili are non-judge members of the High Council of Justice, who openly oppose the court clan and injustices within the judicial system. It is for this reason that they have repeatedly become victims of assaults by male members of the High Council of Justice, as well as victims of threats made through the social network. On April 2, 2018, Anna Dolidze and Nazi Janezashvili accused HCOJ judge-member Sergo Metopishvili of threatening them. Sergo Metopishvili threatened the female members of the HCOJ that their critical statements could be considered as a criminal violation. On January 20, 2018, Nazi Janezashvili made a statement about the obscene remarks made by her male colleagues. It should be noted that former Supreme Court Chairman Nino Gvenetadze also spoke about bullying and violence against female members of the High Council of Justice. She said members of the High Council of Justice were trying to reach a ruling against the will of the Supreme Court chairman. On August 2, 2018, Nino Gvenetadze resigned, citing health reasons. Members of the High Council of Justice were also harassed and threatened through social networks. On January 18, 2019, Ana Dolidze announced that she had received a threatening message on social media, "You can leave this city until you die," the threatening message read. No investigation has been launched into any threats against the female members of the High Council of Justice. It is clearly not possible to list in a single publication all the instances when socially and politically active women were subject to blackmail and threats. These cases highlight the severity and magnitude of the problem. In all of the aforementioned cases, attacks and intimidation of politically and socially active women were preceded by their critical expression, stance, and confrontation with politically influential individuals. Blackmailing and threatening to destroy personal life are tools of moral terror that endangers not only individuals but the political and social activity of women in general. The state does not fight crime effectively and responds to blackmail only due to public pressure. Statements by individual government officials sometimes promote stereotyping and marginalization of victims of blackmail. The frequency and scale of the moral terror and the ineffectiveness of the state response is a message to active women that being socially and politically active comes at a cost.
NATO Secretary General Jens Stoltenberg and the President of Georgia, Salome Zourabichvili President Zourabichvili, dear Salome. It is a pleasure to welcome you back to NATO Headquarters. Georgia is one of NATO's most important partners. We have a close political partnership and strong practical cooperation. *** Despite the challenges of the COVID-19 pandemic, NATO and Georgia continue to strengthen our partnership. At today's meeting of the NATO-Georgia Commission, we will take stock of our achievements, and assess what more we can do together. Last year, we upgraded the Substantial NATO-Georgia Package. This helps Georgia to implement reforms; Enhance its ability to operate with Allies; And continue to contribute to our shared security. Our key priorities include: Secure communications, and actually the President and I discussed that during the meeting today; Training and exercises; And enhancing our maritime support and situational awareness. *** Today we will also address the security situation in the Black Sea region. And Russia's continued military build-up. NATO supports Georgia's territorial integrity and sovereignty, within its international recognised borders. We continue to call on Russia to end its recognition of the regions of Abkhazia and South Ossetia and to withdraw its forces. And I took good note of the ruling by the European Court of Human Rights. It confirms that Russia is responsible for human rights violations in Abkhazia and South Ossetia, and that Russia actually exercises control there. It only strengthens our call for Russia to comply with international law and respect Georgia's territorial integrity. *** In our meeting, we also discussed the progress Georgia is making on reforms. This is crucial. Because progress on the reforms brings you closer to our shared goal: membership of NATO. *** Today we addressed Georgia's commitment to our Resolute Support Mission in Afghanistan. Georgia has long been one of the largest troop contributors to NATO's training mission. We appreciate the professionalism of Georgian men and women in uniform. And we all know the sacrifices you have made. *** So, Madam President, Salomé. Thank you for being here today. And for your strong personal commitment to NATO, and to our partnership. NATO's partnership with Georgia makes us all safer and more secure. Deputy NATO Spokesperson Piers Cazalet: We have time I think for two quick questions. First of all, we go to Levan Akhalaia from the Georgian Public Broadcaster. Levan Akhalaia - Georgian Public Broadcaster: Thank you, good afternoon, Secretary General, Madam President. Levan Akhalaia from Georgian Public Broadcaster so my question is for Secretary General. New US President announced the plan for strengthening alliances and partnerships. State Secretary nominee wrote NATO door is open for Georgia, if it can contribute to the Atlantic security Give us more an understanding though, what do you expect Georgia to do. Thank you. Secretary General Jens Stoltenberg: First of all, I very much welcome the strong commitment by the United States to rebuilding alliances and also working with partners, and I cannot speak on behalf of the new US administration but I know President Biden has a strong support role of the transatlantic bond, and Georgia is part of that transatlantic bond; North America and Europe, working together. And the United States over many years pushed for strengthening the partnership, and the United States has also clearly supported the NATO decisions we all made together. Also on the issue of membership of Georgia into NATO. I think what we have to realise is that despite the pandemic, we have been able to continue to strengthen our political and practical cooperation. We have had substantial political dialogue, over the last year with meetings of the NATO-Georgia Commission. Last September I met with the Georgian Prime Minister Georgian Foreign Minister. And also, NATO's Foreign Ministers met with Georgia's Foreign Minister to discuss Black Sea security. And then as the President referred to, we have strengthened our substantial package, so we can also further strengthen our practical cooperation. We have the NATO liaison office in Tbilisi, we have the joint training, and emulation centre, and with the enhanced package, we are focusing on different things but, including the implementation of secure communications projects, continued support to the joint training, and emulation centre and more NATO-Georgia exercises in 2022. On top of that we will also further strengthen what we do in the maritime domain and NATO has provided some support to your Coast Guard. We're now looking into how we can further strengthen that cooperation. What Georgia can do, is to continue to implement reforms. We need strong democratic institutions. We need to make sure that we have more than, and capable security institutions. And of course, civilian control over both the military and the intelligence services. On all these issues we're working together, and reform is the key effort, the key task for Georgia, as you move towards NATO membership.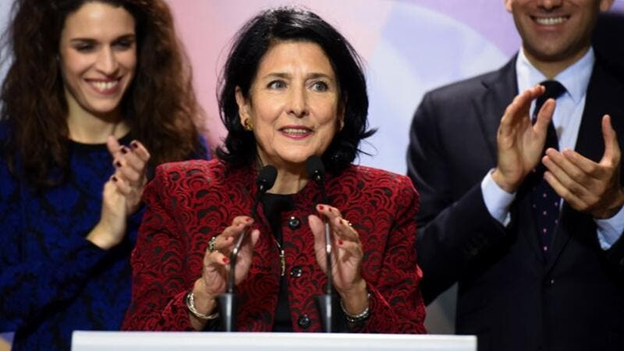 PC CREDIT: Presidental candidate Salome Zurabishvili addresses the media in Tbilisi on November 28, 2018. (Vano SHLAMOV / AFP)
Deputy NATO Spokesperson Piers Cazalet: We have time for one more question we'll go to Teri Schultz from Deutsche Welle.
Teri Schultz Deutsche Welle:
Sorry about that. Thank you very much for your time. Mr. Secretary General, the New START treaty despite the US intention to ask for an extension isn't a done deal yet. First of all, are you concerned that Russia may come up with a reason not to extend despite it's signalling that it also wants to extend for five years. What are the stakes for European allies, if by some chance, the last remaining nuclear arms control treaty would fall apart and, above all, are you concerned about being able to verify the treaty? Despite the mechanisms that are built into it, we've seen treaty after treaty crumble because of a lack of trust between the West, the US and Russia. Are you worried that once again, there would be violations that could be dangerous for Europe and Madam President, I would also be interested in your thoughts on having to keep alive this last remaining US-Russian arms control pact, thanks.
Secretary General Jens Stoltenberg:
I welcome President Biden's announcement, and his intention to seek an extension of the New START treaty. I have stated repeatedly that we should not end up in a situation where we have no agreement, no limitation whatsoever on the number of nuclear warheads. And therefore, an extension of the New START treaty is important because unless it is extended it will expire on the fifth of February. NATO allies have made it clear that they all support the new START agreement, because it has been also, such a great importance for all of us. NATO has been on the forefront of arms control for decades, and we have seen the demise of some other treaties, including the INF Treaty, we should avoid and prevent the demise of the New START treaty. Having said that, an extension of the New START treaty is not the end. It should be at the beginning of renewed efforts to strengthen international arms control, to look into how we can cover more weapons systems, and also include more nations, for instance, China. I call on Russia to respond in a positive way to the US proposal. This is a bilateral agreement between the United States and Russia. The United States has consulted closely with NATO allies on the new START, and the possibility of extending the treaty and, and I'm confident that the United States will continue to consult closely with allies on arms control in general and new START, in particular. Verification is of course of great importance. So as we work on how to strengthen and enhance arms control, the issue of covering war weapon systems, the issue of including more nations but also of course the verification will be one of the key issues that has to be addressed in the future.
President of Georgia Salomé Zourabichvili
As for us, of course, we're not part to any of those discussions, but it's very clear for a small country, and a small country in the region where we are and especially at this time in that region, that whatever constraints the militarization of the region and of some of the big powers that are around us, is very important. Arms Control is always a positive development but knowing as we know, Russia from closer, it's very clear that what is key is monitoring, is verification, it's not taking words as granted, and under that condition, it becomes a very important instrument for which we would be very thankful if that happens, but with maximum control.
Deputy NATO Spokesperson Piers Cazalet:
I'm afraid that's all we have time for. Thank you very much. Thank you, Secretary General, thank you Madam President.