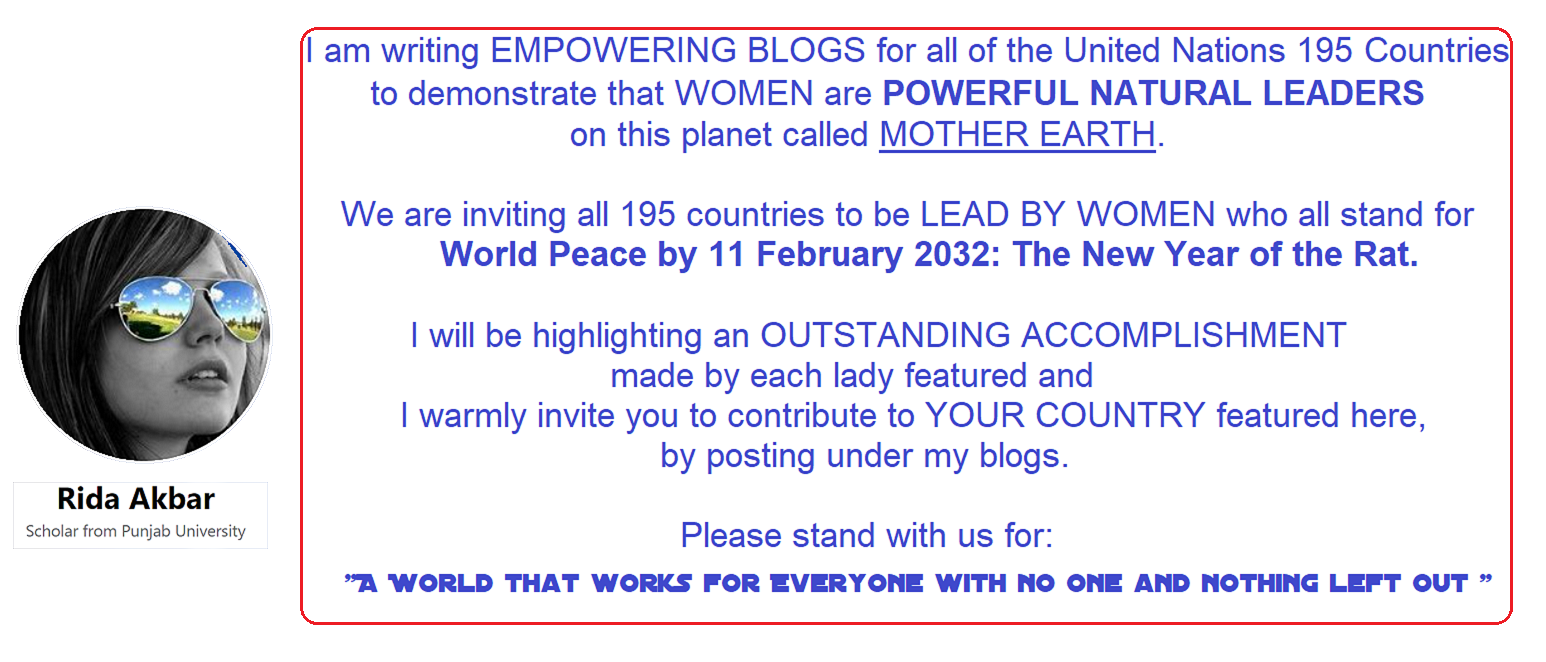 Patricia Bullrich (born 11 June 1956) is an Argentine politician. She was Minister of Security under President Mauricio Macri and is the chairwoman of Republican Proposal. Born in Buenos Aires, Bullrich graduated from the University of Palermo and as a young woman was involved with the Peronist Youth. Following the election of Mauricio Macri to the presidency on 22 November 2015, it was announced that Bullrich had been nominated the Minister of Security of Argentina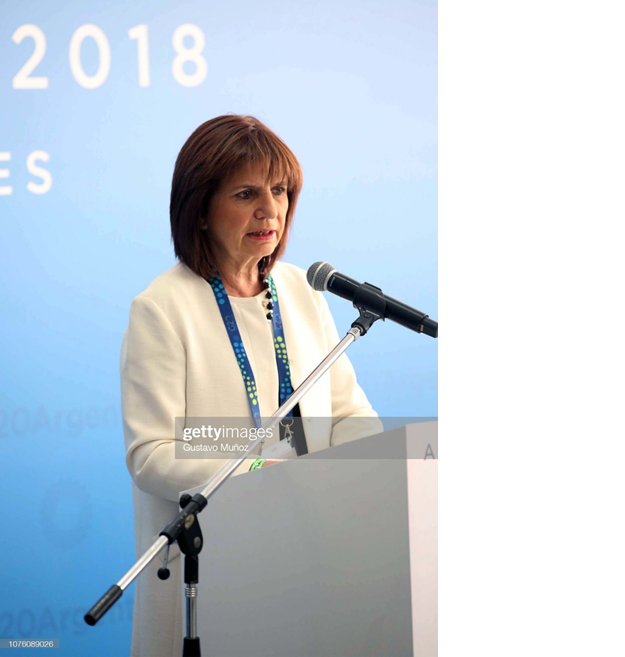 PC CREDIT: Argentina G20 Leaders' Summit 2018 - Day 2 of Sessions BUENOS AIRES, ARGENTINA - NOVEMBER 30: Minister of Security of Argentina Patricia Bullrich addresses the press during day two of sessions of Argentina G20 Leaders' Summit 2018 at Costa Salguero on December 1, 2018 in Buenos Aires, Argentina. (Photo by Gustavo Muñoz/Getty Images)
Political career
After the return of democracy, she became Organisation Secretary of the Justicialist Party of Buenos Aires and was elected as a Peronist deputy in 1993. In 1995 she was named the Legislator of the year. Disillusioned with the Peronist cause, Bullrich left Congress in 1997 and set up the UPT, originally as a vehicle for studying and campaigning on the subject of crime and security. From 1996 to 1999, she was a member of Gustavo Béliz's New Leadership party. She worked for the state government in Buenos Aires Province on security matters, developing a community policing project in Hurlingham which became well known nationally and internationally. In 1999, the UPT became part of the Alliance for Work, Justice and Education which took Fernando de la Rúa to the Presidency and Bullrich was appointed to office in the Department of Criminal Policy and Penitentiary Matters. In 2001, she was made a cabinet minister, as Secretary of Labour, Employment and Human Resources, and later that year as Secretary of Social Security. During the 2001 economic crisis, she led the plan to substantially reduce the pay of state employees and the level of state pensions. Following the collapse of the Alliance government of De la Rúa, Bullrich and her colleagues formally launched UPT as a political party, on 6 March 2002.[4] The following year, the Party participated in the elections for Buenos Aires City, with Bullrich as the candidate for Head of Government for the Alianza Unión para Recrear Buenos Aires, working with the Recrear movement of Ricardo López Murphy. They came fourth with almost 10% of the vote. In 2007, Bullrich led UPT into the Civic Coalition (2007–2011) alongside various opposition groups and social movements, principally ARI led by Elisa Carrió. The Coalition won several seats in the upper and lower houses of Congress and Bullrich herself was elected as National Deputy for Buenos Aires. Her centrist politics and polemical history as a government minister, however, contributed to the disenchantment of a group of left-wing members of ARI who left the Civic Coalition. Following the election of Mauricio Macri to the presidency on 22 November 2015, it was announced on 25 November 2015 that Bullrich had been nominated the Minister of Security of the Nation.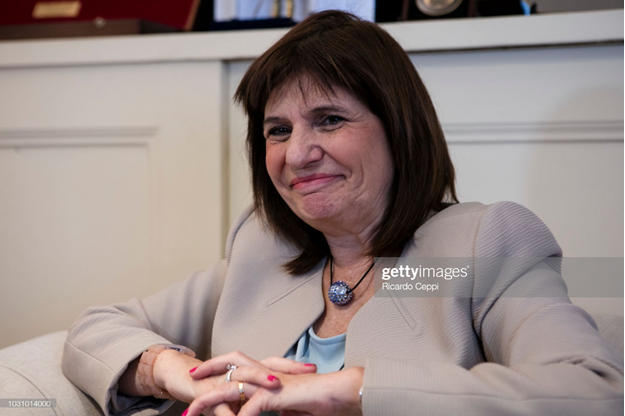 PC CREDIT: Portrait Sessions by Ricardo Ceppi BUENOS AIRES, ARGENTINA - MARCH 08: Argentine politician Patricia Bullrich during an exclusive portrait session at her office on March 08, 2016 in Buenos Aires, Argentina. (Photo by Ricardo Ceppi/Getty Images)
Patricia Bullrich: 'This government is turning us into a punch bag' Former security minister turned PRO leader on Mauricio Macri, Marcos Peña and why criticism from the government inspires intransigence.
Patricia Bullrich has been one of the quickest ex-officials to reinvent herself. Anointed to the PRO helm, she has founded the Instituto de Estudios Estratégicos en Seguridad (Institute for Strategic Security Studies), where, together with other exofficials, she prepares reports and papers for Cambiemos and the public sector.
Who offered you the PRO chair?
Mauricio [Macri]. It took me by surprise because I was going to talk with him in November after the elections about the things which needed winding up in each ministry. I took advantage of that to talk politics – I wanted to tell him that in certain aspects, we would have liked a greater level of participation. The only place where that was respected was in the City – with [Mayor] Horacio [Rodríguez Larreta] there was always a mechanism for that. I said: "Well, I'd like to discuss that. And he replied: "OK, but I want you to head PRO."
There hasn't been much work on the ground during the last four years in PRO, has there?
We should have taken better advantage of our time in government to create a greater level of territorial insertion because being in government allows you to travel a lot and make many contacts. We were a government which gave great importance to the provinces and we moved around. But we did not translate that into a territorial construct which paid off, either in terms of candidates or monitoring the voting. That's one of the areas where we are going to have to dig deep. Both those who participated and who want to participate are calling for that. What will Macri's role be? He's naturally recognised as the honorary chairman of PRO but he's above all that, he leads the Cambiemos (coalition), which is a broader structure. I phoned him and he asked me for greater scope, to expand territorially and represent the 41 percent [sic, Cambiemos took 40.28 percent] who voted for us but to grow too because that's not enough to return to government. To work on a new model of representation.
What style of opposition do you envisage?
One would always like to be a constructive opposition but this government is turning us into a punch bagas the enemy, as when Aníbal Fernández spoke of that "imbecile Macri," we're not going to allow that. Or the Mothers [of Plaza de Mayo] saying: "Now Government House has been liberated because before it was a dictatorship" – these are not admissible things. If they say we did everything badly, that predisposes you to a more intransigent opposition.
Should Marcos Peña take his final leave from PRO?
At this point in time it's important to enter a phase where we all reconsider the role we played, the problems of government, the situations generated, why we were so misinformed before the PASO [primaries], what made us leave the most difficult reforms to 2017 and not 2015, when we had recently taken over. Peña is somebody who will surely use this time to do some thinking. He's young and should know how far he needs to be from the hotspots at this point.
How do you envisage the future of the Juntos por el Cambio [coalition]?
It will be institutionalised. We need to be clear how it works – how we choose candidates without PASO or to use the primaries if they continue.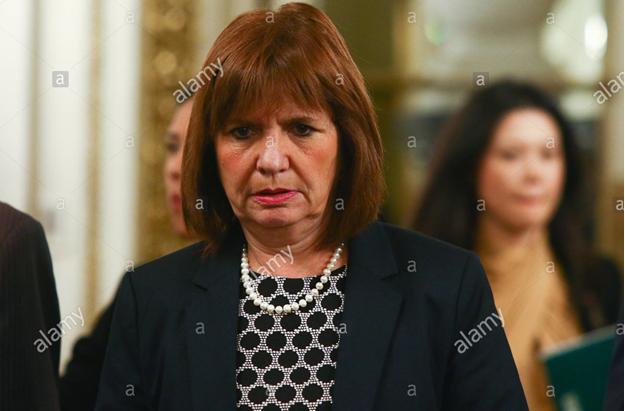 PC CREDIT: BUENOS AIRES, 06.06.2019: Patricia Bullrich, minister of Security of Argentina during the reception to president of Brazil, Jair Messias Bolsonaro, on his visit to Argentina to meet president Mauricio Macri to talk about Mercosur, bilateral trade, Venezuela´s political status and defense issues on Buenos Aires, Argentina. (Photo: Néstor J. Beremblum / Alamy News)
What did you think of [your successor as Security Minister Sabina] Frederic wanting to review the Border Guard's handling of the [Santiago] Maldonado case?
This was a Kirchnerite banner raised to topple us and also because the minister and Alberto Fernández have a psycho-ideological dependence on [Horacio] Verbitsky. The whole campaign to say that Maldonado was the first desapareSaturday, January 25, 2020 cido to go missing under Macri was headed by Verbitsky. Also responsible was Félix Crous [who now heads the Anti-Corruption Office], who inserted testimony without witnesses, which was quashed by the courts as not serious. The idea is to try and reconstruct the narrative which they could not previously sustain.
And the Nisman case?
That's a commitment of Alberto Fernández to Cristina [Fernández de] Kirchner. Firstly, they're always saying that they know the report of the Border Guard experts when I don't know it, I don't know whether it's good or bad. If you aud it the protocol of the report, they're obviously going to say that everything was wrong. It is a case which compromises the vice-president very heavily – it exposes the pact with Iran because there is a death and to be caught in the middle of that death is very heavy. Fernández is going to pay an enormous political price – he spoke to Nisman the Thursday before his death and it was he who said that what Cristina was doing was "delirious" with the pact with Iran as the most important proof of that. We are paying the price for Fernández being elected to demolish this case. Will we be allowed to know all the telephone calls around Nisman and will the courts?
What do you think about the public dispute between [Buenos Aires Province Security Minister Segio] Berni and [Security Minister Sabina] Frederic?
The lack of convergence within the government regarding ideas on security is striking. Many of the things which Berni said were known in advance, what's striking is that it's all been made public. Berni vindicates many of the policies we pursued such as the use of Taser stun guns. Looks like a fight to see who stamps their foot hardest.
Crime and punishment: Argentina security in spotlight as election nears
BUENOS AIRES (Reuters) - Argentina's government, with one eye on elections later in the year, is getting tough on crime, and one figure is taking center stage: the country's security tsar. Patricia Bullrich, 62, the security minister, is pushing a series of new tough-on-crime measures, including dropping the age for juvenile convictions, equipping cops with stun guns and trialing facial recognition at train stations. In an interview, Bullrich told Reuters she was also spearheading talks with China to purchase police body cameras for local forces, which she added would be the first such deal with Beijing for her ministry. "Insecurity is a concern of the Argentine people and so it's a concern of our government," she told Reuters at her sprawling Buenos Aires offices at the Ministry of National Security. "We're trying to have the best tools." The focus on crime comes as her boss, President Mauricio Macri, prepares for national elections in October, with the country still reeling from an economic collapse last year that saw Argentina's peso lose half its value against the dollar. Macri, hamstrung by a deal with the International Monetary Fund (IMF) that gives his government limited options to rev up a stalled economy, is trying to turn attention instead to security. Mariel Fornoni, a political analyst for Argentinian consultancy Management and Fit, said the government was trying to pitch its campaign with "Bullrich front and center and a focus on the issue of law and order". This, in part, is a way of distracting from the economic turmoil still roiling the country, Fornoni said. "(The focus of the campaign) can't be centered around the economy," she said. GANG CRACKDOWN The security minister has often been at Macri's side over the past few months and regularly posts on social media about the latest drug bust or gang that has been taken down. "Let's fight hard against the drug trafficking mafia and their impunity," she wrote on Twitter on Wednesday. Bullrich was once part of a left-wing Peronist political faction with ties to guerrilla groups and was exiled under Argentina's military dictatorship that ruled in the 70s and 80s. She is now the face of Argentina's crackdown on drugs and "narcoterrorism". The security tsar, who some have tipped to take an even more central political role, told Reuters her past with a guerrilla group had steeled her to deal with tough political fights now. She did not rule out a future run for higher office, but said she was now focused on the work at hand. "In that moment, we were anti-system in every sense," she said, adding she'd since learned that while democracy was not perfect, "It's the best system we have." Bullrich is now pushing ahead some controversial laws, including the deportation of foreigners convicted of crimes and lowering the age of impunity by a year to 15, which she said was to deter young people from committing serious crimes. Other measures include buying about 300 stun guns for police, the introduction of a law on violence by soccer fans and another easing rules around using DNA collected from criminals. Political peers defended her crime crackdown as being a reflection of what citizens were concerned about. "It is not opportunism," Eduardo Amadeo, deputy for the ruling Cambiemos party, said, adding security was a pressing domestic issue. "We must respond to the demands that have to do with the welfare of the people."
Argentina, Russia sign pact to block hooligans from World Cup
The Security Minister of Argentina, Patricia Bullrich, and the Russian ambassador to the country, Viktor Koronelli, signed a cooperation agreement Friday in Buenos Aires to help prevent the presence of soccer hooligans of the South American country at the World Cup. The signing of the agreement was made in the Ministry of Security before several officials, representatives of the security agencies and the Argentine Football Association. "We have an excellent cooperation with Argentina in the sphere of security, (and) now we sign a very important protocol on security issues during the Cup. By this protocol I believe that we can avoid, or at least diminish, the violence on the courts", Koronelli said at a press conference. "In Russia there is always concern for security issues, I have no doubt that from the point of view of the organization of security this is going to be the best World Cup in the history of football, but we greatly appreciate the cooperation of all countries that support us," he added. Bullrich gave Koronelli data on some 3,000 Argentine fans who are banned from entering the local stadiums due to acts of violence and are also banned from entering World Cup matches. However, he revealed that his priority is to prevent them from leaving the country. "It's something concrete and practical, there are also five members of the security forces of Argentina who are going to be at the strategic control center during the World Cup, they will be able to give directives on who are the people who can not enter," Bullrich said. "We are a country of football, we want football (matches) to be place(s) of peace and tranquility," he concluded. Zero tolerance for G20 violence: Argentina Argentine Security Minister Patricia Bullrich -- strongly criticized over public order lapses that forced the postponement of the Copa Libertadores soccer final -- has said police would show zero tolerance at the G20 summit. Bullrich told reporters on the eve of the summit in Buenos Aires that security forces had reached an agreement with protest groups that demonstrations would be peaceful. Asked if the country had the capacity to quell violence of the kind that marred last year's G20 meeting in Hamburg, Bullrich said: "We have made contact with those who raised dissent and we have reached an agreement so that demonstrations are peaceful, without violence." However, she warned: "We will not tolerate violence and we will act if any group tries to breach the peace." Social organizations and activists have called for protests against the International Monetary Fund and the G20 in different parts of the city over the weekend, including a mass protest scheduled for Friday. The IMF has extended a USD 56 billion bailout to help Argentina counter an economic crisis, in return for tough austerity measures that have sparked broad opposition. Questions were raised over Argentina's ability to guarantee security for the G20 after the stoning of the Boca Juniors team bus before the final of the Copa Libertadores, South America's premier club competition. Several Boca players were injured in the November 24 violence, causing the second-leg of the final against their Buenos Aires rivals River Plate to be postponed. Football authorities have decided the match will now be played outside Argentina.
Outstanding Achievements

Shen Beili Holds a Video Call with Patricia Bullrich, President of the Republican Proposal of Argentina
Beijing, March 3rd—Shen Beili, Vice-minister of the International Department of the CPC Central Committee, held a video call here today on the morning with Patricia Bullrich, President of the Republican Proposal of Argentina. Fulvio Pompeo, Secretary of International Relations of the Republican Proposal and Diego Guelar, former Argentine Ambassador to China attended the event via video link. Speaking positively of political leading role played by China-Argentina relations and the friendly cooperation between the two Parties in promoting the development of the comprehensive strategic partnership between the two countries, Shen expressed that the CPC is willing to deepen exchanges and mutual learning with the Republican Proposal, and promote mutually beneficial cooperation and common development between the two countries to benefit the two peoples.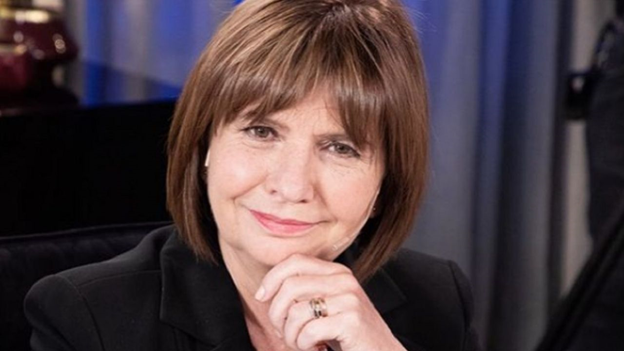 PC CREDIT: by archyw July 14, 2021
Bullrich congratulated on the 100th anniversary of the founding of the CPC and China's overall victory in poverty alleviation, and said that the Republican Proposal is willing to actively carry out exchanges between the two Parties and sub-national cooperation to promote Argentina-China cooperation in various fields for constant and new achievements.
Deputy High Commissioner for Human Rights says the response to 30,000 migrants deaths in the Mediterranean "shame us all"
Committee on the Rights of Migrant Workers Opens its Session, Hears Non-Governmental Organization Flag Discriminatory Discourse by High-Level Authorities in Argentina as well as Family Separations The Committee on the Protection of the Rights of All Migrant Workers and Members of their Families this morning opened its thirty-first session, hearing an address by the United Nations Deputy High Commissioner for Human Rights and from a non-governmental organization that spoke about the situation of migrant workers in Argentina. Kate Gilmore, United Nations Deputy High Commissioner for Human Rights, said that the extraordinary dehumanising response of authorities to the 30,000 migrants who had drowned in the Mediterranean over the past three decades exemplified the worst of the world's response to people on the move. Substandard detention facilities; the closing of Member States' land and sea borders; and the series of refusals to allow the docking of ships that rescued hundreds in compliance with the law of the sea provided no sustainable answer to perilous migration. Furthermore, their application, which violated international human rights standards "shame us all". The Centre of Legal and Social Studies, a non-governmental organization representing a coalition grouping 16 organizations, speaking about the situation in Argentina, whose report will be considered by the Committee this afternoon, highlighted the increase in discriminatory speech and family separations in the country. They said that President Mauricio Macri and other high-ranking public personalities, such as the Minister for Security, Patricia Bullrich, had spoken in a manner that contributed to the criminalization of migration in the most irresponsible manner. They had blamed migrants for the insecurity, doctoring official statistics and, in doing so, fostered discrimination, xenophobia and racism at all levels of the State and society. Perhaps the most preoccupying consequence of such discourse was the exacerbation of police and institutional violence. Committee Experts stressed the need for all States to take into consideration the needs and rights of children in Argentina, including the right to family life. They requested more information on the rise of discriminatory discourse and on the number of family separations as a result of the implementation of emergency decrees. They asked if migrants had access to justice when their rights had been violated. During its session, which will be held from 2 to 11 September, the Committee will also consider the situation in Bosnia and Herzegovina and in Colombia, but there were no non-governmental organizations present to speak about the situation in those countries. KATE GILMORE, United Nations Deputy High Commissioner for Human Rights, recalled that, in June 2019, States parties had elected seven new members for the Committee to replace those whose terms expired in December 2019. She commended outgoing members of the Committee for their commitment, dedication and contribution throughout their tenure. She also noted with concern that when the mandates of Maria Landazuri (Ecuador) and Jasminka Dzumhur (Bosnia-Herzegovina) end, the Committee would be the least gender-balanced of all Committees, with only one new elected female member. While this was not the fault of Committee members, she said the High Commissioner for Human Rights' strong call was on the States parties to meet their commitments to gender parity. This, like geographic diversity, was a question of fairness, equality of opportunity, and credibility of the treaty body system. The situation of women in the context of the work with which the Committee had been charged could not be more strategically important. More than half of the world's 258 million migrants were women and children. Migration was a phenomenon from which so many of those present had benefited directly. Yet for the majority of those who would never enjoy the privilege of sitting in such rooms, migration involved a flight from fear; not a choice to explore new frontiers nor an achievement to celebrate. The extraordinary dehumanising response of authorities to the 30,000 migrants who had drowned in the Mediterranean over the past three decades exemplified the worst of the world's response to people on the move. Substandard detention facilities; the closing of Member States' land and sea borders; and the series of refusals to allow the docking of ships that rescued hundreds in compliance with the law of the sea provided no sustainable answer to perilous migration. Furthermore, their application, which violated international human rights standards "shame us all". The dehumanizing instruction of such policies was encouragement to more than appalling case management. It had fostered uncontrolled coast guards and unchecked criminal militia, expanding human trafficking, forced labour, slavery, and sexual and gender-based violence. Such was their scale and gravity, these human rights violations may amount to crimes against humanity. Ms. Gilmore said the High Commissioner certainly welcomed recent developments in the European Union for more sound migration policies. But she continued to call on the European Union and its Member States to prioritize the lives and safety of migrants crossing the Mediterranean, strengthen search and rescue measures, permit rescues by non-governmental organizations, and coordinate swift and safe disembarkation of these human beings, while at the same time tackling the root causes of this migration. The Global Compact on Migration was built on the terms and values of human rights, demonstrating that the international community had moved from a discussion of whether or not human rights applied to migrants to one of how human rights were to be upheld. This meant a commitment to gender equality and the empowerment of all women and girls, recognizing their independence, agency, and leadership. Critically States should end the criminalization of irregular migration. As the international community moved towards the implementation of the Global Compact, there was now a unique opportunity for this Committee and its partners to increase the number of States parties to the Convention. She moved on to explain that the General Assembly's 2020 review of the treaty body system was just around the corner. The budgetary situation was very problematic. All Committees had been directed to implement the General Assembly's 25 per cent budget cut to travel of their members and the current cash flow problems affecting the United Nations as a whole brought additional restrictions. Any weakening of the treaty body system risked undermining the whole human rights architecture, and the large global context with its roll back on multilateralism and universal norms only deepened her concerns. The 2020 treaty body review was an opportunity to stand up for the treaty body system. The Committee's substantive engagement in this process was critical.
Remarks by the Chairperson of the Committee
AHMADOU TALL, Committee Chairperson, said that the world was changing, and it was up to Experts to propose innovative alternative solutions, and find the best responses to adapt to restrictions. The Committee could not carry on as it had done in the past; it had to adapt to the changing world and to changing situations. Despite the problems surrounding the protection of human rights of migrant workers, it was important to find a way to move forward.
Adoption of the Agenda
The Committee adopted the agenda and programme of work of the thirty-first session.
Statement by Non-Governmental Organization from Argentina
Centre of Legal and Social Studies, a non-governmental organization representing a coalition grouping 16 organizations, speaking about the situation in Argentina, said it was here to denounce law 25.871 and related decrees in Argentina. In 2017, a decree had been adopted which triggered growing criminalization of migrants. A new procedure for summary expulsion had been introduced for people that had any form of criminal record. It cut remedies available and shortened delays for administrative decisions. Today, two years after the adoption of this decree, its implementation had led to problematic separation of families, including that of people that were rooted and working in Argentina. Increasingly the evaluation of the impact of decisions on family situations was deemed optional. The opinion of the Ombudsperson was not heeded, neither was that of children and adolescents. People could be detained or deported for merely having a criminal record, with no consideration of the seriousness of the crimes. There was virtually no court judicial oversight. The 2017 decree had caused the rights of migrants to be cancelled. It left all powers in the hands of migration authorities. This had led to migrants being expelled, leading to the destruction of family units. Children were deprived of the care, the love and the education they needed. Boys and girls were separated from their parents, which caused them anguish and psychological distress. This jeopardized their emotional development for ever. Children should not suffer such ordeals because of the criminal records of their parents. The degree to which they were rooted in Argentina was not taken into consideration. Through mass media communications, President Mauricio Macri and other high-ranking public personalities, such as the Minister for Security, Patricia Bullrich, had spoken in a manner that contributed to the criminalization of migration in the most irresponsible manner. They had blamed migrants for the insecurity, doctoring official statistics and, in doing so, fostered discrimination, xenophobia and racism at all levels of the State and society. Perhaps the most preoccupying consequence of such discourses was the exacerbation of police and institutional violence.
Questions by Committee Members
MARIA LANDAZURI DE MORA, Committee Vice-Chairperson and Rapporteur for Argentina, said that the input of non-governmental organizations was extremely valuable. She thanked them for the documents they had provided and for flagging certain situations, notably concerning the situation of migrant mothers. The work of human rights defenders in Argentina was extremely important. Argentina was a country that was built by migrants, she recalled. Backslides should not be allowed. Criminalization had led to real harm being done in the country, and this matter would be raised with the Argentinian authorities. Another Expert stressed the need for all States to take into consideration the needs and rights of children, including the right to family life. He requested more information on the rise of discriminatory discourse and on the number of family separations as a result of the implementation of emergency decrees. An Expert asked how media in Argentina handled this matter. Another Expert asked if migrants had access to justice when their rights had been violated. Had there been a decrease in the living conditions of migrants from North Africa?
Responses by Non-Governmental Organization
Centre for Legal and Social Studies said the number of deportations issued had stood at 1,800 per year in 2014-2015, but now the average was over 4,000. Non-governmental organizations did not have figures on family separation as the State did not publish data on this phenomenon. The pattern was concerning: deportations were carried out without the defence being involved; persons were tricked and brought to the airport without being able to say goodbye to their children, and without being able to contest the deportation procedure. The judiciary should have an important role to play. And yet, today, it was like the administration held all the power to carry out the deportations and the judiciary had no power to carry out any form of oversight. The courts did not know the Convention. The judges signed the deportation order without looking into the substance of the case. The migration administration was telling people that they were taking action against insecurity. Migrants were the scapegoats of the Government, and the judiciary was letting things slide. On the media, it was important to understand that the problematic discourse was coming from the highest levels of Government. There was no way the non-governmental organizations could combat this, as the media did not provide them any space to do so.
Human rights in Argentina

Argentina is known globally for its hard-fought Memory, Truth and Justice Process over the crimes committed during the 1976-1983 dictatorship. But numerous other human rights achievements have been enshrined in the country's constitution, laws, regulations and jurisprudence over the years. Today, some of those are at risk.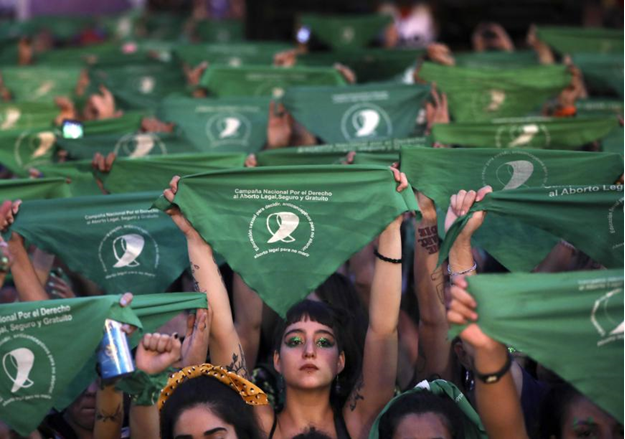 PC CREDIT: Thousands of pro-choice activists wave their iconic green handkerchiefs and demonstrate in favor of decriminalizing abortion outside Congress in Buenos Aires, Argentina, on February 19, 2020. © 2020 Natacha Pisarenko/AP Photo
As we publish our 21st report on human rights in Argentina, various decisions and measures have negatively affected critical questions related to the human rights agenda and protection mechanisms. In a regional and international context that is adverse to global agreements on human rights – across political lines – the Argentine government's response to grave incidents, repeated police repression, and troubling discourses on current threats to the country and its recent past sound an alarm regarding the consensuses achieved. This scenario has been compounded by judicial decisions that take aim at some of the pillars of Argentina's democracy (for more information, see the prologue). The full 2017 Report is available in Spanish. Highlights from each of its chapters
Memory, Truth and Justice
With regard to the Memory, Truth and Justice process, there has been a resurgence of the discourse that equates the crimes against humanity committed by the state terror regime with the crimes committed by armed political organizations in the 1970s (also known as the "theory of the two demons"). In the last two years, some public officials have openly questioned the number of victims of crimes against humanity, in efforts to minimize the dictatorship's atrocities or ascribe them to a "war" between two symmetrical forces. President Mauricio Macri has shown indifference to such debates, and expressed an eagerness to "move on" as a society. Meanwhile, his administration has either reduced in scope, funding or personnel, or altogether dismantled, a number of programs and units supporting the judicial investigation of the dictatorship's crimes. This includes, for example, the teams of researchers charged with analyzing the Armed Forces' archives as well as the Argentine Central Bank's human rights division, which investigated economic complicities with the dictatorship. Such actions undermine the judicial process, which is already plagued by delays at a time when many of the accused are reaching a critically advanced age. Finally, as political winds have shifted, so have some judicial rulings, most notably the so-called "2-for-1" decision by Argentina's Supreme Court. In this May 2017 ruling, the Supreme Court effectively slashed the prison sentence of Luis Muiña, who had been convicted of crimes against humanity, by applying the so-called 2-for-1 law to his case. This decision sparked outrage in Argentine society, prompting some half a million people to take to the streets in protest in Buenos Aires alone and fueling the nearly unanimous passage of a law prohibiting perpetrators of crimes against humanity from benefiting from shorter prison terms. While the Supreme Court ruling was deeply troubling, the social and political reaction reinforced a key consensus in Argentine democracy: impunity for the dictatorship's crimes will not be tolerated.
Migration policy
Argentina's landmark migration legislation, approved in 2003, is centered on the human rights of migrants and establishes the state's obligation to regularize their status by ensuring access to national documentation. This legislation has served as a model for similar reforms in the region, in countries such as Uruguay, Bolivia and Brazil. However, in January 2017, the Argentine government issued an emergency decree that gutted some key provisions of the Migration Law. It permits people's expulsion for migration-related infractions and minor criminal offenses, and created a fast-track detention and deportation procedure that violates due process, the right to defense and access to justice. In practice, the approach to migration policy had changed before the decree was issued. The government publicized enforcement operations that cracked down on irregular migration, while discontinuing programs aimed at helping migrants regularize their situation. Some public officials, including the president himself, have explicitly linked migration to crime. Security Minister Patricia Bullrich pointed to migrants from Peru and Paraguay, saying they "come here and end up killing each other to control the drug trade." Both the government's policies and its public statements foster the stigmatization and criminalization of migrants.
Economic and social context
Poverty, unemployment and inequality have increased in the last two years, exacerbating difficulties to access decent habitat and harming the effective exercise of basic economic and social rights. The country's economic problems did not start under this government. However, due to the current administration's pro-market policies, the burden of economic contraction and high inflation has fallen squarely on the poor. Among other measures, tax cuts on agricultural and mining exports and reduced subsidies for public transportation and utilities have favored bigger profits in the commodities sector while hurting everyday Argentines. At the same time, public indebtedness has surged, encouraging financial speculation and capital flight. Although the government maintained social investment and even expanded some programs, this was not enough to offset the impact of fewer job opportunities and reduced purchasing power. Meanwhile, the government's main housing policy has been to foment mortgage lending by public and private banks. But this only helps sectors with formal employment and the capacity to save money – meaning its potential impact is small. Limiting the state's role in land management and real estate market dynamics leads to greater speculation, higher property prices and social segregation. These structural problems are not on the political agenda today.
Criminalization of organizing
As workers take to the streets to protest firings and worsening labor conditions, there has been an intensified push to criminalize social, political and trade-union organizing via judicial and administrative means. This has included strategies such as detaining leaders, filing charges against them, reactivating judicial cases, levying fines on individuals and organizations, and shutting down social and trade-union organizations – in many cases for actions related to making demands and exercising human rights. Such measures have a disciplining effect on people and on the way they express themselves, assemble and organize. They also enable stigmatizing discourses that consolidate discriminatory attitudes toward different social groups. Our report analyzes a number of specific cases of criminalization affecting teachers' unions in Buenos Aires province and Tierra del Fuego, organized sugar workers in Jujuy and Salta and the qom indigenous community in Formosa, along with the arbitrary detention of social leader Milagro Sala and persecution of the Túpac Amaru organization she headed. Using the criminal justice system to persecute members of social and political organizations is not new. But this practice has intensified since 2016 and converged with government officials' discourses and decisions against social protest, labor strikes and organizational leaders. While the violent repression of social protest has increased, so has the criminalization of participants. They are charged with offenses such as obstructing traffic, usurpation and "public intimidation," a criminal category that has been misapplied to protest situations since mid-2017 and exposes people to stiffer penalties.
Security policy
The Cambiemos governing coalition takes a security approach to social protest, prioritizing the notion of public order over the right to protest. In February 2016, officials announced a new protocol governing security force action during demonstrations, which focused mainly on clearing roadblocks. This protocol sought to expand the police's power to detain people without a court order and – in contrast to exemplary regulations from 2011 – did not prohibit police from carrying or using firearms or shooting rubber bullets to disperse crowds. While this new protocol was never published as an official government resolution, it sent a clear message to security forces in favor of repression. Unsurprisingly, this repression has played out repeatedly, with the abusive use of crowd-control weapons against protesters, their arbitrary detention, and their prosecution on federal offenses – which can trigger deportation procedures, in the case of migrants. More broadly, this security approach has been applied to land conflicts and other social problems, intensifying police saturation of poor neighborhoods and fostering the construction of "internal enemies" who purportedly pose a threat to national security or sovereignty. This latter development reflects the government's embrace of the "new threats" doctrine promoted by the United States, which identifies drug trafficking and terrorism among the new threats that countries must fight, ideally with the help of military intervention. Since Argentina's dictatorship, numerous laws have enshrined the principle that the Armed Forces should never intervene in domestic security matters. However, some sectors of the government advocate for military involvement in fighting drug trafficking and "terrorism" (which is not a pressing issue in Argentina today and reflects the forced application of foreign concepts to the national context, as part of a political realignment with the United States). A January 2016 security emergency declaration authorized the Armed Forces to shoot down "hostile aircraft" suspected of transporting drugs – which would constitute direct and lethal military intervention in matters of domestic security, in violation of the law.
Mental health policy
In 2010, the National Mental Health Law was enacted, providing for an individualized approach that is respectful of rights and establishing the goal of closing all psychiatric hospitals by 2020. In Argentina, psychiatric asylums have been the site of some of the worst human rights violations: inadequate treatment, abandonment, overmedication, the use of electroshock, grossly deficient hygiene and privacy conditions, and physical and sexual abuse. In the case of children and adolescents, their prolonged or repeated hospitalization in such harmful conditions ensures their social exclusion. Little progress was made to implement this law between 2010 and 2015. However, in the last two years, the government has taken actions that reinforce, rather than transform, the current psychiatric asylum system. This has included restructuring the bodies created to execute the law, excluding civil society organizations and the users of mental health services, and repealing the only resolution that had made concrete progress toward implementation by establishing the minimum requirements for institutions that offer such services. In general, mental health policy continues to be centered on hospitalization in obsolete, ineffective, unsanitary and even dangerous asylums. It also reflects the renewed influence of psychiatrists' lobbying groups and of pharmaceutical and other businesses.
Access to abortion
Abortion is legal in Argentina when a woman has been raped or when her health or life is endangered. This according to a law that has been on the books for nearly 100 years. In practice, however, many obstacles lie in the way of legal abortions, and in 2012 the Supreme Court issued a historic ruling (known as F., A. L.), clarifying legal interpretations and specifying measures to be taken to ensure equal access to such abortions throughout the country. These included the issuing of hospital protocols to guarantee proper medical attention for women who have the right to a legal abortion. Five years after the Supreme Court ruling, implementation of such protocols was only partial: by March 2017, fewer than half of Argentina's provinces had protocols in place that incorporated the high court's criteria. In addition, courts continue to criminally prosecute women accused of engaging in illegal abortions, based on information provided by health care workers who violate patient confidentiality (which is a criminal offense in itself). This means that young, poor women in particular run the risk of being detained if they seek medical attention for obstetric emergencies, which pushes them into the unsafe, illegal circuit of abortions – even when they have a right to a legal abortion or post-abortion health care. These women are stigmatized and criminalized by the judicial branch and the medical system itself. The case of Belén, a young woman who sought medical treatment for a miscarriage and ended up incarcerated for over two years before being acquitted on homicide charges, has served as a stark example.
The GIEI and Ayotzinapa
Moving beyond Argentina, our 2017 report on human rights includes a chapter analyzing the intervention of the Interdisciplinary Group of Independent Experts (known by its Spanish acronym, GIEI) in the case of the 43 disappeared students from Ayotzinapa, Mexico. The GIEI was created by the Inter-American Commission on Human Rights (IACHR) to help investigate this case, which earned international notoriety, and to ensure implementation of the Commission's precautionary measures. The Group's experience shows that innovative and real-time intervention by international human rights protection mechanisms can be highly relevant, and can help drive structural change. The GIEI's contributions to the Ayotzinapa case are many. It refuted the "historical truth" about the students' disappearance that the Attorney General's Office had put forth, proved the intervention of state and federal police and the Army's presence at the scene of the disappearances, discovered more than sixty mass graves in the Mexican state of Guerrero and demonstrated how a senior government official had tampered with evidence. In addition, the GIEI – which had achieved credibility and had a high profile nationally and internationally – described the structural flaws in Mexico's criminal investigation system that contribute to impunity, while also backing local organizations' demands for a national law on enforced disappearances. In this way, it was able to influence discussions on security policy, the judicial system and the human rights crisis in Mexico, which entails alarming rates of extrajudicial execution and torture as well as disappearances.
International drug policy
The Mexican government's declaration of a war on drugs and organized crime in 2006 enabled military intervention in domestic security matters, causing widespread violence and contributing greatly to the country's crisis today. In the final chapter of our report, which is available in English here, the failures of the international drug control system and the practices it has spawned are analyzed by Julia Buxton, Acting Dean and Professor of Comparative Politics at the Central European University's School of Public Policy.