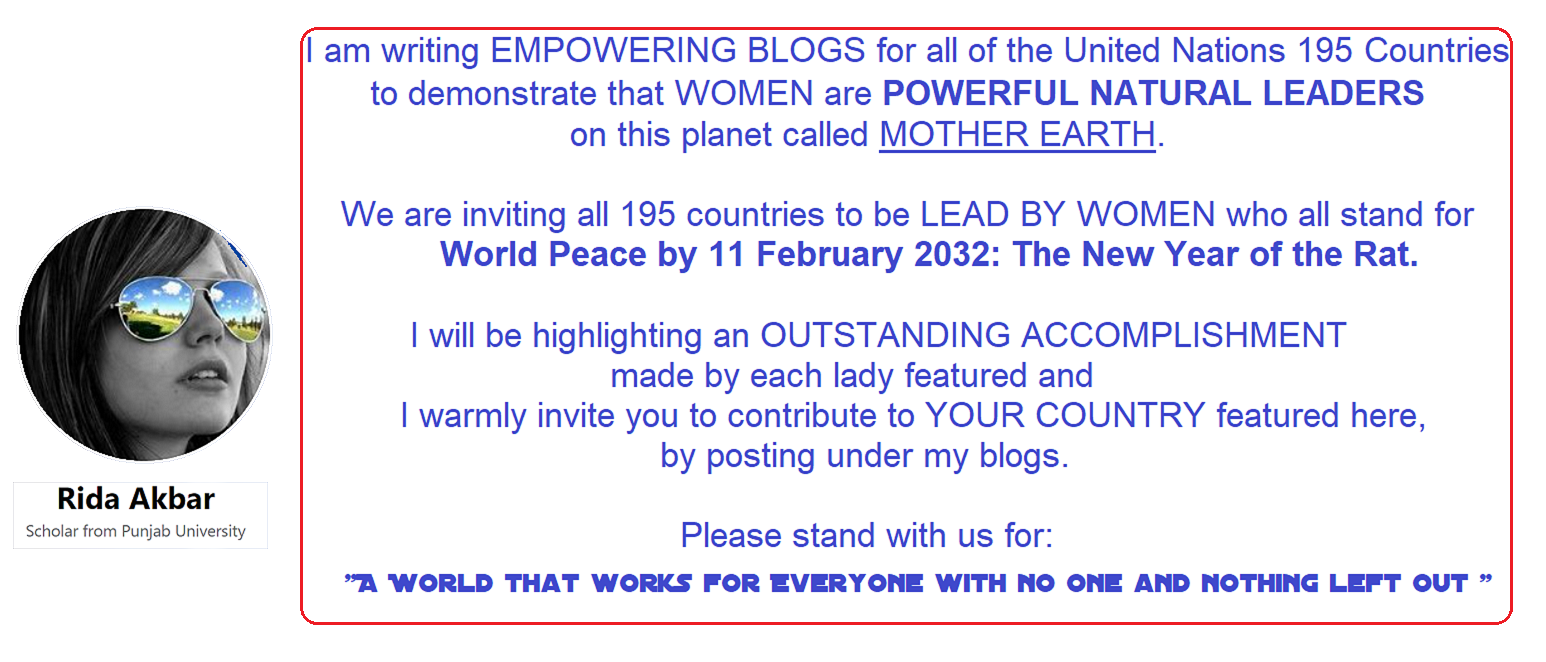 Mette Frederiksen was elected Prime Minister of Denmark in June, 2019. She is the second woman to hold this office, and the youngest Prime Minister in Danish history. Prime Minister Frederiksen was born in Aalborg, Denmark. She attended the Aalborghus Gymnasium and studied administration and social science at Aalborg University, graduating in 2000. Frederiksen became a member of the Social Democrats' youth branch at 15, and was elected as a member of Folketing, the Danish Parliament, in 2001 at the age of 24. Following her election to the parliament, she was named as her party's spokesperson for culture, media, and gender equality. The subsequent year she received the Nina Bang award for showing political courage, enthusiasm and impact with social feeling.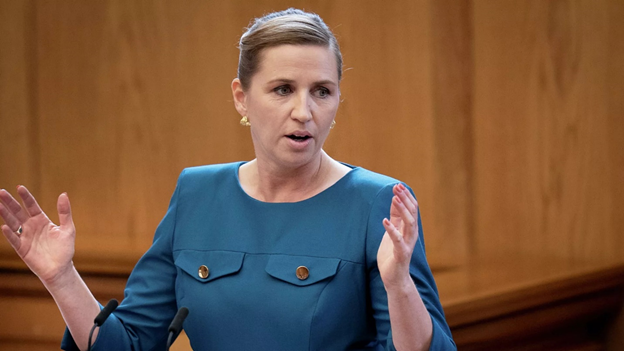 PC CREDIT: © REUTERS / RITZAU SCANPIX


After the Social Democrats won the 2011 general election, she was appointed Minister of Employment by Prime Minister Helle Thorning-Schmidt. In 2014, Frederiksen was promoted to become Minister of Justice. In 2015, following a narrow defeat of her party in the general election, she was elected as the Leader of the Opposition, a role she held until becoming Prime Minister. Frederiksen worked as a youth consultant for LO, The Danish Confederation of Trade Unions. She was elected as a member of parliament for Copenhagen County in the 2001 general election which saw the Social Democrats losing the first place and placing second for the first time since 1920 After her election, Frederiksen was named as her party's spokesperson for culture, media and gender equality. In 2002, she received the Nina Bang Prize for showing political courage, enthusiasm and impact with social feeling. In addition, she received the Ting Prize in 2012 and has co-authored the books Epostler (2003) and From Fight to Culture (2004). After the 2005 general election loss, Frederiksen became her party's spokesperson for social affairs. Following the election, she also served as the vice-chairperson of the parliamentary group of the Social Democrats. In the 2007 general election which saw the Social Democrats losing two more seats, Frederiksen obtained 27,077 votes, placing her in seventh place in the ranking of the ten Danish politicians with the most votes. After the 2011 general election which led to a Social Democrats government, Frederiksen served under Prime Minister Helle Thorning-Schmidt as Minister for Employment from 2011 to 2014 and Minister of Justice from 2014 until she succeeded her as party leader. As Minister of Employment, she headed for reforms of early retirement pensions, flex jobs and the employment system. Likewise, the controversial cash assistance reform meant lower cash benefits for young unemployed and provided cohabiting mutual support, among other things.


Leader of the Social Democrats
Under Frederiksen's leadership starting after the 2015 general election in which the Social Democrats returned to first place and gained three seats in the Folketing, the party has moved back to the left on economic issues while taking a conservative stance on immigration.
Prime Minister of Denmark
2019 election


The 2019 general election saw the Social Democrats gaining a further seat while support for the Danish People's Party and the Liberal Alliance collapsed, costing Lars Løkke Rasmussen his majority. With the result beyond doubt on election night, Rasmussen conceded defeat.[11] Frederiksen was appointed Prime Minister on 27 June 2019, heading an exclusively Social Democratic minority government supported by the red bloc. Despite having run on an anti-immigration stance during the election, Frederiksen briefly shifted her stance on immigration by allowing more foreign labour and reversing government plans to hold foreign criminals offshore after winning government.[13][14][15]
Foreign policy
Frederiksen gained international attention in August 2019 when President of the United States Donald Trump cancelled a state visit to Denmark following her refusal to sell Greenland, an autonomous territory of Denmark. On 15 August, The Wall Street Journal reported that Trump had discussed the possibility of buying Greenland with aides. Kim Kielsen, the Premier of Greenland, responded by saying that Greenland is not for sale. On 18 August, after the rumor was confirmed by the White House, Frederiksen echoed Kielsen's comments, saying that "Greenland is not Danish. Greenland belongs to Greenland", and called the discussion "absurd" On 20 August, Trump cancelled the state visit, scheduled 2–3 September, with specific reference to Frederiksen's refusal to discuss a possible sale.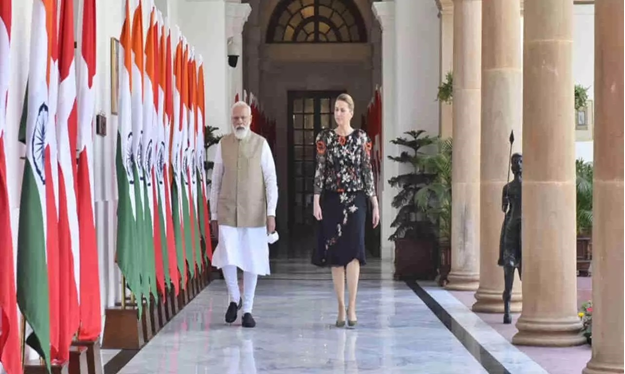 PC CREDIT: Prime Minister Narendra Modi welcomes Danish
counterpart Mette Frederiksen. (Photo credit: Twitter)
On 3 January 2020, Iranian General Qasem Soleimani was assassinated by the United States, which considerably heightened the existing tensions between the two countries. Frederiksen called it "a really serious situation". She avoided question on whether the killing was right, instead calling for de-escalation. In 2020, Frederiksen was labeled "Denmark's most eurosceptic PM in a long time",[22] as she has often criticised the EU's response to the
COVID-19 pandemic,
and their vaccine program. COVID-19 pandemic Frederiksen has been leading the Danish Government response to the COVID-19 pandemic in Denmark. In 2020, she issued an order to mink farmers to cull millions of these animals in the wake of the COVID-19 pandemic; this decision later turned out to be unconstitutional. By 2021, she joined forces with Chancellor Sebastian Kurz of Austria and Prime Minister Benjamin Netanyahu of Israel in setting up a joint research and development fund and possibly production facilities for COVID-19 vaccines to ensure they had long-term supplies for booster shots or to contend with virus mutations.


Political positions
Social policies
Frederiksen has stated a desire to be "Prime Minister of Children", and in 2021 she presented a plan called "Law of Children", in order to put the children at front in social cases, including giving municipalities more ressources to take children away from violent parents, and give children more rights in divorce cases. In 2020, she also made a deal with the Socialist People's Party, Red-Green Alliance, and the Danish People's Party, in order to give people who have worked for long, the ability to get early retirement. This was also one of Frederiksen's main promises during the 2019 election campaign. Frederiksen is a vocal opponent of prostitution. For many years, she has strongly advocated the prohibition of the purchase of sex as in Iceland, Norway and Sweden. In 2002, she opened the debate on the prohibition of prostitution and was behind the 2009 congressional decision that the Social Democrats would "work for a ban on the purchase of sexual services", claiming that prostitution caused mental health damage to the prostitute.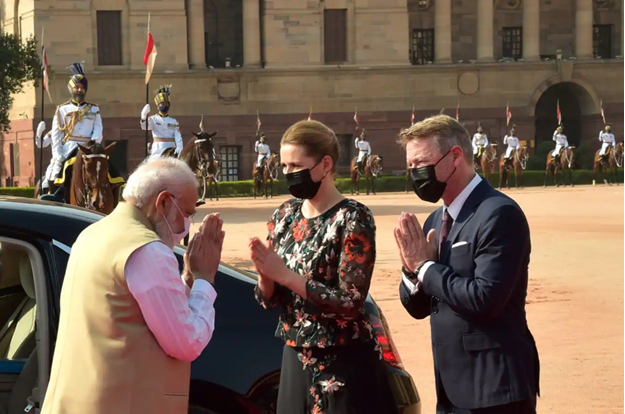 PC CREDIT: PM Modi received Mette Frederiksen at the Rashtrapati
Bhavan in Delhi where she was accorded a ceremonial welcome. (Photo: PIB)


Immigration
Frederiksen also became increasingly sceptical of liberal mass immigration as she believes it has had negative impacts for much of the population, a more pressing issue since at least 2001 after the 11 September attacks which intensified during the 2015 European migrant crisis. In a recent biography, Frederiksen stated: 'For me, it is becoming increasingly clear that the price of unregulated globalisation, mass immigration and the free movement of labour is paid for by the lower classes.' Under Frederiksen, the Social Democrats voted in favour of a law allowing Danish authorities to confiscate money, jewellery and other valuable items from refugees crossing the border,despite harsh condemnation from the United Nations Human Right Council and widespread comparisons between the plan and the treatment of Jews in Nazi-occupied Europe. The Social Democrats voted for a law banning wearing of burqas and niqabs while abstaining during a vote on a law on mandatory handshakes irrespective of religious sentiment at citizenship ceremonies and on a plan to house criminal asylum seekers on a bridgeless island on which they would have to stay at night. Frederiksen also backed the right-wing populist Danish People's Party in their paradigm shift push to make repatriation rather than integration the goal of asylum policy. She has called for a cap on non-Western immigrants, expulsion of asylum seekers to a reception centre in North Africa and forced 37-hours-per-week labour for immigrants in exchange for benefits.

Frederiksen has referred to Islam as a barrier to integration, arguing that some Muslims "do not respect the Danish judicial system", that some Muslim women refuse to work for religious reasons and that Muslim girls are subject to "massive social control" and has called for Muslim schools to be closed. In April 2021, Frederiksen announced that Denmark's "ultimate goal" shall henceforth be one of "zero asylum seekers." Danish Integration Minister Mattias Tesfaye added that "no exceptions will be made" towards that goal. Danish Refugee Council's Secretary General Charlotte Slente called the move "irresponsible." The Danish state subsequently ceased the renewal of temporary residency permits to about 189 Syrian refugees, claiming that it is "now safe to return to Syria."


Globalisation[edit]
She has argued that perception of the Social Democrats adopting the Third Way and practicing centrist, neoliberal economics and supporting unrestricted globalisation contributed to the party's poor electoral performance in the early 21st century. Labeling economic foreign policies of Europe as too liberal, Frederiksen has criticised other social democratic parties for losing their voters' trust by failing to prevent globalisation chipping away at labour rights, increasing inequality and exposing them to uncontrolled immigration.


Climate change[edit]
Frederiksen's government made international news with the agreement to reduce Denmark's territorial emissions by 70% in 2030 compared to 1990, the decision to stop oil and gas exploration after 2050 (also driven by the fact that only one company applied for a lease in the latest auction), and the energy islands in the North Sea. Frederiksen publicly said: "I was a social democrat before I got green. And when I wake up in the morning, I am still a social democrat before I am green. More than a year after having set an ambitious reduction target for the decade, there are in March 2021 no concrete plans for dealing with the remaining two thirds of the needed reductions to achieve the Danish 2030 emission target. Green NGOs have largely viewed Frederiksen's Minister of Climate Dan Jørgensen's tenure negatively in 2020. Frederiksen's government has described its climate action strategy as a "hockey stick"-model. This means it plans to await new technologies and falling costs and thus only achieve most reductions at the end of the decade - this strategy has been described by other political parties as a "Bjørn Lomborg" dream. Despite pleas from the UNFCCC,[48] the International Monetary Fund, the World Bank, the Danish Economic Councils and the Danish Council on Climate Change, Frederiksen's government has postponed the implementation of a higher carbon pricing mechanism,even though Denmark was a pioneer with its adoption in 1992.The opposition to higher carbon taxes was positively received by associations representing the major emitting sectors such as the Confederation of Danish Industry and Danish Agriculture and Food Council. As of March 2021, Denmark stands to have a much lower price on carbon than its neighbours in 2030, with consequences such as trucks from Germany waiting to refuel until they are in Denmark to benefit from the low diesel prices in Denmark. Denmark is also one of the four EU countries without carbon taxes on passenger flights.In fact, Frederiksen's government had plans to guarantee domestic flights during the COVID-19 crisis by subsidising domestic flights, a decision decried by green NGOs and the supporting parties Red-Green Alliance and the Socialist People's Party.The decision was not implemented as the European Commission would not approve it due to regulations on state aid. Frederiksen's government entered a formal agreement with the cement manufacturer Aalborg Portland (Denmark's largest carbon emitter standing for 4% of the national emissions) concluding that they did not have to reduce their annual emissions below their 1990 level of 1.54 million CO 2 tons. Previously, Mette Frederiksen had said: "I will chain myself to Portland before anyone is allowed to close them". Similarly, her government has been criticised for allowing state-owned companies to continue the build-out of fossil fuel infrastructure like a natural gas pipeline of 115 km, with an associated socio-economic cost of $113 million for Denmark.] In a formal answer to the Parliament, the Minister of Climate Dan Jørgensen confirmed that the gas pipeline would not reduce the carbon emissions in the short term nor add any jobs in Denmark. As stipulated in the Climate Act, the Danish Council on Climate Change has to make annual recommendations for and provide a status update on the Danish government's climate efforts. In February 2021, the Danish Council on Climate Council does not find it likely that Frederiksen's government will achieve the target of a 70% reduction of greenhouse gases by 2030
Criticisms
Private school case
In May 2010, it was revealed that Frederiksen's daughter, along with the children of several other prominent Social Democrat politicians, was being educated at a private school. Along with her colleagues, Frederiksen was accused of hypocrisy by the Danish press as her party had long seen the promotion of public education as a key policy. In 2005, Frederiksen had openly criticised parents who sent their children to private schools Frederiksen responded to the criticism by saying that her opinion on private education had become more nuanced since her remarks in 2005 and that it would have been hypocritical of her to put her own political career ahead of her daughter's best interest. Immigration policies In an interview with Kristeligt Dagblad, Frederiksen called for the "closure of all immigrant centres" and for the "resettlement of immigrants in North Africa". These statements were strongly criticised by Morten Østergaard (secretary of the Danish Social Liberal Party - Radical Left) and Cristina Narbona (president of the Spanish Socialist Workers' Party), who accused Frederiksen of xenophobia. However, her statements were praised by Sigmar Gabriel (former leader of the Social Democratic Party of Germany) in an op-ed for Handelsblatt. In 2020 and 2021, her government was criticised for refusing to repatriate children with Danish citizenship from Syrian refugee camps, due to their parents allegedly having joined the Islamic State

Outstanding Achievements

Mette Frederiksen invites companies to sign climate contracts It's time to put real deals on the table. Prime Minister Mette Frederiksen wants to sign new climate contracts with the biggest sectors in Danish business in order to reach climate targets. It's time to put real deals on the table. Prime Minister Mette Frederiksen wants to sign new climate contracts with the biggest sectors in Danish business in order to reach climate targets. Prime Minister Mette Frederiksen (Socialdemokratiet) wants to collaborate with Danish companies in order to reach the government's target of a 70 per cent cut in carbon emissions by 2030. At the DI Business Summit 2019, she extended a direct invitation to Danish companies to sign so-called climate contracts, in which politicians and companies commit to the green transition.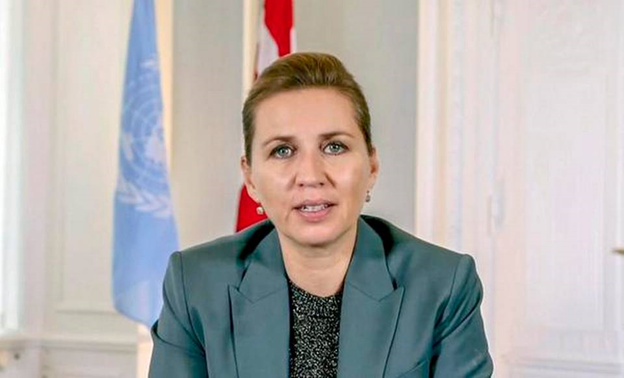 PC CREDIT: Associated Press


"My hope is that my invitation will enable us to put together a green action plan, sector by sector. Talking in general terms isn't enough. Instead, we need to delve into all major sectors that have helped carry our country forwards," said Mette Frederiksen. As examples, she mentioned process industries, transport, agriculture, food, fashion and gaming industries as well as trade and tourism. You've requested more money for green research. And you're going to get it - around double the amount.PM Mette Frederiksen (S) Companies and organisations are therefore invited to the prime minister's residence at Marienborg as soon as possible to discuss how climate contracts can be drawn up. She described the contracts as elements of the action plans the government intends to launch when a climate law is passed, which she is seeking to have in place before Christmas. See also: DI launches new 2030-plan: We can create growth and cut Denmark's emissions by up to 70 per cent Clearing the way Mette Frederiksen described the climate contracts as the next major step in the government's green agenda - a next step that follows the Confederation of Danish Industry's 2030 Plan "Together we create green growth", which the prime minister described as a giant leap. As part of the climate contract, companies must also let the government know if they come up against difficulties with authorities and politicians. "If you run into obstacles - ineffective legislation, unnecessary bureaucracy or politicians who haven't understood how things work - then let us know, and we'll clear the way," said Mette Frederiksen. See also: Youth at democracy festival: "Companies must take the lead to achieve SDGs" DI: Crystal clear call for cooperation DI's CEO Lars Sandahl Sørensen welcomes Mette Frederiksen's invitation. "The prime minister's invitation to sign climate contracts is a crystal clear signal that the green transition is something we can only achieve together. DI and Danish companies are prepared to work together to figure out how we can find the right solutions to climate change which will also secure Denmark's competitiveness and prosperity," says CEO Lars Sandahl Sørensen.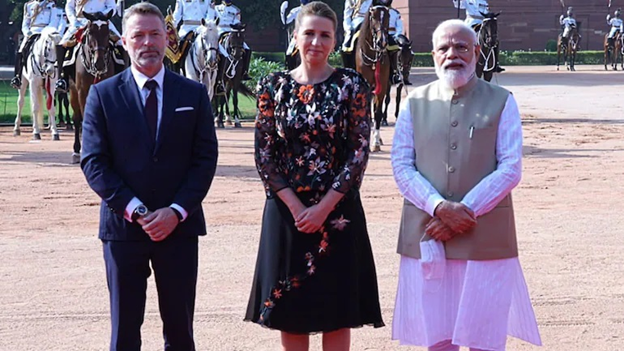 PC CREDIT: PM Modi received Denmark Prime Minister Mette
Frederiksen at the Rashtrapati Bhavan today (Photo: Twitter/@MEAIndia)


He emphasises that the target of a 70 per cent reduction by 2030 is extremely ambitious - and can only be reached by investing in green research and developing new solutions. "With DI's 2030 Plan, we're presenting our proposal for how we can get closer to that target. But there are also many answers and green solutions that are yet unknown - both within various sectors and across sectors and society as a whole," says Lars Sandahl Sørensen. See also: DI: New technological achievement with Horns Rev 3 More research and export support And precisely in the field of research, Mette Frederiksen pledged action - specifically in the form of a doubling of funding for green research. "You've requested more money for green research. And you're going to get it - around double the amount we currently spend, which means we'll go from DKK 1 billion to DKK 2 billion," said Mette Frederiksen. In addition, she promised help to strengthen Danish companies' green exports to new markets. European exports are going relatively well. "But when you venture out into new markets, it starts to get difficult. That is why we in our proposal for the Finance Act intend to make it easier to export green solutions around the world." Frederiksen has been Prime Minister of Denmark since June 2019 and the leader of Denmark's center-left Socialist Democratic party since June 2015. She's the youngest prime minister in Danish history and the second woman. Frederiksen made international headlines for informing President Donald Trump that Greenland was not for sale. She called the idea "absurd." Boosting welfare spending and tackling climate issues are two of her main priorities.