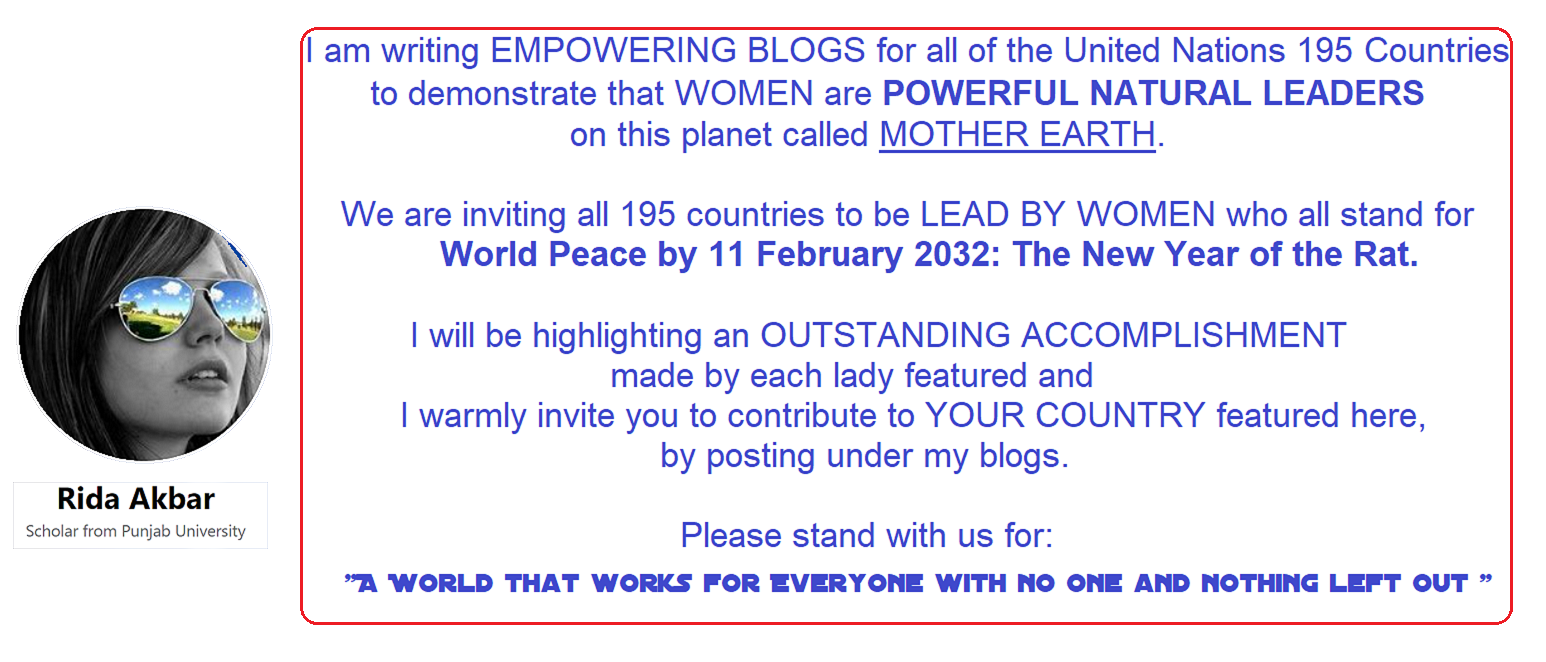 ERNA SOLBERG
Prime Minister of Norway (2013-Present)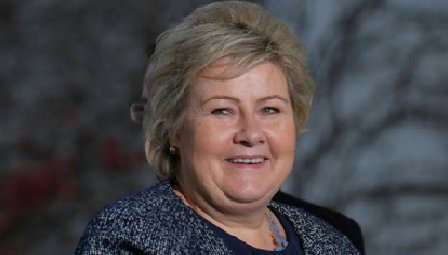 PC CREDIT: Erna Solberg said she believed the election campaign would be 'a discussion on the way forward for Norway', which could help the centre-right © Sean Gallup/Getty Images
(Norwegian; born 24 February 1961) is a Norwegian politician serving as Prime Minister of Norway since 2013 and Leader of the Conservative Party since May 2004. She has been given the nickname "Iron Erna", inspired by Margaret Thatcher's nickname, the "Iron Lady". Solberg was first elected to the Storting in 1989, and served as Minister of Local Government and Regional Development in Bondevik's Second Cabinet from 2001 to 2005. During her tenure she oversaw the tightening of immigration policy and the preparation of a proposed reform of the administrative divisions of Norway. After the 2005 election, she chaired the Conservative Party parliamentary group until 2013. Solberg has emphasized the social and ideological basis of Conservative policies, though the party also has become visibly more pragmatic After winning the September 2013 election, Solberg became the 28th prime minister of Norway and the second woman to hold the position, after Gro Harlem Brundtland.] Solberg's Cabinet, often informally called the "Blue-Blue Cabinet", was initially a two-party minority government consisting of the Conservative and Progress parties. The cabinet established a formalized cooperation with the Liberal and Christian Democratic parties in the Storting. The government was reelected in the 2017 election, and was extended to include the Liberal Party in January 2018 This extended minority coalition is informally called the "Blue-Green cabinet". In May 2018, Solberg surpassed Kåre Willoch to become the longest-serving prime minister of Norway from the Conservative Party. The government was further extended in January 2019 to include the Christian Democratic Party, and thereby secured a majority in Parliament.
Solberg was born in Bergen in western Norway and grew up in the affluent Kalfaret neighbourhood. Her father, Asbjørn Solberg (1925–1989), worked as a consultant in the Bergen Sporvei, and her mother, Inger Wenche Torgersen (1926–2016), was an office worker. Solberg has two sisters, one older, one younger. Solberg had some struggles at school, and at the age of 16 was diagnosed as suffering from dyslexia. She was nevertheless an active and talkative contributor in class.[14] In her final year as a high-school student in 1979, she was elected to the board of the School Student Union of Norway, and in the same year led the national charity event Operasjon Dagsverk, in which students collected money for Jamaica. In 1986, she graduated with her cand.mag. degree in sociology, political science, statistics and economics from the University of Bergen. In her final year, she led the Students' League of the Conservative Party in Bergen. Since 1996 she has been married to Sindre Finnes, a businessman and former Conservative Party politician, with whom she has two children The family has lived in both Bergen and Oslo.
Local government
Solberg was a deputy member of Bergen city council in the periods 1979–1983 and 1987–1989, the last period on the executive committee. She chaired local and municipal chapters of the Young Conservatives and the Conservative Party.
Parliamentarian
She was first elected to the Storting (Norwegian Parliament) from Hordaland in 1989 and has been re-elected five times. She was also the leader of the national Conservative Women's Association, from 1994 to 1998.
Minister of Local Government and Regional Development
From 2001 to 2005 Solberg served as the Minister of Local Government and Regional Development under Prime Minister Kjell Magne Bondevik. Her alleged tough policies in this department, including a firm stance on asylum policy, earned her the nickname "Jern-Erna" (Norwegian for "Iron Erna") in the media.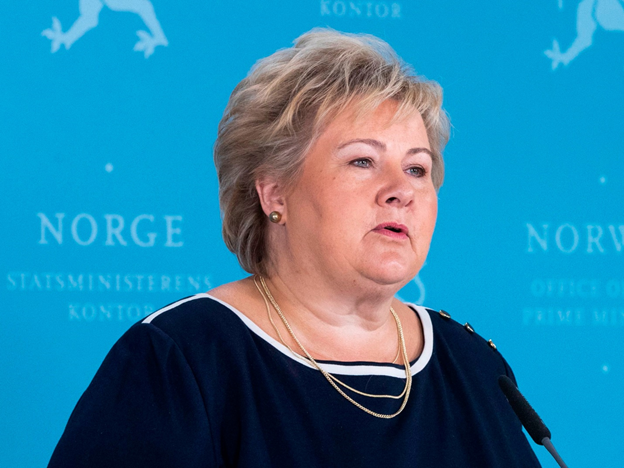 PD CREDIT: Erna Solberg Photographer: Berit Roald/AFP/Getty Images
Solberg, José Manuel Barroso and Mariano Rajoy at European People's Party Congress in Warsaw in 2009 In fact, numbers show that the Bondevik government, of 2001–2005, actually let in thousands more asylum seekers than the subsequent centre-left Red-Green government, of 2005–2009.[18] In 2003, Solberg proposed introducing Islamic Sharia Councils in Norway after being informed of the existence of such councils in the United Kingdom, and, in 2004, said that she wished to increase immigration to Norway. As Minister, Solberg instructed the Norwegian Directorate of Immigration to expel Mulla Krekar, being a danger to national security. Later, terrorism charges were filed against Krekar for a death threat he uttered in 2010 against Erna Solberg
Party Leader
She served as deputy leader of the Conservative Party from 2002 to 2004 and, in 2004, she became the party leader.
Prime Minister of Norway (2013–present)
Solberg and other Nordic leaders in Washington, D.C., 13 May 2016 Solberg and U.S. President Donald Trump in 2018 Solberg met with Indian Prime Minister Narendra Modi on the sidelines of India-Nordic Summit, in Stockholm in April 2018 Solberg became the head of government after winning the general election on 9 September 2013 and was appointed Prime Minister on 16 October 2013. Solberg is Norway's second female Prime Minister after Gro Harlem Brundtland. The Government was re-elected in 2017, making Solberg the country's first conservative leader to win re-election since the 1980s.The centre-right parties were also able to maintain the majority in the Storting. Erna Solberg has combined numerous national positions as Minister, Parliamentarian and regional politician with a strong commitment to global solutions for development, growth and conflict resolution. She also negotiated with the Liberals to join the government in 2018. The Liberals officially joined the Solberg Cabinet on 17 January 2018. After the Christian Democrats alliance conflict that lasted from September to November 2018, they eventually negotiated to join the Solberg Cabinet on the grounds of a minor change in the abortion law, something that caused harsh backlash from the public and critics alike. The Christian Democrats officially joined the Cabinet on 22 January 2019.
COVID-19 pandemic in Norway
One day after her 60th birthday in 2021 during the COVID-19 pandemic in Norway, Solberg breached national health guidelines by going to a restaurant in Geilo with her husband and 13 family members to celebrate her birthday. The guidelines stated that restaurants only can hold 10 people of the same cohort. In March, she apologised for breaching guidelines and that she didn't think of it properly before being questioned by NRK. She further stated that she should have known better. She was fined 20,000 NOK ($2,352) after a police investigation was conducted.
International engagements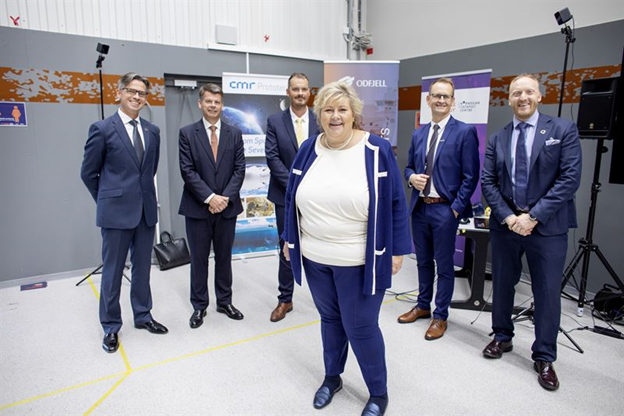 PC CREDIT: Photographer: Sustainable Energy Catapult Centre
Solberg and Russian President Vladimir Putin in April 2019 As Prime Minister, and former Chair of the Norwegian delegation to the NATO Parliamentary Assembly, she has championed transatlantic values and security. In 2018 she assembled a global High Level Panel on sustainable ocean economy and introduced the topic at the G7 Summit. Her Government supports the World Bank's PROBLUE] initiative to prevent marine damage. From 2016 the Prime Minister has co-chaired the UN Secretary General's Advocacy group for the Sustainable Development Goals. Among the goals, she takes a particular interest in access to quality education for all, in particular girls and children in conflict areas. This was also central in her work as MDG Advocate from 2013 to 2016. In one her many keynote speeches she stated that there is still a need for traditional aid and humanitarian assistance in marginalised and conflict-ridden areas of the world. The SDGs, however, take a holistic view of global development, and integrate economic, social and environmental factors. Solberg has shown particular interest in gender issues, such as girl's rights and education. Together with Graça Machel she has expressed the hope that in 2030 no factors such as poverty, gender and cultural beliefs will prevent any of today's ambitious young girls from standing confidently on the world stage. In 2016, she held a lecture at the International Institute for Strategic Studies The Global Goals in Singapore, addressing a road map to a Sustainable, Fair and More Peaceful Futurethe International Institute for Strategic Studies. Solberg has secured significant financial support for the Global Partnership for Education and hosted the Global Finance Facility for women's and children's health pledging Conference in Oslo in November 2018. Her firm belief is that investment in education will accelerate progress on all other SDG goals. In April 2017, she held a speech on globalization and development at Peking University in Beijing. She was awarded the inaugural Global Citizen World Leader Award in 2018 for her international engagement. In October 2019, she criticized the unilateral Turkish invasion of the Kurdish areas in Syria, but dismissed calls for suspending Turkey from NATO. In Solberg's speech to the UN General Assembly in 2019 she advocated for Norway's candidacy for a non-permanent seat on the Security Council for 2021–2022. She upheld that UN needs to be strengthened and that the world needs strong multilateral cooperation and institutions to tackle global challenges such as climate change, cyber security and terrorism. In May 2021, it was reported that Danish Defence Intelligence Service collaborated with National Security Agency to wiretap on fellow EU members and leaders, leading to wide backlash among EU countries and demands for explanation from Danish and American governments. Solberg said that, "It's unacceptable if countries which have close allied co-operation feel the need to spy on one another."[ Other news stories In April 2008, it was revealed that Solberg, as Minister of Local Government and Regional Development in 2004, had rejected a request for asylum in Norway by the Israeli nuclear whistleblower Mordechai Vanunu. While the Norwegian Directorate of Immigration had been prepared to grant Vanunu asylum, it was then decided that the application could not be accepted because Vanunu's application had been made outside the borders of Norway. An unclassified document revealed that Solberg and the government considered that extraditing Vanunu from Israel could be seen as an action against Israel and thus unfitting to the Norwegian government's traditional position as a friend of Israel and as a political player in the Middle East. Solberg rejected this criticism and defended her decision. In 2014 she participated at the Agriculture and Food meeting which was held by Sylvi Listhaug where Minister of Transportation Ketil Solvik-Olsen and Minister of Climate and Environment Tine Sundtoft also were present. Later on, the four took a picture which appeared on the Government.no website on 14 March the same year.[ In April of the same year she criticized European Court over data retention which Telenor Group argued can be used without court proceedings. In 2017, the Russian Embassy in Oslo had accused Norwegian officials and intelligence of using "false and disconnected anti-Russian rhetoric" and "scaring Norway's population" about a "mythical Russian threat". In response, Prime Minister Solberg said: "This is an example of Russian propaganda that often comes when there's a focus on security policy. There is nothing in this that's new to us." Solberg has tried to maintain and improve the China–Norway relations, which have been damaged since Norway decided to give the Nobel Peace Prize to Chinese dissident Liu Xiaobo in 2010. In response to his death, caused by organ failure while in government custody on 13 July 2017, Solberg said that "It is with deep grief that I received the news of Liu Xiaobo's passing. Liu Xiaobo was for decades a central voice for human rights and China's further development."
Erna Solberg at World Forum for Democracy: massive action is needed for the 263 million children and young people out of school
Speaking at the opening of the World Forum for Democracy on 7 November, Norwegian Prime Minister Erna Solberg stressed that quality in learning, vocational training and education in emergencies and protracted crises, in particular for girls, is "the best investment for sustainable development". "If you educate a girl, she will take charge of her life, educate her children, and help lift her community and propel her nation forward." "The mix of people here today is exactly the mix needed for democratic innovation, equality and sustainable development. Forging partnerships involving governments, civil society, the business sector and academia is how to get things done in the modern world," the Prime Minister added. Ms. Solberg also reminded the audience that quality education for all means equal opportunities for all. "Education is as important for equality as universal suffrage is for democracy. All education systems should promote global citizenship by teaching human rights, gender equality, peace and non-violence within and between nations," she concluded. Ms. Solberg highlighted SDGs 4 (quality education), 16 (peace, justice and strong institutions) and 17 (partnerships) as particularly relevant in this context. The World Forum for Democracy is an annual gathering in Strasbourg, France to debate the complex challenges facing democracies today and foster democratic innovation. Hosted by the Council of Europe, the Forum brings together members of civil society, political leaders and representatives of business, academia, media and professional groups. The 2016 edition is being organized from 7-9 November to examine whether they can reinforce each other and together address the risks of new social divides
Norwegian Prime Minister Erna Solberg Wins First-Ever Global Citizen Prize for a World Leader
Solberg has received the inaugural prize for her commitment to fighting for equal rights for women. Norwegian Prime Minister Erna Solberg has been awarded the inaugural Global Citizen Prize for a World Leader for her unreserved commitment in fighting for the protection of women and girls' rights. Solberg was presented with the award by Graça Machel — politician, humanitarian, and widow of late statesman Nelson Mandela — at the Global Citizen Festival: Mandela 100, presented and hosted by the Motsepe Foundation, on Sunday in Johannesburg. Machel, who also champions the rights of African women while empowering them through her many empowerment initiates, said acknowledging and celebrating the values of true leadership is at the heart of the Global Citizen Prize.
Landmark speech by Erna Solberg, Prime Minister of Norway Students, global citizens,
It is an honour for me to address so many globally minded students. As co-chair of the UN Secretary-General's Sustainable Development Goals Advocacy Group, I am counting on you to be the brains behind – and the future leaders of – global development. I would like to thank Professor Sachs for inviting me to meet you here at Columbia University. His contribution to the concept of global goals as a development tool is truly remarkable. Many of you are physically present here today at Columbia University Campus. Thousands of others are taking part thanks to live streaming to other campuses around the world. You are here at Columbia or at other campuses because of your desire to learn. I applaud that! I view education as fundamental to sustainable development. Access to quality education is a universal human right. It is the key to unlocking opportunities for all, so that everyone can enjoy a better life. My Government is on track to achieve its aim to double Norway's funding for global education during the first four years of my term as Prime Minister. However, the scope for improvement in global education financing is massive. I therefore took the initiative last year to have an international commission examine how education financing can be improved and increased, and to find innovative ways of achieving this. I will come back to the commission's findings and recommendations later in my speech. Students, In retrospect, each generation will be defined by how it changed the world. I am thinking of something far more meaningful than labels such as Generation X, Y and Z. Your generation has the chance to put planet earth on a sustainable path. What basis do I have for saying that? I believe that your generation understands how economic, social and environmental factors influence the quality and, in fact, the very possibility of life. The circular economy is an established part of your generation's way of thinking. This is exactly the kind of wisdom that is needed to tackle the greatest challenges of our time, and those that your generation will face.. Due to the progress made in previous decades, including through the Millennium Development Goals, you are the first generation that has the potential to eradicate poverty from the face of the earth. We have also seen major breakthroughs in the fight to stop global warming. Most recently with the ratification of the Paris agreement by the US and China. This enhances your chances of success, which is vital, as you are the last generation that can prevent irreversible climate change. I would say that the tasks your generation will face are formidable ones. Wouldn't you agree? The good news is that there is now a roadmap to guide our efforts. I am, of course, thinking of the Sustainable Development Goals. These goals were adopted one year ago by 193 state leaders here in NYC, at the UN. They address everything from poverty eradication and peace and security issues to climate change. I would argue that the global agreement on the 17 Sustainable Development Goals marks a sea change, and can almost be compared to the Copernican Revolution. (In the same vein as we now know that the sun does not circle around Earth, world leaders, supported by world opinion, now realise that many global challenges cannot be solved in the way we thought they could). The Sustainable Development Goals are a truly transformational agenda. The goals are universal. No one has the right to say: 'I didn't break it, so someone else has to fix it'. We all own these goals – and we can only achieve them together. The question I hope you will ask yourselves is how you can use your minds, your creativity and your skills to make a contribution. There are so many issues that cannot wait. Poverty, conflict, violent extremism, refugee crises, children out of school, youth unemployment and global warming, to mention just a few. These economic, social and environmental ills affect all of us, regardless of where we live – or how we make a living. The SDGs are the main track, not a side track, to the world we want. They are a powerful political tool for global leaders who are seeking to address the current challenges. It may take time to fix what has been broken – but your generation has proved to be a generation of fast learners, who are more innovative than any previous generation on this planet. I am sure Copernicus, Newton, Einstein, Gandhi, Mandela, and other intellectual leaders of the past would probably agree with me on this point. Perhaps Jeffrey Sachs would also agree? So, without placing too big a burden on your shoulders, I have full confidence in your ability to create and manage change. The pledge to leave no one behind is the guiding principle of the SDG era. Why is this pledge so important? Nelson Mandela put it very well – and I quote: 'As long as poverty, injustice and gross inequality exist in our world, none of us can truly rest'. Eradicating extreme poverty, ensuring that mothers and infants do not die from avoidable complications during childbirth, making sure that everyone is nourished, and gets a quality education – all these things are our common responsibility. So 'leaving no one behind' is the right motto for our efforts. It is also a smart motto. If we are to achieve lasting peace, stop forced migration, fight pandemics and ensure environmental sustainability in any one area of the world, our common SDG efforts must apply everywhere in the world. So the smart and right thing to do is to make sure we do not leave fragile and marginalised areas and populations behind. Today, and every day until the goals are reached, we must take concrete steps to make the world more sustainable. This requires broad ownership, effective leadership and innovative partnerships in all countries and at all levels of society. Governments, businesses, civil society organisations and academia must work together to find efficient, sustainable solutions locally, nationally and globally. The 17 goals are interconnected, and many of them cannot be achieved without cooperation across national borders. That means that we will stand or fall together. Students, Let me return to the International Commission on Financing Global Education Opportunity. This past Sunday the Commission, made up of a group of international leaders and education experts and chaired by former UK Prime Minister Gordon Brown, presented its findings and recommendations to the UN Secretary-General. Here are three of the most alarming findings: First, the economic costs of not educating children and young people are enormous. If we fail to take action: • Based on present trends in global education, in 2050, GDP per capita in low-income countries will be almost 70 per cent lower than it would be if all children were learning – this amounts to an estimated loss of 1.8 trillion dollars for low-income countries alone. • The losses from failing to educate children in middle-income countries will be far greater. • The losses will hurt the poorest most, but they will also have a negative impact on the entire world economy. Second, we will not achieve the whole set of Sustainable Development Goals unless we reach the education targets. • With the present trends, the growing skills gap will prevent the world from reaching the first and most fundamental SDG, which is ending extreme poverty. • The number of people living in absolute poverty in low-income countries could be stuck at around 300 million for the next 35 years. Third, failing to educate all children and young people has international security implications: • Analyses show that inequality fuels unrest. • Low levels of secondary education among young males are strongly associated with higher levels of social disorder and disturbance. • Unrest is likely to be greatest where the gap is widest between the expectations of young people and the opportunities available to them. Clearly the task at hand is huge, but the measures proposed by the Education Commission are correspondingly ambitious. They have come up with a vision for a Learning Generation that, if acted upon, will represent the largest expansion of educational opportunity in modern history. The idea of the Learning Generation is to get all young people into school and learning within a generation. This is to be achieved through a combination of reforms, innovation, and financial investment to ensure that all children in low- and middle-income countries have access to quality pre-primary, primary, and secondary education. According to this vision, by 2030children in low-income countries would have the opportunity to achieve learning levels on a par with children in rich countries today and would be given the same access to post-secondary education. To turn the vision into a reality, the Commission calls for a Financing Compact, under which the international community would join forces to provide increased financing to those countries that commit to reforms and to investing more in education. Finally, the Commission proposes new accountability mechanisms that would empower citizens, leaders, and institutions around the world to hold governments accountable for their lack of progress or inaction. Students, In closing, I would like to stress that the Sustainable Development Goals are not just a means of fixing what is broken in our world. Achieving them will, in fact, put the world on an altogether different and more sustainable path. They are the roadmap to the future we want. It will take a lot of effort, but this is your generation's most important task. I am convinced that you will succeed, that your generation will be a great one, and that this will be its defining achievement. Thank you.
Outstanding Achievements
Her Excellency Erna Solberg, 2018 Global Citizen Awards
Erna Solberg was born and educated in Bergen: Norway's ancient maritime capital and gateway to the Atlantic Ocean and America. Always the global citizen, she has combined numerous national positions as minister, parlamentarian and regional politician with a strong commitment to global solutions for development, growth, and conflict resolution. As prime minister, and former chair of the Norwegian delegation to the NATO Parliamentary Assembly, she has championed transatlantic values and security. From 2016, the prime minister has co-chaired the UN Secretary General's advocacy group for the sustainable development goals (SDGs). Among the goals, she takes a particular interest in access to quality education for all, and specially girls and children in conflict areas. Her firm belief is that investment in education will accelerate progress on all other SDGs. Solberg has secured significant financial support for the Global Partnership for Education and will host the Global Finance Facility Pledging Conference in Oslo in November this year. Recently she has assembled a global high level panel on sustainable use and management of the oceans and introduced the topic at the Group of Seven (G-7) Summit. Her Government supports the World Bank's PROblue initiative to prevent marine damage. Solberg has been leader of the Conservative Party of Norway (EPP, IDU) since 2004 and has held the position as prime minister since the general election in 2013. She was re-elected in September 2017. Norway's Prime Minister: Ocean science can boost jobs and wellbeing I grew up on the west coast of Norway and my parents taught me how to fish when I was a little girl. I caught my first mackerel in a boat on the Hardangerfjord, and had it fried for dinner. Such memories become part of you. The ocean is central to Norway's history and culture, economy and diet. We need it to weather existential threats — from the COVID-19 crisis to climate change. As the country's prime minister, it is my job to ensure that our relationship with it is sustainable: protection, production and prosperity go hand in hand. We cannot do this alone. In September, I went back to the west coast and spent time picking up plastic waste with volunteers. The plastic was from all over, much brought to Norway on ocean currents. Because the biggest threats to the ocean are now global, its safeguarding must be, too. Perhaps the most notable international achievement to protect the ocean is the marine protected area around the Ross Sea in Antarctica. This 2016 agreement was hard won. More than two dozen nations agreed to preserve ecosystems in Antarctic waters, with 70% off-limits to fishing.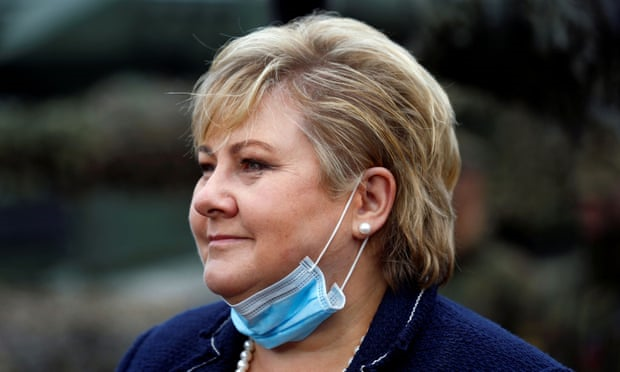 PC CREDIT: Erna Solberg issued an apology on Facebook in which she said she understood people would be angry and disappointed. Photograph: Ints Kalniņš/Reuters
Protection is important to let damaged waters regenerate, but we need more: we can manage the ocean for its vast capacity to drive economic growth and equitable job creation, sustain healthy ecosystems, and mitigate climate change. We need to allow sustainable industries, such as offshore wind turbines and seaweed cultivation, to develop. This demands political will, scientific insight and international cooperation. That is why, almost three years ago, I set up the High Level Panel for a Sustainable Ocean Economy (the Ocean Panel), which I co-lead with the president of Palau in the western Pacific. This month, all 14 countries on the panel agreed to sustainably manage 100% of their Exclusive Economic Zones (national waters) by 2025, utilizing the ocean without sacrificing its health. Together, the coastlines of Ocean-Panel members comprise almost 40% of all national coastlines worldwide. The agreement covers some of the world's busiest shipping lanes, most-productive fishing grounds and most-enticing tourist destinations. Why are we making this commitment? The ocean covers 70% of the planet. It can transport goods more carbon-efficiently than air and provide protein more sustainably than land. By one calculation, US$1 invested in a healthier ocean will reap a $5 return, but countries must work together to realize that reward. If we fail, it will be costly. Across sectors such as fishing, shipping and tourism, declining ocean health as a result of overexploitation, pollution and climate change could cost the global economy more than $400 billion each year by 2050. Countries need to hold each other accountable and craft mutually reinforcing policies, such as sharing data and technology to help monitor illegal fishing and pollution. Norway no longer approaches oil, transport, fisheries, aquaculture and minerals separately, but monitors and manages ocean activities across sectors. This helps to establish common data standards, metrics and goals. It also facilitates coordination across government boundaries. The first business for the panel was building knowledge. We assembled an international, multidisciplinary team of more than 250 experts (nearly half of them women), representing 48 countries or regions. Their work is presented in a collection of papers across Nature titles, and a comprehensive report, showing that developing a sustainable ocean economy is both essential and possible. Rarely has scientific research been so keenly sought by political leaders, or so readily accepted as the basis for policy. The panel members are now translating the scientific evidence and insights into practice. Solutions will vary by country. Norway and Chile have booming aquaculture industries and Fiji has tropical tourist beaches. Portugal and Japan have notable seafood cultures, whereas Indonesia has fisheries and reefs for diving. But lasting, meaningful progress requires international cooperation. Otherwise, planning will be ad hoc and ineffective, as we have seen in marine sanctuaries that are 'paper parks'. These are marked as protected on a map but in fact are not. The 'high seas', which cover half of Earth's surface, are essentially unprotected. It will take time for the benefits to become apparent. In 2017, I joined with philanthropist Bill Gates to launch the Coalition for Epidemic Preparedness Innovations, aimed at developing vaccines for pandemics. Only now are we seeing that work pay off, in accelerated COVID-19 vaccine development and distribution. Critics might counter that more than 14 countries benefit from and exploit the ocean, some of which are bigger contributors to ocean problems and have more wherewithal to solve them. Still, we must start somewhere, and together we are bringing sustainability to nearly 30 million square kilometres of ocean. We are hopeful our ranks will grow over time, because the benefits of better management are beyond doubt. Sceptics might suggest that the Ocean Panel is just a way for countries to burnish their images. But if sustaining the ocean boosts a country's image, that can only be a good thing. The proof of our efforts will be in ocean services: fishing, recreation, emissions absorption and the creation of decent jobs. Ocean protection and productivity are inseparable.