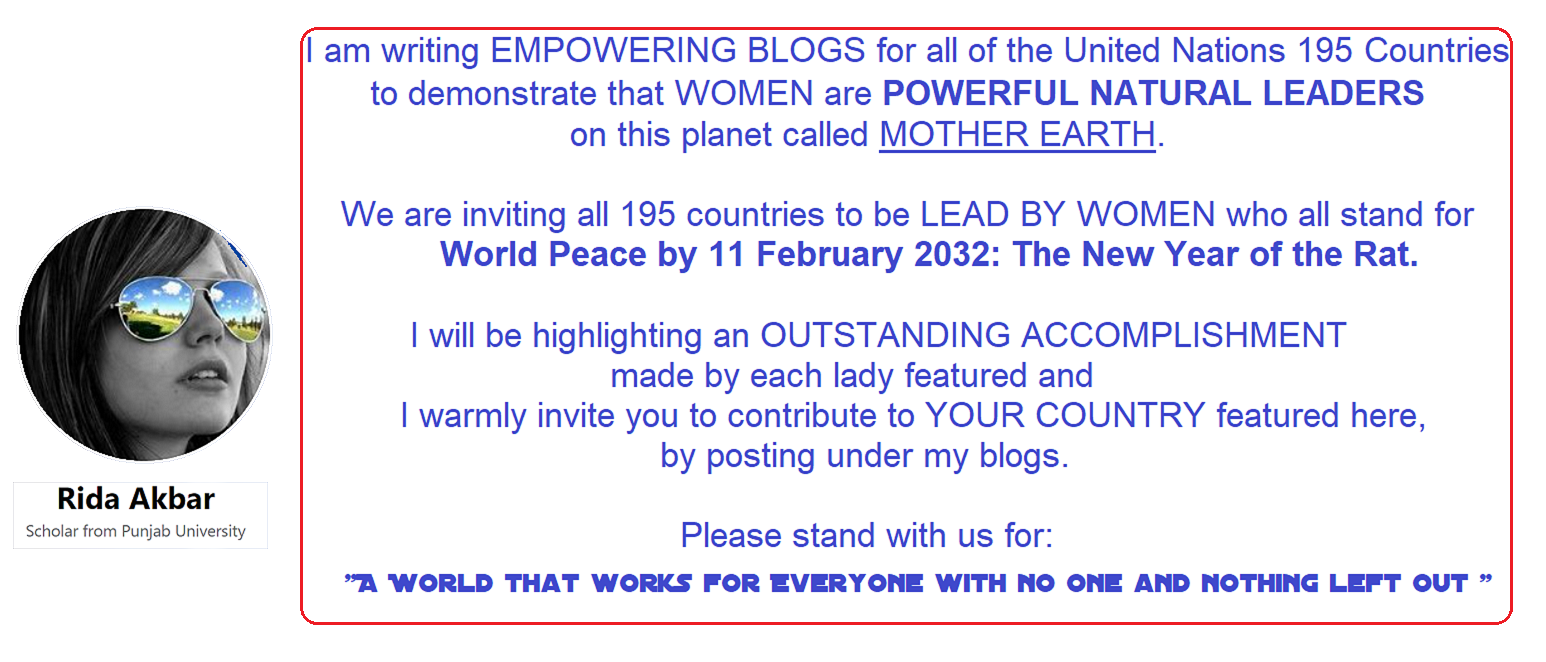 Eliza Jean Reid (born 5 May 1976) is a Canadian-Icelandic writer and, since 2016, the First Lady of Iceland through her marriage to Icelandic President Guðni Th. Jóhannesson. Before becoming First Lady she co-founded the Iceland Writers Retreat, was a freelance writer for multiple Icelandic magazines and editor of the Icelandair Stopover from 2012 to 2016.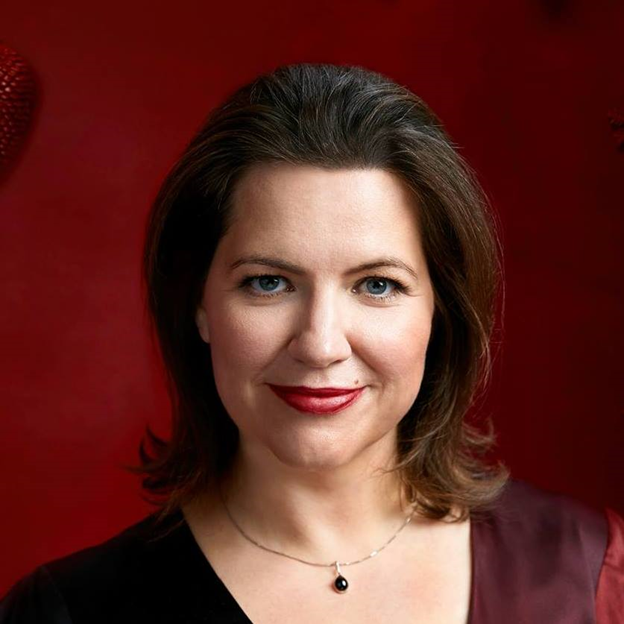 Reid was born on 5 May 1976 in Ottawa, Ontario, Canada. She moved with her family to Ashton, Ontario as a child. After moving, she attended Bell High School in Nepean, Ontario. As a student at Trinity College, University of Toronto, Reid became a choral scholar and served as Head of College. After she moved to Iceland she sang for the Hallgrímskirkja Motet Choir. After she graduated from the University of Toronto with a bachelor's degree in international relations, she went to St Antony's College, Oxford University to complete an MA degree in modern history.
Reid ran the summer student volunteer program at the Toronto Hospital for Sick Children in 1998, and volunteered for the Red Cross in Iceland. Reid later worked in sales from 1999 to 2003 and in marketing until 2004. After her move to Iceland in 2003, Reid became a freelance writer for multiple Icelandic publications. She wrote for The Reykjavík Grapevine and Iceland Review from 2005 to 2008 and became an editor for Icelandair Stopover in 2012. She co-founded the Iceland Writers Retreat in 2014, an event which has garnered international acclaim. She served on the jury of the 2018 BC National Award for Canadian Non-Fiction. Eliza has been nominated for 'Person of the Year' by multiple Icelandic media outlets. In October 2020 it was announced that her book 'Secrets Of The Sprakkar: How The Incredible Icelandic Women Bring Us Closer to Gender Equality' will be published by Sourcebooks and Simon & Schuster Canada in Spring 2022.
She is patron of several organizations in Iceland, including the United Nations Association Iceland and is also a Goodwill Ambassador for SOS Children's Villages Iceland. In September 2017, Reid visited the Za'atari refugee camp in Jordan at the invitation of UN Women. On March 23, 2019 she accepted an invitation to visit the Mosque in Iceland. Reid loves to travel and has made solo trips to many countries. In 2017, she was named a United Nations Special Ambassador for Tourism and the Sustainable Development Goals. She has advocated the recycling of clothing by making public appearances in clothing she purchased from local Red Cross stores. Eliza has spoken on several occasions about her disdain for shopping Feminism and gender equality Reid is known as a vocal proponent and advocate for women's rights and gender parity. In 2019, she was honored in Berlin with an award on International Women's Day. On June 19, 2017 during the 102 anniversary of Women's Right to Vote in Iceland, Reid advocated for gender rights and acknowledged there is still much work for Iceland to do in this regard. In March 2018, Reid gave a keynote speech at the Young Women Business Leaders. "I am not my husband's handbag" On August 31, 2019, Reid used her public Facebook page to respond to an opinion article by Zoe Williams in the British newspaper The Guardian, which criticized the media coverage of the spouses of global leaders attending the 2019 G7 conference, writing "I make a concerted effort not to be seen as an accessory to my husband". She has also been vocal about the undefined nature of being the partner of a head of state, and the perils and opportunities of that situation. White pantsuit controversy On September 4, 2019, Reid was the subject of political and media speculation for wearing a white pantsuit[27] to a meeting with US Vice President Michael Pence and Second Lady Karen Pence in Reykjavik, which many saw as a symbol of solidarity with other global gender parity initiatives such as #TimesUp #MeToo and modern day Women's Rights and Suffragettes movements. She wore a rainbow bracelet on her wrist to the Pence meeting as well, which has been seen as a show of solidarity with the LGBTQA community. The President of Iceland wore a bracelet to the same meeting and has worn the bracelet to meetings with Vladimir Putin.
• Alzheimer's Society • Eyrarrosin, an annual award for outstanding cultural projects in Iceland's rural regions • Ferskir Vindar art exhibition • Pieta House for suicide- and self-harm prevention • Society of Lung Patients • SOS Children's Villages Iceland (Goodwill Ambassador) • United Nations Association Iceland • United Nations Special Ambassador for Tourism and the Sustainable Development Goals Eliza Reid, 42, is the First Lady of Iceland. From the Ottawa Valley, she started an Icelandic communications firm in 2003 and co-founded the Icelandic Writers Retreat in 2014. A University of Toronto graduate, she married Guðni Th. Jóhannesson in 2004; he was elected president in August of 2016. I wanted to become a lawyer by watching Street Legal, [then] maybe a diplomat; I always admired and respected the work diplomats undertake; sometimes it's misunderstood and unappreciated. I went into international relations at the University of Toronto; my aunt took me to dinner on Queen Street and I looked out the restaurant window – to the Street Legal office. I did my master's in modern history at Oxford University, and met my future husband studying. In the UK, I got a job with a lot of travel, which I enjoyed. When I went to Iceland, it was important to get a job on my own merits. I worked for a software company in sales and marketing. After a year [I was] laid off – as is often the case, it's shocking and discouraging but ends up working out. I started freelancing and travel writing, then opened my own communications company working for many organizations, private, public, big and small. I haven't updated [my website] since becoming First Lady [in 2016], other than to imply I'm not taking on [work].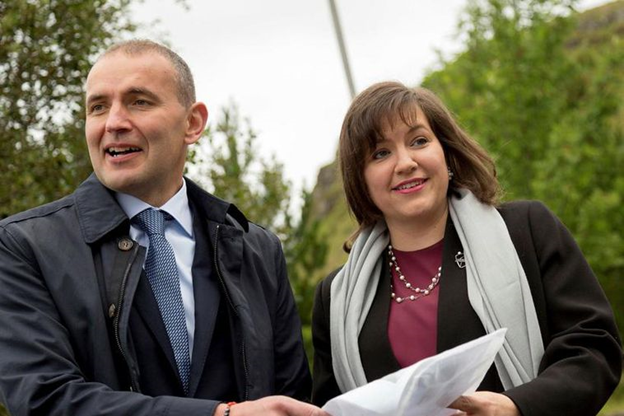 PC CREDIT: Guðni Th. Jóhannesson and his Canadian wife Eliza Reid. mbl.is/Hanna
I moved here in 2003 with my fiancé. I wasn't moving just to see how it would go – I would always have a connection and now we have four children. With some European royal families, I get to use my French a bit. I took Icelandic lessons, was very diligent in speaking and insisting people reply in Icelandic. I could write a book on silly and embarrassing mistakes I've made. As a family, we took the decision, quite suddenly, for my husband to run [for president]. I'd introduce him or answer questions; people could see I was invested in the society. The president has a non-political role, comparing mostly to Canada's Governor-General. Diplomacy shows that human contact is still paramount. Obviously, I'm not a proper diplomat but I have some exposure and opportunity – a great privilege – to represent my adopted country. Iceland's a non-hierarchical society, egalitarian. There are similarities with Canada because we're both northern countries with roughly the same population density, populations concentrated in strips with vast swaths of wilderness; both still understand the power of nature. I joked for years that when I turned 40, I wanted to go to Paris with him. About six weeks before, nothing was planned so either I'd say, "It's okay honey, I didn't want to go anyway", or "Fine I'll organize it." He declared his candidacy on my 40th birthday. Immediately after being elected, we got up in the night, on his birthday, to fly to Nice for the Iceland and England [soccer] game. We went back for the game against France – in Paris on our wedding anniversary. Iceland's first-ever men's World Cup match is June 16 [vs. Argentina]. No furniture was harmed making that video [playing soccer] in our dining room; it was pouring rain out. We won't be there. June 17 is our National Day; the president awards the Order of the Falcon, like the Order of Canada. The June 26 game is on his 50th birthday. We all joke, "Don't schedule that conference, meeting or event in June!" Because we're a small country, success is so much more accessible. Everybody knows a player, though they play abroad professionally. Iceland's team doesn't have arrogance; it has confidence. It knows the entire country – and others – are behind it. Our women's team is also incredibly successful, qualifying for 2017's European Championship, the third time consecutively. I was speaking to students, saying how when you're a teenager you're a bit insecure. It's so valuable and important to be comfortable in your own skin. When I was young, my mother often said, "You're so capable." It's not a very sexy adjective but I thought, "Okay, I can do this, I'm capable." If you develop that self-belief you can handle something or know where to get help, that gives you some sense of security. Maybe being told I was capable was the best advice
First Lady of Iceland Hired by Promote Iceland
Two months after lamenting the prop-like role of first ladies (and spouses of world-leaders), First Lady of Iceland Eliza Reid has joined the payroll of Promote Iceland (Íslandsstofa), Vísir reports. She is the first spouse of a sitting president to occupy a salaried position in Iceland. Promote Iceland is a public-private partnership established to improve the competitiveness of Icelandic companies in foreign markets and to stimulate economic growth through increased export. "I will be a kind of spokesperson, you could say, for Iceland generally, but for tourism, innovation, and equal rights in the country, as well. I will be promoting Iceland in events organised by Promote Iceland," Reid stated. Director of Promote Iceland, Pétur Óskarsson, stated that Reid will be a great addition to the team. The company is currently restructuring its operations, with additional emphasis being placed on the organisation of events abroad. "Over the past few years, Eliza has collaborated with us on similar projects," Óskarsson stated. "When we were planning ahead for the future, we realised that she could be of great assistance. We solicited her aid and she agreed." Eliza will accompany Promote Iceland to select events in North America and Europe, as she has done in the past. "The events of the coming year will be planned with her in mind." Reid will not be a full-time employee of Promote Iceland but as a contractor. "We will, of course, be paying her for her services." According to Vísir, Reid will be paid approximately ISK 500,000 per month. As previously noted, this is the first time that a sitting president's spouse will be a salaried employee of an Icelandic company. Dorrit Moussaieff attended to the affairs of her and her father's London-based company – during the presidency of her husband, Ólafur Ragnar Grímsson. "I am not my husband's handbag." In September of this year, Reid shared an article from the Guardian titled "The G7 was the final straw – world leaders' wives should refuse to travel with their spouses," on her public Facebook-page, saying the author's words struck a chord. In her post, Reid lamented the fact that independent, intelligent women were "reduced to props for their husbands' political agendas." In October, Reid also published an op-ed in the New York Times, describing the perils of navigating the role of First Lady in 2019. Eliza Jean Reid is the Canadian-born current First Lady of Iceland since 2016 and co-founder of the Iceland Writers Retreat. Before her appointment as First Lady, she was a freelance writer for multiple Icelandic magazines and editor of the Icelandair Stopover from 2012 to 2016. In just a few days an Ontario woman will find out if she is to become the first lady of Iceland. Eliza Reid, who married an Icelandic history professor and moved to the Nordic country more than ten years ago, has found herself at the centre of an election campaign in which her husband has emerged as the front-runner for the office of the president. The whirlwind race, and its implications for the future, have Reid grappling with the very real possibility of taking up a public position and having to move her family into the presidential residence. "When I was growing up in the Ottawa Valley it would never have occurred to me that my future would have taken me in this direction," said the 40-year-old. "I feel like I've been very welcomed by Icelandic society. It would be a tremendous honour to be able to have that role." As election day looms on June 25, Reid believes her Canadian background has helped in a campaign which cropped up "completely out of the blue." "As a Canadian, my stereotype is a bit that I am grounded and regular and don't try to be something that I'm not," said the mother of four who works as a writer and editor. "And I think those are things about us that appeal to the electorate, we're just what you see is what you get." Reid met her husband, Gudni Johannesson, when they were both studying history in England. They moved to Iceland in 2003 and married a year later. Running for the presidency — a largely ceremonial role which has been compared to Canada's Governor General — only came up this spring, Reid said. Iceland's outgoing president first announced in his New Year address that he would not be seeking another term as the country's head of state, prompting people to start declaring their interest, she said. Some asked Reid's husband, who is an academic expert on the history of the presidency, if he would consider running, but the suggestions weren't initially acted upon, she said. The situation changed in April, when the Panama Papers scandal revealed that the family of Iceland's prime minister had offshore accounts, Reid said. The prime minister ended up resigning, Johannesson was called upon to provide a fair bit of commentary on the matter, and his public profile rose, she said. "He was seen as having intelligent, but non-partisan things to say about what was going on," said Reid. "People just started calling our house, sending him Facebook messages and calling his cellphone…saying you should really consider running." After mulling it over with his family, Johannesson announced on May 5 that he would run for the presidency and has since emerged as the leading candidate. "People don't necessarily want a career politician as their head of state," said Reid. "Gudni is seen as being very knowledgeable of the institution of the presidency, of its roles and limitations, but is also not seen as having his own private agenda." Since their campaign began, Reid has been by her husband's side at almost every event, and says she has been received warmly by his supporters. "People often elect the couple, especially because of this sort of figurehead capacity of (the role)," she said. "People like to know that I was born somewhere else but I've learned the language and have been taking part in society for a number of years."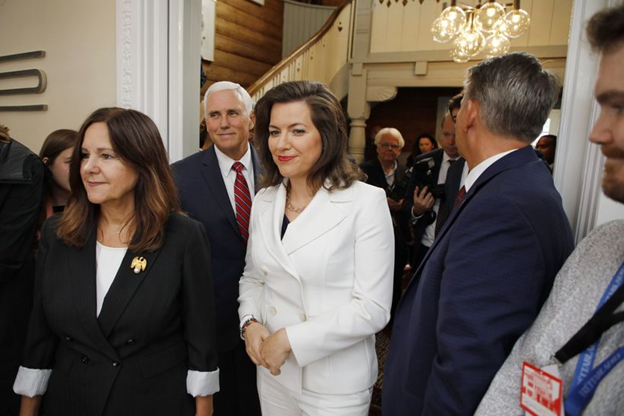 PC CREDIT: First Lady Eliza Reed, with Karen Pence and US Vice President Mike Pence, in Iceland in September. mbl.is/Hari
UNWTO appoints First Lady of Iceland
H.E. Ms. Eliza Jean Reid, First Lady of Iceland has been nominated as Special Ambassador for Tourism and the Sustainable Development Goals (SDGs). The appointment took place at the second UNWTO/UNESCO World Conference on Tourism and Culture, an official event of the International Year of Sustainable Tourism for Development 2017, being held in Muscat, Sultanate of Oman on 11 and 12 December. UNWTO launched the Special Ambassadors for Tourism and the SDGs programme as a legacy of the International Year of Sustainable Tourism for Development 2017. The programme aims at advocating for the contribution of sustainable tourism´s to the 17 SDGs and encouraging the full integration of tourism and the SDGs in national, regional and global agendas. In her intervention at the Conference H.E. Ms. Eliza Jean Reid underlined the relevance of sustainable tourism as a means to build peace and social cohesion "A strong, positive correlation exists between tourism and peace. The very existence of tourism depends on peace and security. Tourism represents a vital force for peace and a factor of friendship and understanding among the peoples of the world, because of the direct contacts it engenders between people of different cultures and lifestyles." she said. "With my strong belief in the power of sustainable tourism to help reduce inequality and increase tolerance, it is a tremendous honour for me to have been asked to be a Special Ambassador for Tourism and the Sustainable Development Goals." she added. "By becoming a Special Ambassador on Tourism and SDGs the First Lady who personify Iceland's wholehearted commitment to sustainable tourism development will surely provide an invaluable support to our efforts to make tourism more sustainable and increase our contribution to all 17 SDGs" said UNWTO Secretary-General Taleb Rifai.
More Than A First Lady: Iceland's Eliza Reid Tells Her Story
Eliza Reid, First Lady of Iceland since 2016, criticises the public depiction of women representing similar roles as hers in a New York Times article called "I'm a First Lady, and It's an Incredibly Weird Job". While she appreciates the diversity of her position and the opportunity to spur change that comes with it, she points out that she often encounters situations in which she feels reduced to being her husband's handbag.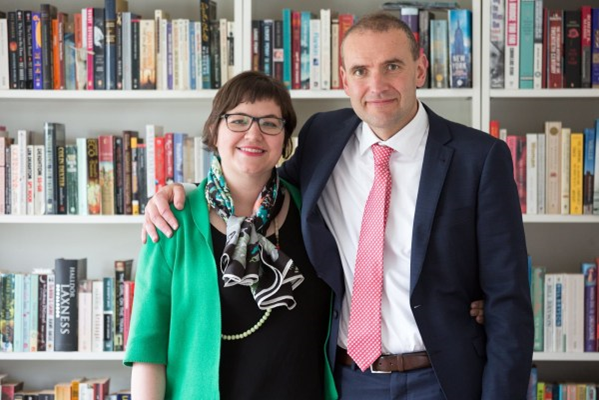 Canadian-born Eliza moved to Iceland in 2003 and became the First Lady of the country when her husband Guðni Th. Jóhannesson was elected president in 2016. In fact, she worked for the Grapevine among other magazines during her first years in Iceland, and later co-founded the Iceland Writers Retreat. When she assumed her role, she gave an interview for the Grapevine in which she made clear right from the start that she hoped to actively participate and not just stand at the sidelines during her tenure. After being incumbent as First Lady for three years, Eliza has followed through on her aims and became a patron of many organisations such as United Nations Association Iceland, delivered several speeches, took part in panels and was honoured for her advocating of women's and gender rights in the meantime. "To serve my adopted country in this way is a privilege and an honour for which I am very grateful", she reports in the New York Times article.
Still, her position doesn't come without a downside. Although the role isn't clearly defined, it is surrounded by many assumptions on how a First Lady is supposed to act. Thus she was irritated at an Instagram post by European Council President Donald Tusk who titled the video showing Melania Trump, Brigitte Macron, Malgosia Tusk, and Akie Abe, "The light side of the Force". "It is regrettable to see independent, intelligent women reduced to props who exist to support their husbands' political agendas," Eliza writes. Whilst we may question Melania's and especially her husband's intelligence, Eliza does have a point. We rarely see male spouses of female leaders depicted as their soft counterparts on online platforms. Eliza wishes to modernise the conception of the First Lady. Her personal experience, unfortunately, confirms that gender stereotypes are still very present. People often make remarks on her wardrobe and express concern about who is watching the kids when she goes on solo trips. Further, it's widely assumed that she quit her previous job once she became First Lady. She reports that other women in her position share this experience and expressed the gradual loss of their personal identity to her.
"It is regrettable to see independent, intelligent women reduced to props who exist to support their husbands' political agendas."
"I am not unaware of the irony that I am in the privileged position of being able to help shape debate surrounding gender equality because of something my husband has achieved. […] I am extremely proud of my husband and his achievements — but no one wants to be judged as her partner's accessory", Eliza explains in the article. Icelanders should be proud of their First Lady for being both humbled by her privilege and yet using it in so many positive ways.