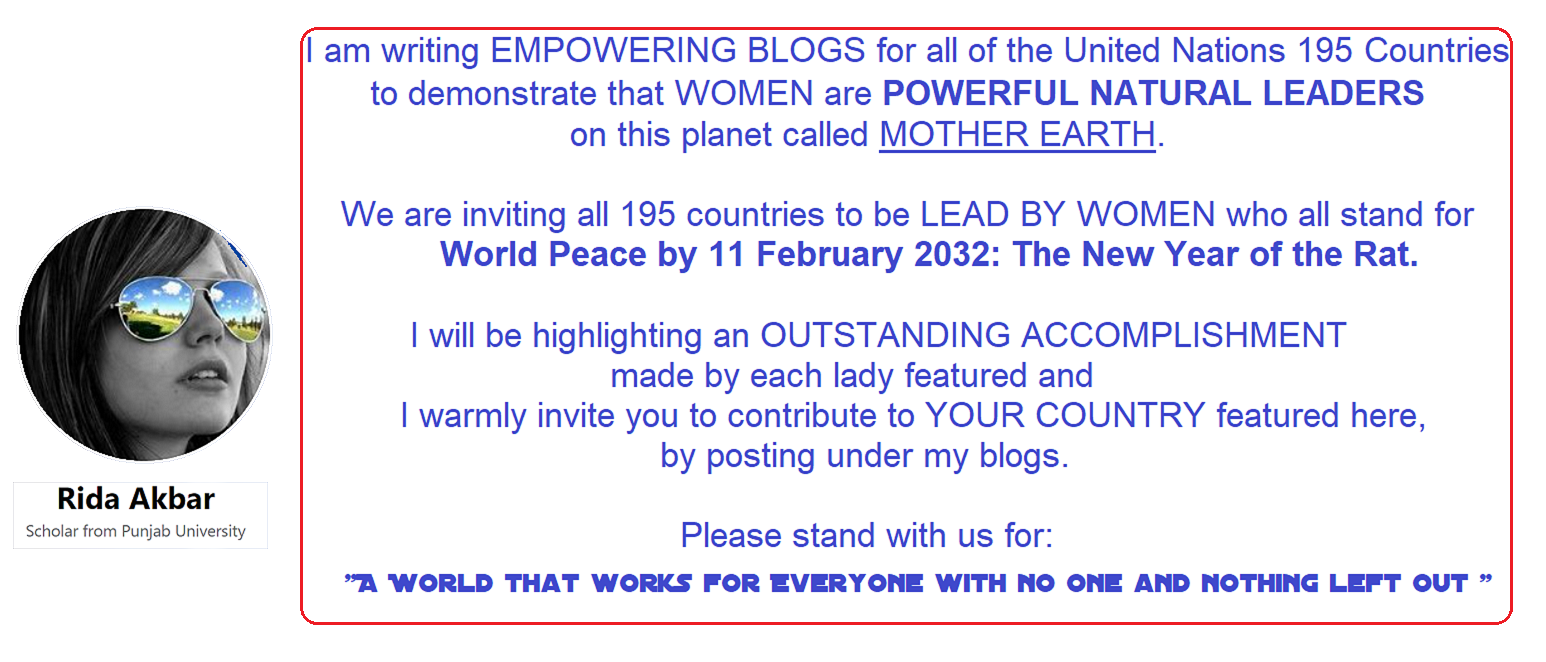 Choe Son-hui (born 10 August 1964) is a senior North Korean diplomat. She is the First Vice Minister of Foreign Affairs and is one of few North Korean women holding a high-level office. Choe is a seasoned interpreter, aide, researcher, and Foreign Ministry official. Fluent in English, she interpreted at the six-party talks and Washington-Pyongyang dialogue early in her career. Choe has progressed through the ranks in the foreign ministry, from section chief, to deputy director, and since 2016 deputy director-general of the North American department. She was made a regular vice minister in 2018 with a North American portfolio. She became the first vice minister the following year. Choe is reportedly a regular participant in track 1.5 and track 2 diplomacy and has experience particularly in the area of North Korea–United States relations and nuclear issues. A statement by Choe released before the 2018 North Korea–United States Singapore Summit between Donald Trump and Kim Jong-un led to President Trump temporarily canceling the meeting. Choe had referred to US Vice President Mike Pence as a "political dummy", angering Trump. Regardless, Choe was a participant in the summit when it took place on 12 June. At the 2019 North Korea–United States Hanoi Summit, Choe made a last-minute attempt to reach an agreement with her American counterparts, but the talks failed to reach a deal. Choe Son Hui (Ch'oe So'n-hu'i) is a Vice Minister of Foreign Affairs.  She has served as an aide and interpreter at the Six Party Talks, and other high level DPRK foreign interactions including an August 2009 trip to Pyongyang by former US President Bill Clinton. Choe Son-hui was born in 1964 in the DPRK.  She is the adopted daughter of the current DPRK Premier, Choe Yong Rim.  She was educated in the DPRK and has also studied in China, Austria and Malta.  Choe has worked as a researcher and English language interpreter at the Foreign Ministry.  She has been observed attending several meetings in support of chief DPRK nuclear negotiator and current Senior Vice Minister of Foreign Affairs, Kim Kye-gwan.  Choe speaks and reads English fluently. Choe has held a series of successive positions as section chief, deputy director and deputy director-general in the American Affairs (North American Affairs) Bureau.  She attended meetings in Beijing with Kim in October 2010 and is a routine participant in Track 1.5 and Track 2 interactions.  Choe has also served as an English language interpreter for Kim Jong Un (Kim Cho'ng-u'n) and other senior DPRK leadership when they have interacted with foreign nationals.  In June 2016, Choe was appointed Director of the North American Affairs Bureau of the Foreign Ministry and uses the external title Director of the American Studies Institute of the Foreign Ministry.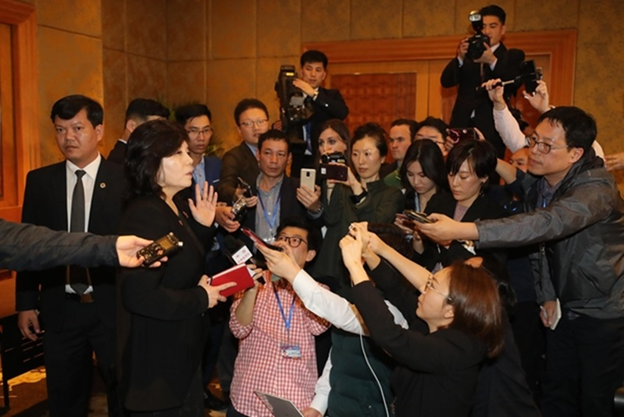 PC CREDIT: Then North Korean Vice Foreign Minister Choe Son Hui at a press conference following the Hanoi Summit. / Image: Yonhap News Agency
Choe Son-hui was born on 10 August 1964 in North Korea. She is the stepdaughter of Choe Yong-rim, a former Premier of North Korea who fought under Kim Il-sung during the anti-Japanese struggle. Through her stepfather, Choe has a close connection with the ruling Kim dynasty of North Korea. She was educated in North Korea, China, Austria, and Malta and is fluent in English.
Choe Son-hui is a senior diplomat, with more than a decade of experience in the Ministry of Foreign Affairs. She is much experienced in negotiating on the nuclear program of North Korea, and negotiating with the United States. She worked as an interpreter and aide in nuclear talks, particularly under First Vice Minister of Foreign Affairs Kim Kye-gwan. Choe participated in such talks in the 1990s and until the six-party talks were foiled in 2009, and onward to 2010 Washington-Pyongyang dialogue. She also served in this capacity during former US president Bill Clinton's visit to Pyongyang following the 2009 imprisonment of American journalists by North Korea and a similar visit by Jimmy Carter. Choe has also interpreted for North Korea's leader Kim Jong-un, including during the 2013 visit by Dennis Rodman, which she reportedly opposed, and for Kim's uncle Jang Song-thaek.She was vice negotiator for 2011 talks with the US. She has also worked as a researcher in the Ministry of Foreign Affairs. She regularly participates in track 1.5 and track 2 diplomacy. Choe's longstanding position is that the nuclear weapons program of North Korea is the only reliable safeguard of the country's sovereignty. She has said that severing of United States' military alliance with Japan and South Korea are prerequisites for negotiations and that US withdrawal from Korea should be a verifiable process. Choe has served as section chief, deputy director, and, since 2016, deputy director-general of the North American department of the Ministry of Foreign Affairs. She was also deputy director of the Institute for American Studies (IFAS) under the ministry. In June 2016, Choe became director of the department and director of IFAS. She was elected to the 14th Supreme People's Assembly in 2019, representing the 484th Electoral District (Onjong). Vice Minister of Foreign Affairs Choe and team negotiating with US Ambassador to the Philippines Sung Kim Choe was promoted to the rank of Vice Minister of Foreign Affairs in late February 2018, replacing Han Song-ryol and taking his North America portfolio. Han remained vice minister with a European portfolio. At the time, there were seven regular vice ministers in the ministry under First Vice Minister Kim Kye-gwan. Called North Korea's "point person" on relations with the United States, Choe's portfolio included responsibility for those relations and with Canada. Choe's appointment had been interpreted as reflecting North Korea's willingness to negotiate with the United States as she had allegedly expressed a conciliatory position during the initial 2017 North Korea crisis. She was therefore expected to play a role in upcoming negotiations in the run-up to the 2018 North Korea–United States Singapore Summit. In the run-up, she headed North Korea's negotiating team a number of times when they met with their American counterparts. In May, she participated in track 1.5 talks with former US diplomats, in order to get to know the administration of US president Donald Trump. On 24 May, however, the state news agency KCNA released a statement in Choe's name whereby she criticized US Vice President Mike Pence, calling him a "political dummy" for comparing North Korea to Libya and its nuclear weapons program: As a person involved in the U.S. affairs, I cannot suppress my surprise at such ignorant and stupid remarks gushing out from the mouth of the U.S. vice-president. If he is vice-president of "single superpower" as is in name, it will be proper for him to know even a little bit about the current state of global affairs and to sense to a certain degree the trends in dialogue and the climate of détente. We could surmise more than enough what a political dummy he is as he is trying to compare the DPRK, a nuclear weapon state, to Libya that had simply installed a few items of equipment and fiddled around with them. Choe is thought to have direct access to Kim Jong-un, and according to The Times' Daniel Hurst, "it is unlikely that she was speaking without the authority of Mr Kim" Choe's remarks directly led to Trump promptly notifying North Korea that the planned 2018 North Korea–United States Singapore Summit would be canceled. According to CNN, "Trump and his aides were infuriated by the statement and wanted to respond forcefully ... The specific and personal targeting of Pence is what irked US officials". In the end, the summit was organized on 12 June and Choe was present. She was replaced as the head of working-level negotiations in early 2019. At the 2019 North Korea–United States Hanoi Summit that ended prematurely and without an agreement, Choe was the last person to have talked to the American team of negotiators. She made a last-minute suggestion that all facilities of the Yongbyon Nuclear Scientific Research Center could be demolished. When she was then asked to clarify what the offer meant, she was unable to give any further details, resulting in the American team walking out. First Vice Minister of Foreign Affairs Choe received a series of promotions in April 2019, becoming a member of the Central Committee of the Workers' Party of Korea and the State Affairs Commission (SAC). She was also elevated to first First Vice Minister of Foreign Affairs, likely replacing her former superior Kim Kye-gwan, who had not been seen in public since 2017. The promotion to SAC in particular has been interpreted as making Choe a very powerful foreign policy official and possibly signaling new impetus to talks between North Korea and the United States. Choe reports directly to Minister of Foreign Affairs Ri Yong-ho. Choe is the highest-ranking woman in the foreign ministry. She is one of a few women in holding such a high-level office in North Korean politics overall.[4] With her appointment to First Vice Minister of Foreign Affairs, Choe became the highest-ranking female diplomat ever in the history of the country. Ralph Cossa, president of the Center for Strategic and International Studies's Pacific Forum, calls her "incredibly bright and apparently well-connected". Thae Yong-ho, top diplomat who defected in 2016 says: "Her credentials are excellent."
Choe Son Hui recently underwent three months forced labor
Daily NK has learned that Choe Son Hui, North Korea's first vice minister of foreign affairs and a key figure in Pyongyang's US policy, was reinstated early this month after undergoing three months of forced labor and ideological education. Choe – and only Choe – was reportedly punished by North Korea's ruling party after tensions flared between her and Foreign Minister Ri Son Gwon. According to a Daily NK source in North Korea on Monday, Choe was sent to a collective farm in Pyongyang's Hyongjesan District in July for three months of disciplinary labor. The farm produces grains and vegetables for Central Committee cadres, and Choe was assigned to a vegetable production unit. Accordingly, her face is said to have darkened from farming peppers in the hot summer sun. Choe managed to maintain her position after the failure of February's summit between North Korea and the US in Hanoi even as Kim Hyok Chol, North Korea's special envoy to the US, and Kim Yong Chol, vice chairman of the Central Committee, fell out of favor. Choe demonstrated she had North Korean leader Kim Jong Un's confidence when she became the only person of vice ministerial rank to join the State Affairs Commission and was promoted from vice minister to first vice minister during a meeting of the Supreme People's Assembly two months after the Hanoi summit. Moreover, as the adopted daughter of Choe Yong Rim, the former premier and close confidant of late North Korean leader Kim Il Sung, Choe has been treated with caution. The fact that somebody with her pedigree was given punishment has reportedly caused ripples within the Foreign Ministry. The key reason behind Choe's punishment was a written document sent by Foreign Minister Ri to the Central Committee, according to the source, who spoke on condition of anonymity. Ri and Choe had waged a continuous "war of nerves" after Ri, an ex-military officer who takes a hardline toward South Korea, was named foreign minister early this year. Those tensions are said to have surfaced after Ri joined the State Affairs Commission in April. When the two clashed because of their failure to see eye-to-eye on policy toward the US, the Central Committee reportedly told them that they should submit separate proposals and let the party leadership make the final decision, rather than try to agree upon a single policy proposal. The source claimed that, consequently, Ri and Choe submitted their proposals to the party leadership in July. Ultimately, the leadership took Ri's side, and Choe was punished. Some in the country reportedly claim that Ri's proposal document contained not only policy proposals, but also criticism that Choe's mistakes had harmed North Korea's prestige. When speculation emerged in July that an agreement with the US was possible prior to the US presidential election, Choe issued a statement critical of Washington, claiming that "[We] do not feel any need to sit face-to-face with the US" and that there was no need for dialogue or dealings with Washington "while hostile policy toward the DPRK disregarding the agreements already made at the past summit persist." Several days later during a visit to South Korea, US Deputy Secretary of State Stephen Biegun refuted Choe's statement, claiming Washington had made no request to meet with North Korea. This embarrassed North Korea, which had just rejected a US proposal for talks that in fact had not been made. Ri seized on this series of events to criticize Choe, according to the source. Since her statement in July, Choe has not been seen at official functions. Some in the country also claim that Kim Yo Jong, first vice department director of the United Front Department and sister of North Korean leader Kim Jong Un, had a hand in Choe's punishment. Unlike her brother, who has confidence in Choe, Kim has reportedly tried to keep Choe in check by encouraging the rivalry with Ri. "Since Choe was recently reinstated, there were two proposals from the Foreign Ministry regarding US policy, and the Central Committee has accepted Choe's one this time," said the source. "It appears the party leadership will continue to use the tensions between the two."
North Korea Policy Review Nears Completion
he Biden administration is wrapping up its North Korea policy review, which is expected to be completed within the coming weeks. The review could mark a shift in Washington's posture toward diplomacy with Pyongyang that diverges from those of previous administrations, including from his immediate predecessor Donald Trump.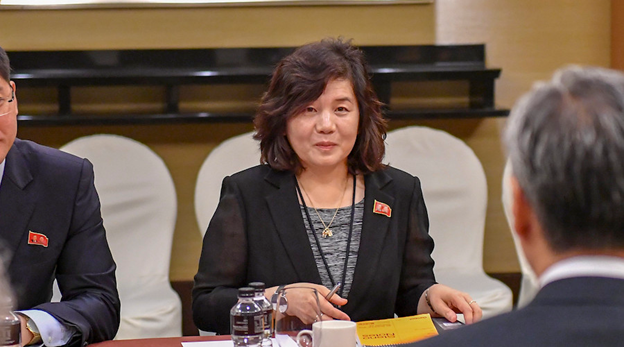 PC CREDIT: Image: U.S. State Department
U.S. Vice President Joe Biden and his granddaughter Finnegan Biden look through binoculars toward North Korea during a visit to observation post Ouellette at the Demilitarized Zone (DMZ) on December 7, 2013 in Panmunjom, South Korea. (Photo by Chung Sung-Jun/Getty Images) When asked whether President Joe Biden's approach to North Korea would include meeting with North Korean leader Kim Jong Un as former President Trump did on several occasions, White House Press Secretary Jen Psaki said, "I think his approach would be quite different and that is not his intention." State Department Spokesman Ned Price has made clear, however, that denuclearization will remain the focus of U.S. policy toward North Korea. Price said that any efforts to negotiate with North Korea will be taken in "lockstep" with close allies, including Japan and South Korea. The Biden administration has taken several concerted steps to engage close U.S. allies in East Asia while the review is underway. National Security Advisor Jake Sullivan met with National Security Secretariat Secretary-General Shigeru Kitamura of Japan and National Security Office Director Suh Hoon of South Korea April 2 to consult on the North Korea policy review. Before that, Secretary of State Antony Blinken traveled with Defense Secretary Lloyd Austin to Tokyo and Seoul March 15-18, where they met with their counterparts in both capitals to reaffirm the U.S. commitment to security in the region. Although the subject of North Korea was not listed in a March 10 State Department press release, Blinken, Austin, and their counterparts appear to have discussed in-depth the Biden administration's North Korea policy review and Washington's next steps toward diplomacy with Pyongyang. While in Seoul, Blinken relayed that the United States is considering both "different kinds of pressure points" and diplomacy while curating its new approach. "In a sense, everything is on the table," he said, "We have a very open mind about it." Blinken and Austin issued a joint statement together with South Korean Foreign Minister Chung Eui-yong and Defense Minister Suh Wook pledging to work together on matters pertaining to North Korea, among other things. According to their statement, "the ministers and secretaries emphasized that North Korean nuclear and ballistic missile issues are a priority for the alliance." Blinken reiterated President Biden and his administration's preferred approach to diplomacy with Pyongyang: "we're committed to the denuclearization of North Korea, reducing the broader threat [North Korea] poses to the United States and our allies, and improving the lives of all Koreans." Blinken also said China must use its "tremendous influence" on North Korea to persuade the country to denuclearize. Blinken, speaking to reporters ahead of meeting with his Chinese counterparts in Anchorage March 18 said that Beijing has a "clear self-interest in helping to pursue denuclearization" of North Korea, because "it is a source of instability." Nearing the end of the Secretaries' trip, North Korea's First Vice Foreign Minister Choe Son Hui issued her own statement, and the first direct rebuttal out of Pyongyang directed at the Biden administration. "The U.S. has tried to contact us since mid-February," she said, but added, "we don't think there is a need to respond to the U.S. delaying-time trick again." The Biden administration confirmed that Washington did quietly reach out to Pyongyang in February, "to reduce the risks of escalation," but received no response. Choe said, "no [North Korea]-U.S. contact and dialogue of any kind can be possible unless the U.S. rolls back its hostile policy towards [North Korea] … in order for a dialogue to be made, an atmosphere for both parties to exchange words on an equal basis must be created." Her comments were likely in part a response to continued U.S.-South Korea military exercises, which are held on an annual basis. Washington and Seoul began those drills March 7, albeit an abridged version due to the ongoing COVID-19 pandemic. North Korea has frequently cited U.S.-South Korea military drills as impeding productive dialogue between Washington and Pyongyang. In periodic durations of stronger bilateral relations, including throughout the months between former President Donald Trump and North Korean Leader Kim Jong Un's summits in Singapore in 2018 and Hanoi in 2019, the United States has suspended or modified joint exercises as a signal of good faith to North Korea. "If the U.S. wants so much to even sit with us face to face, it has to drop its bad habit and adopt a proper stand from the beginning," Choe Son Hui said in her statement. Kim Yo Jong, sister to the North Korean leader, stated March 16, "war exercises and dialogue, hostility and cooperation can never exist together." Choe added that the United States "had better contemplate what we can do in the face of its continued hostility toward us. We already clarified that we will counter the U.S. on the principle of power for power and goodwill for goodwill."—JULIA MASTERSON, research associate, SANG-MIN KIM, Scoville Peace Fellow, and KELSEY DAVENPORT, director for nonproliferation policy
North Korea Tests New Missiles
North Korea conducted two rounds of missile tests in March, the latter of which marked its first launch of a ballistic missile in violation of UN Security Council resolutions during President Biden's time in office. Pyongyang kicked off its missile testing Sunday, March 21, with the launch of two short-range cruise missiles. The test garnered a muted response from the White House; a senior U.S. official told The Washington Post the event did not violate any United Nations Security Council resolutions and was "a normal part of the kind of testing that North Korea would do." The White House was reportedly warned by senior intelligence officials of the possibility that North Korea could conduct missile tests, which may have prompted concerted efforts by the Biden administration to engage with Pyongyang in February (see above.) After the United States and South Korea conducted an abridged version of their annual military exercises in early March, North Korean leader Kim Jong Un's sister, Kim Yo Jong, warned that if the new Biden administration "wants to sleep in peace for the coming four years, it had better refrain from causing a stink." In violation of Security Council resolutions, North Korea launched two short-range ballistic missiles into the Sea of Japan Thursday, March 25 –less than a week after the cruise missile tests. Pyongyang confirmed the test and noted the missiles hit a target 373 miles away using a solid-fueled missile that features "low-altitude gliding leap type flight-mode" and called them "new-type tactical guided missiles." There is some speculation that the missile tested March 25 was a modified version of one of the three solid-fuel ballistic missiles North Korea has tested since 2019. The system appears designed to carry a heavier payload than what would be necessary for a nuclear warhead suggesting the system might be designed for conventional explosives. The 2021 Worldwide Threat Assessment, released April 9, noted that North Korea "continues to improve its conventional military capabilities, providing Kim with diverse tools to advance his political objectives or inflict heavy losses if North Korea were attacked." This includes a "more diverse strategic and tactical ballistic missile force." Unlike the cruise missile launches, the tests of two ballistic missiles posed a violation of the United Nations Security Council's prohibition on ballistic missile tests by North Korea, codified in Resolution 1718 (2006). Biden remarked after the tests that "we are consulting our allies and partners, and there will be responses if they choose to escalate. We will respond accordingly." He reiterated that the United States is "prepared for some form of diplomacy, but it has to be conditioned upon the end result of denuclearization." Following Biden's comments, Ri Pyong Chol, secretary of the Central Committee of the Workers' Party of Korea, relayed in a statement that Pyongyang expresses "deep apprehension over the U.S. chief executive faulting the regular testfire, exercise of our state's right to self-defence." He said Biden's condemnation of North Korea's tests as violations of Security Council resolutions revealed the new U.S. president's "deeply-seated hostility" toward North Korea. Ri Pyong Chol went on to say that "if the U.S. continues with its thoughtless remarks without thinking of the consequences, it may be faced with something that is not good." North Korea appears to be planning to expand its sophisticated missile program to include new hypersonic missile technology. A new college called "College No. 11" focused on hypersonic technology was recently established at the Kim Jong Un National Defense University and officials are reportedly taking steps to cultivate specialists who can lead the country's missile testing. Hypersonic weapons travel roughly five times faster than the speed of sound and are relatively impenetrable by advanced missile defense systems. In addition to hypersonic weapons, satellite imagery analysis conducted by several non-governmental North Korea experts based in the United States suggests the country may be preparing to conduct another missile test – this time of a submarine-launched ballistic missile. According to an April 6 analysis published by Beyond Parallel, North Korea is transporting a submersible missile test barge that is located at the Sinpo shipyard, which they say could indicate either a forthcoming SLBM test or routine maintenance of the barge. North Korea displayed a new SLBM at its military parade in January but has not conducted any known tests of that system. The Worldwide Threat Assessment also said Kim "may be considering" the resumption of long-range missile and nuclear testing this year "to try to force the United States to deal with him on Pyongyang's terms."
UN Finds North Korea Continuing to Violate Sanctions
North Korea continues to build up its nuclear and missile programs, despite international sanctions, by using its illicit procurement and export tactics and networks according to the United Nations Security Council's Panel of Experts' February 2021 report. Established by Security Council Resolution 1874 (2009), the Panel of Experts (referred to as the "Panel") regularly assesses the implementation and enforcement of UN sanctions on North Korea. From Aug. 4, 2020, to Feb. 5, 2021, the Panel investigated the following: illicit import (through direct delivery and ship-to-ship transfers) of refined petroleum, export of coal, acquisition of vessels, sale of fishing rights, transfers of sanctioned commodities and goods, access to international banking channels, North Korean overseas businesses, malicious cyberactivities, alleged military cooperation, and other similar cases. Based on its findings, the Panel offered 29 recommendations for improving enforcement that range from short-term piecemeal solutions toward emerging issues to long-term campaigns toward more effective sanctions enforcement. These involve measures such as further sanctions designations on vessels and individuals, upgrading international maritime trade protocols and enforcement – such as proper verification-of-origin checks for ships that conduct ship-to-ship transfers, regular assessment and address of unintended adverse impacts of sanctions on the people of North Korea, and addressing of opaque corporate registration rules and regulations. Growing Nuclear & Ballistic Missile Programs North Korea continues to violate UN resolutions through continued development of its nuclear program, which entails the "production of highly enriched uranium, construction of a light water reactor, and maintenance of nuclear facilities" according to the Panel. The Yongbyon nuclear center, which is where North Korea extracts weapons-grade plutonium from spent fuel, showed several operational signs: plumes of steam at the uranium dioxide (UO2) Production Process Building, construction of the light water reactor, and maintenance of the 5 MW (e) reactor, which has the production capacity of around 7 kg/year of plutonium. A Security Council Member State was referenced in the report saying that "the uranium enrichment facility in Yongbyon was operating" during the period covered. Additionally, the surrounding roads and bridges of the Punggye-ri test site, where North Korea conducted its nuclear tests, were reconstructed after some damage caused by typhoons, according to the Panel. This indicates that while North Korea blew up its testing tunnels along with other small buildings in 2018 as part of its nuclear testing moratorium, access to the site is being maintained. Further, the Panel report found the construction of new infrastructure and modernization of the buildings at the Pyongsan uranium mine complex, which suggests the "continuation of mining and the operation of processing plants." The Panel has also identified at least 161 cases of joint research, studies, or papers since 2017 involving North Korean scholars on subjects that may include prohibited technologies being transferred. This violates international sanctions, specifically Resolutions 2321 (2016), 2270 (2016), and 1718 (2006). The report noted that North Korea showcased its most recent, updated, and operational ballistic missile systems and new weapons through the two military parades during this reporting period. These took place Oct. 10, 2020, and Jan. 14, 2021. In the former, North Korea featured 11 recently developed ballistic missile systems: • A new super-large intercontinental ballistic missile, which is tentatively referred to as Hwasong-16, • The Hwasong-15 intercontinental ballistic missile, • The Hwasong-12 intermediate-range ballistic missile, • The KN-24 short-range ballistic missile, and • The KN-23 short-range ballistic missile. On the latter date, new ballistic missile systems were also featured: • The new Pukguksong-5, which is a new submarine-launched ballistic missile, and • The new short-range ballistic missile, which resembles the "KN-23." These developments critically point to North Korea's ongoing efforts to upgrade its nuclear weapons capabilities. Sanction Evasion is a Trend, Not Phenomenon To bypass the international community's sanctions, the Kim regime employed several obfuscatory methods such as maritime smugglers and cyber activities detailed in the report. UN Security Council Resolution 2379 (2017) placed caps on petroleum and crude oil imports at 500,000 and 4,000,000 barrels per year respectively, to ban certain exports like coal, agricultural products, minerals machinery, and electrical equipment, and among other things. The Panel reported that at least 121 shipments of refined petroleum products were imported into North Korea during the first nine months of 2020 and have "exceeded by several times the annual [500,000-barrel cap]." Although shipments of coal appeared to have been mostly suspended since late July 2020, the Panel found that North Korea had at least exported 2.5 million tons of coal from January-September 2020 in at least 400 shipments to Chinese territorial waters. On July 17, 2020, satellite imagery shows over 40 North Korean vessels and associated vessels at China's Ningbo-Zhoushan area. China has either reported no records of vessels entering or leaving Chinese ports or denied responsibility for this situation in response to the Panel's inquiry of the situation. Other sources have also independently found similar findings, which are aligned with the Panel's evidence of North Korea's pervasive maritime sanction evasion tactics and its import and export cap breaches. Pyongyang adapted its fuel-procurement and export strategies by "engaging organized criminal networks and participating in a regional fuel smuggling market" particularly in East Asia according to C4ADS and Royal United Services Institute (RUSI) experts. For instance, China, for its price controls for retail fuel prices, and Taiwan, for its preferential fuel-price policies in which refined petroleum products are lower than those of its neighbors, created an optimal environment for ships to conduct illicit and un-scrutinized import and export transactions that involve North Korean products. North Korea continues to grow its maritime capabilities, quantitatively and qualitatively, through the additions of foreign-flagged or un-flagged vessels contributing to the illicit smuggling network and through the use of creative evasion tactics, respectively. The Panel illuminated deceptive practices by North Korea such as vessel disguise and identity fraud. More specifically, vessels have been exploiting fraudulent profiles, physical modification, and manipulation of automatic identification system transmission to bypass sanctions. North Korea does not solely rely on its maritime networks to procure its energy and financial resources. According to the Panel's report, North Korea has also exploited the cyber-domain. For example, the Panel found that North Korea, through its General Reconnaissance Bureau's subsidiary cyberthreat entities such as Lazarus, Kimsuky, and the newly identified "BeagleBoyz," conducted extensive cyber campaigns against financial institutions and defense industries to not only access military technology but also extract information for financial gain. From 2019 to November 2020, the total theft of virtual assets by North Korea is allegedly $316.4 million. Another potential avenue that North Korea is exploiting is the Dandong-Sinuiju oil pipeline, according to an April 5 report from NK News. Although it is legal to have crude oil flow due to China's successful argument to the UN that flow restriction would eventually make the pipeline inoperable, there is a dearth of any information and accountability of how much crude oil is flowing through the pipeline. Several North Korean experts David von Hippel and Peter Hayes estimated that 750,000 tons of crude oil would have traveled through the pipeline by the end of 2020. It is clear that sanctions, which require global cooperation, are not being fully implemented. The incomplete cooperation is not a new phenomenon, but without proper enforcement of sanctions, the concerning violation trends will only continue to grow. The revenue gathered by sanction evasion activities and illicit networks both directly and indirectly support North Korea's nuclear and ballistic missile programs.
Satellite Imagery Shows Activity at Nuclear Complex
Satellite imagery shows continued activity at the Yongbyon facility where North Korea separates weapons-grade plutonium from the spent fuel of its 5MWe reactor. However, it is unclear if the country has resumed reprocessing activities and is producing new weapons-grade plutonium. In an April 7 analysis, experts at 38 North said that "heightened activities" at the Radiochemical Laboratory continue, but there is "no definitive evidence" that North Korea is reprocessing plutonium. They said there are other plausible explanations for the activities, including maintenance or the processing of radioactive waste. The same piece noted activities at the Uranium Enrichment Plan that could be related to modifications to the facility's cooling system or infrastructure. In March 1 remarks to the International Atomic Energy Agency's Board of Governors, Director General Rafael Mariano Grossi said that "at present there are no indications of the production of enriched uranium at" the centrifuge facility at Yongbyon, but there were indications at the Kangson enrichment site. He also noted the activities at the reprocessing facility and said there are "no indications of operation" of the 5MWe reactor.
Lessons from the Trump-Kim Diplomacy for the Biden Administration
During his presidential campaign, President Biden criticized former President Donald Trump's approach to diplomacy, including his decision to meet directly with North Korea's leader Kim Jong Un, and promised to engage in "principled diplomacy" and "to offer an alternative vision for a non-nuclear future to Kim and the people of North Korea." Since taking office Jan. 20, the new U.S. administration has been conducting a full review of U.S. policy toward North Korea. To date, key officials have offered few details about their strategy beyond reiterating that denuclearization will remain the end goal and that the United States intends to work closely with allies. The administration's North Korea policy review is a critical opportunity to forge a more effective U.S. approach toward the long-running effort to halt and reverse North Korea's nuclear progress and reduce the risks of a major conflict. The Biden administration's policy should take into account the positive and negative lessons from the Trump era as the United States seeks to work with regional allies and the international community to move closer to denuclearization on the Korean Peninsula.
Choe Son Hui (최선희) is North Korea's first vice minister of foreign affairs and one of the key leaders in Pyongyang's foreign policy toward the United States. She holds substantial political clout and serves in the Workers Party of Korea's (WPK) Central Committee (alternate member) and the State Affairs Commission (member). Choe will likely continue to play a critical role and influence on the direction and progress of U.S.-North Korean diplomacy. Recent Actions Choi delivered March 17 one of North Korea's recent rebukes of U.S.-South Korean joint military exercise and called Biden's early outreach attempts a "delaying-time trick." She is allegedly not only reworking North Korea's U.S. foreign policy strategy, seemingly on the "principle of power for power and goodwill for goodwill," but also serving as the head of such strategy and department. From July to early October 2020, Choe reportedly served three months of forced labor and ideological education at a collective farm in Pyongyang's Hongjesan District. The cause was an altercation – allegedly, tensions flaring – between Choe and North Korea's Foreign Minister Ri Son Gwon. She was reinstated after the completion of the punishment. Diplomatic Background Choe Son Hui has served many diplomatic roles in key U.S.-North Korean dialogue, summits, and meetings for around the past two decades, starting as an aide and interpreter at the Six-Party Talks. She was one of the main negotiators in the Trump-Kim summits and is one of the few female leaders in the higher echelons of North Korea's political leadership. Adopted daughter of the current North Korea Premier Choe Yong Rim, Choe Son Hui received her education in North Korea, China, Austria, and Malta. Throughout her diplomatic career, she rose from being a researcher and language interpreter to section chief, deputy director, and deputy director-general in the American Affairs Bureau and now to her current role as first vice minister of foreign affairs. Kim Yo Jong (김여정) is the deputy director of the WPK Propaganda and Agitation Department (PAD), vice department director to the WPK's Central Committee, delegate (unconfirmed officially) to the Supreme People's Assembly, and is the younger sister to the North Korean leader Kim Jong Un. Kim plays a significant role in U.S.-North Korean relations. Recent Actions Kim Yo Jong has taken a critical role in U.S.-North Korean diplomacy, particularly on the subject matter of U.S.-South Korean joint military exercises. In both March 2020 and 2021, she has publicly released statements rebuking the exercises. In the most recent one, Kim warned the new Biden administration to not cause "a stink at its first step" and argued that "war drill and hostility can never go with dialogue and cooperation." She has grabbed international attention within the past few years. She attended all three face-to-face Trump-Kim Summit meetings as North Korean leader's confidant adviser, and Kim was her brother's emissary to the 2018 Pyeongchang Winter Olympics. Diplomatic Background Before her brother's ascension to power, Kim Yo Jong was a quiet figure; it is believed that she went to school (1996-2000) in Switzerland and resurfaced in North Korea in 2008 due to her father, then-leader Kim Jung Il's health issues. After her brother succeeded in becoming the leader, experts believe that she assumed the role of protocol secretary in her brother's Personal Secretariat, thereby becoming the organizer of his official activities. Her roles and responsibilities expanded throughout her career as she took charge of Department 54 (an entity designed for supplying necessities like coal and electricity to the military), Room 39 (cash-earning agency), Room 38 (cash-earning agency), Konghung Guidance Bureau, and Rakwon Guidance Bureau. She has held an official post in the North Korean political regime since 2014 at the very least. Although Kim was dismissed in January 2021 as an alternate member of North Korea's Politburo, which is one of the highest political decision-making bodies, her political clout remains unchanged according to 38 North experts. Return of the Foreign Ministry: Choe Son Hui's Message to the US Following Kim Yo Jong's March 16 statement, which had signaled the door was open for US-DPRK engagement at some point, First Vice Foreign Minister Choe Son Hui issued a statement on March 18 focusing on the current state of US-DPRK relations.[1] Given that there has been nothing from the Foreign Ministry on relations with the US since July 2020, Choe's comments suggests, first and foremost, that the Foreign Ministry is preparing to become the channel for interaction with Washington once again. As usual, Choe's statement is laden with eye-catching but vaguely worded threats. More important are the numerous formulations, all carefully drawn, that signal North Korea is still in wait-and-see mode, jaundiced but still not really closing the door. In short, the statement signals that Pyongyang is giving itself—and Washington—room to maneuver. The key formulations are laden with qualifiers that reinforce that point. A few examples that indicate the game is only beginning include (note in all case, emphasis is added):  "We have already declared our stand that no DPRK-U.S. contact and dialogue of any kind can be possible unless the U.S. rolls back its hostile policy towards the DPRK. Therefore, we will disregard such an attempt of the U.S. in the future, too."  "In order for a dialogue to be made, an atmosphere for both parties to exchange words on an equal basis must be created."  "The U.S. State secretary during his visit to Japan spoke loudly of various pressurizing means and some stubborn means, claiming they are all now under reexamination, only to seriously rattle us." (Note: being "rattled" is not the same as being threatened.)  "It seems the U.S. has not yet dropped the habit of doggedly faulting the DPRK…If the U.S. wants so much to sit even once with us face to face, it has to drop its bad habit and adopt a proper stand from the beginning."  "We will keep tabs on all the ill deeds the new regime in the U.S. is engrossed in."  "It will only be a waste of time to sit with the U.S. as it is not ready to feel and accept new change and new times."  (Literally the bottom line) "We already clarified that we will counter the U.S. on the principle of power for power and goodwill for goodwill."[2] It should be noted that there are no references in Choe's statement that are directed personally to either President Biden or the "Biden administration." This is typically a good sign that the North is holding off from major policy decisions toward a new US administration. Choe's statement does include a packet of complaints about comments by US officials and US government actions over the past couple of months. None of that, however, is surprising. All it tells us is that, in typical North Korean fashion, Pyongyang has been keeping track and collecting a bulging file, just waiting for the right moment to make known its complaints. However, while the door to diplomacy seems to be still open, it does not mean it will stay that way or that a return to negotiations is guaranteed. The administration's moves in the coming weeks and months will be watched closely and examined for opportunities to achieve different outcomes. The messages coming from Secretary of State Antony Blinken and Secretary of Defense Lloyd Austin in recent days may be nudging that door shut.
Outstanding Achievements
North Korea Sets Conditions for Diplomacy
Despite intermittent efforts by the Trump administration to negotiate with North Korea on its nuclear weapons program, talks between the two countries remain stalled, and there is little indication they will resume before the U.S. presidential election in November. Addressing a potential summit between U.S. President Donald Trump and North Korean leader Kim Jong Un before the election, Choe Son Hui, North Korea's first vice minister of foreign affairs, said on July 4 that the United States "is mistaken if it thinks things like negotiations would still work on us."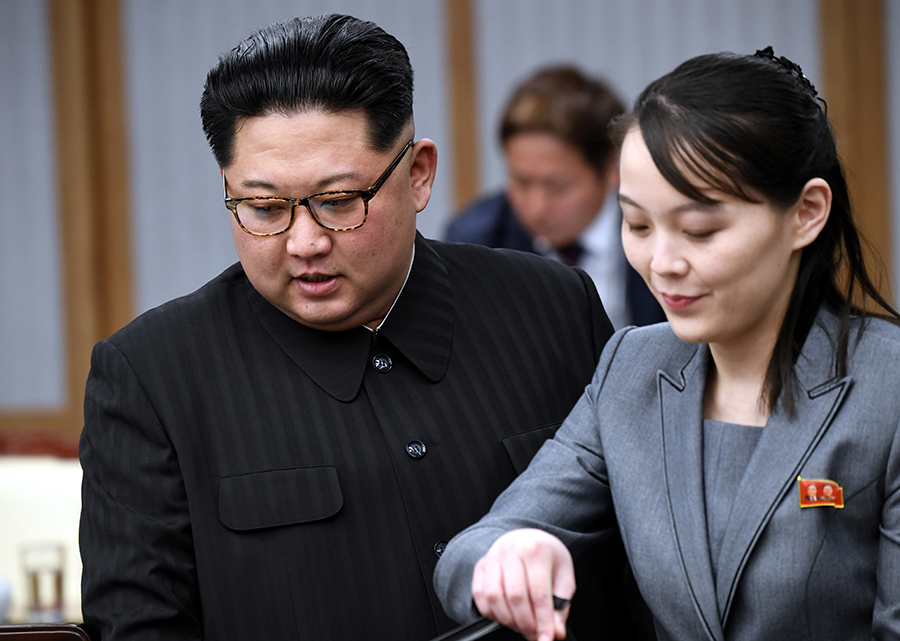 North Korean Leader Kim Jong Un (left) and his sister Kim Yo Jong attend the April 2018 Inter-Korean Summit in Panmunjom, South Korea. Kim Yo Jong, who heads the Central Committee of the Workers Party of Korea recently said North Korean denuclearization "is not possible at this point in time." (Photo: Getty Images)
North Korean Leader Kim Jong Un (left) and his sister Kim Yo Jong attend the April 2018 Inter-Korean Summit in Panmunjom, South Korea. Kim Yo Jong, who heads the Central Committee of the Workers Party of Korea recently said North Korean denuclearization "is not possible at this point in time." (Photo: Getty Images) "We do not feel any need to sit face to face with the U.S., as it does not consider the…dialogue as nothing more than a tool for grappling [with] its political crisis," she added. But the prospect for future diplomacy between the United States and North Korea is not entirely moot. In a July 10 statement carried by the state-run Korean Central News Agency, Kim Yo Jong, who heads the Central Committee of the Workers Party of Korea, said that the previous "theme" of North Korean-U.S. negotiations, "'denuclearization measures versus lifting of sanctions,' should change into a formula of 'withdrawal of hostility versus resumption'" of negotiations. Kim Yo Jong is the sister of North Korea's leader. "I am of the view that the…summit talks are not needed this year and beyond," she said, adding that her position "does not necessarily mean the denuclearization is not possible. What we mean…is that it is not possible at this point in time." "I remind the U.S. that denuclearization on the Korean peninsula can only be realized when there are major changes made on either side, i.e., the irreversible, simultaneous major steps to be taken in parallel with our actions," she noted. She did not elaborate on North Korea's negotiating position, but said that Pyongyang's previous offer to permanently dismantle the nuclear facilities at the Yongbyon complex in exchange for partial sanctions relief is no longer on the table. That offer was withdrawn after the Trump administration demanded an additional concession by North Korea during the second Trump-Kim summit in Hanoi, in February 2019. (See ACT, March 2019.) Kim Yo Jong's statement is consistent with earlier sentiments by officials in Pyongyang suggesting that the United States must reform its approach to North Korea if it seeks a diplomatic solution to the nuclear crisis at hand. The Trump administration has engaged in negotiations with North Korea on an intermittent basis since 2018, but Washington continues to demand that North Korea fully denuclearize before yielding any benefit of doing so. Washington also continues to hold the threat of mounting sanctions over Pyongyang in an attempt to economically force North Korea's denuclearization. To this, Kim Yo Jong said in her statement, "we are fully capable of living under sanctions, so there is no reason for us to be driven" by the United States. Rather, she said that U.S. sanctions have little influence over North Korea's decision-making. She stated that, in her reference to "major changes from the other side," she did "not mean the lifting of sanctions." Kim Yo Jong's address clearly outlines North Korea's conditions for renewed diplomacy with the United States, but it remains unclear whether negotiations will resume ahead of the election. The Trump administration has not commented on her statement, but during a July 10 visit to Japan, Steve Biegun, the U.S. special representative for North Korea, emphasized the "continued U.S. readiness to engage in dialogue" with North Korea.
North Korea Threatens to Scuttle Talks With the U.S. and Resume Tests
North Korea threatened on Friday to suspend negotiations with the Trump administration over the North's nuclear arms program and said its leader, Kim Jong-un, would soon decide whether to resume nuclear and missile tests. Addressing diplomats and foreign correspondents at a news conference in Pyongyang, the North Korean capital, Vice Foreign Minister Choe Son-hui said that personal relations between Mr. Kim and Mr. Trump were "still good and the chemistry is mysteriously wonderful." But she said that Secretary of State Mike Pompeo and John Bolton, Mr. Trump's national security adviser, had created an "atmosphere of hostility and mistrust" that thwarted the top leaders' negotiations in Hanoi, Vietnam, last month.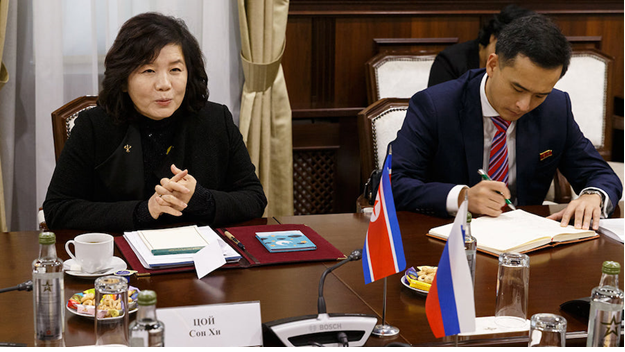 PC CREDIT: mage: Ministry of Defence of the Russian Federation
After the Hanoi meeting ended without a deal, the North Korean leader had serious doubts about the merits of continuing negotiations with Mr. Trump, Ms. Choe said. "We have neither the intention to compromise with the U.S. in any form nor much less the desire or plan to conduct this kind of negotiation," said Ms. Choe, according a report from Pyongyang by The Associated Press, which has a bureau there. She also said the North might end its self-imposed moratorium on tests of nuclear weapons and long-range missiles. "Whether to maintain this moratorium or not is the decision of our chairman of the state affairs commission," she said, referring to Mr. Kim by one of his several leadership titles. "He will make his decision in a short period of time." In a briefing with reporters on Friday, Mr. Pompeo sought to lower any tensions related to Ms. Choe's comments, framing them as nothing more than rhetorical speed bumps that tend to follow both summit meetings. To make the point, he noted that he had been assigned a "gangsterlike" reputation by the North Koreans, but the name-calling had done nothing to hinder negotiations. "I saw the remark that she made," Mr. Pompeo said of Ms. Choe. "We are hopeful that we can continue to have conversations and negotiations." Mr. Pompeo added that Mr. Kim had made multiple promises during the Hanoi summit meeting to Mr. Trump that he would take steps to wind down his nuclear program. Despite the unpredictable messaging, he said, the administration would continue to take Mr. Kim at his word. Mr. Bolton, for his part, told reporters at the White House that any suggestion that he and Mr. Pompeo undermined the negotiations were inaccurate, and that he had been in touch with national security officials in South Korea about the remarks. "We've discussed their reaction and our reaction," Mr. Bolton said. "I'd like to speak further within the U.S. government before we respond." The office of South Korea's president, Moon Jae-in, who did much to broker the talks between the North and the United States, said it was closely monitoring the situation. "Whatever the situation, our government will try its best to help resume North Korea-U.S. negotiations," it said in a statement. The breakdown of the Hanoi meeting revealed a wide gap between North Korea and the United States over how to proceed with denuclearization. North Korea insisted, as it has before, on moving in phases. In Hanoi, Mr. Kim offered to dismantle the plutonium, uranium-enrichment and other facilities at its Yongbyon site, north of Pyongyang, and demanded that Washington in return lift crucial sanctions that have been imposed on the North since 2016. Mr. Trump rejected the offer, demanding more substantial steps toward denuclearization. North Korea is widely believed to run at least one other uranium-enrichment plant outside Yongbyon, as well as keeping other elements of its nuclear program in secret locations around the mountainous country. American officials have said that North Korea asked the United States at the Hanoi talks to lift five rounds of sanctions that have been imposed since 2016. But North Korean officials, including Ms. Choe on Friday, have insisted that they demanded that only those sanctions that affected their country's civilian economy be lifted. United States officials are concerned that pulling back from major sanctions would diminish their leverage over North Korea and that the North would use any new revenues to subsidize its nuclear weapons program. United Nations sanctions imposed since 2016 have been the most punishing, banning all the North's key exports, including coal, and drastically cutting back its fuel imports. Mr. Kim took a 65-hour train ride to meet Mr. Trump in Hanoi, and it was seen as a major embarrassment for him to return home without badly needed sanctions relief. By avoiding direct criticism of Mr. Trump and blaming the Hanoi talks' breakdown mainly on his aides, Ms. Choe appeared to signal that North Korea still hoped Mr. Trump might soften Washington's position. But since the Hanoi talks, analysts have feared that North Korea might resume weapons tests in a bid to gain more leverage, and Ms. Choe's warnings on Friday could be a sign that North Korea is preparing to move in that direction. "On our way back to the homeland, our chairman of the state affairs commission said, 'For what reason do we have to make this train trip again?'" Ms. Choe said on Friday, according to The A.P. "I want to make it clear that the gangsterlike stand of the U.S. will eventually put the situation in danger." She said the United States had thrown away "a golden opportunity" in Hanoi, adding that the North was no longer interested in negotiating unless Washington changed its "political calculation." North Korea declared a moratorium on its nuclear and long-range missile tests after flight-testing its Hwasong-15 intercontinental ballistic missile in November 2017. A resumption of tests could scuttle the rapprochement between North Korea and the United States that began last year, after a series of belligerent threats from both sides during Mr. Trump's first year in office. Mr. Trump has said that he and Mr. Kim "fell in love" at their first meeting in Singapore last June, and he has cited the North's testing moratorium as one of his major diplomatic achievements. The Singapore meeting produced a vague agreement to transform bilateral relations, build peace and "work toward complete denuclearization of the Korean Peninsula." Mr. Trump has said he would be "very disappointed" if the North resumed weapons tests. After the breakdown of the Hanoi talks, satellite-image analysts concluded that North Korea had been rebuilding a partially dismantled structure at its Tongchang-ri satellite-launching site, which the country has used to test and develop engines and other technologies for its long-range missiles. North Korea tested what it said was a hydrogen bomb in September 2017. It also tested three long-range missiles in 2017. But outside missile experts say the North may need more tests to acquire all the technologies needed to build a reliable intercontinental ballistic missile.