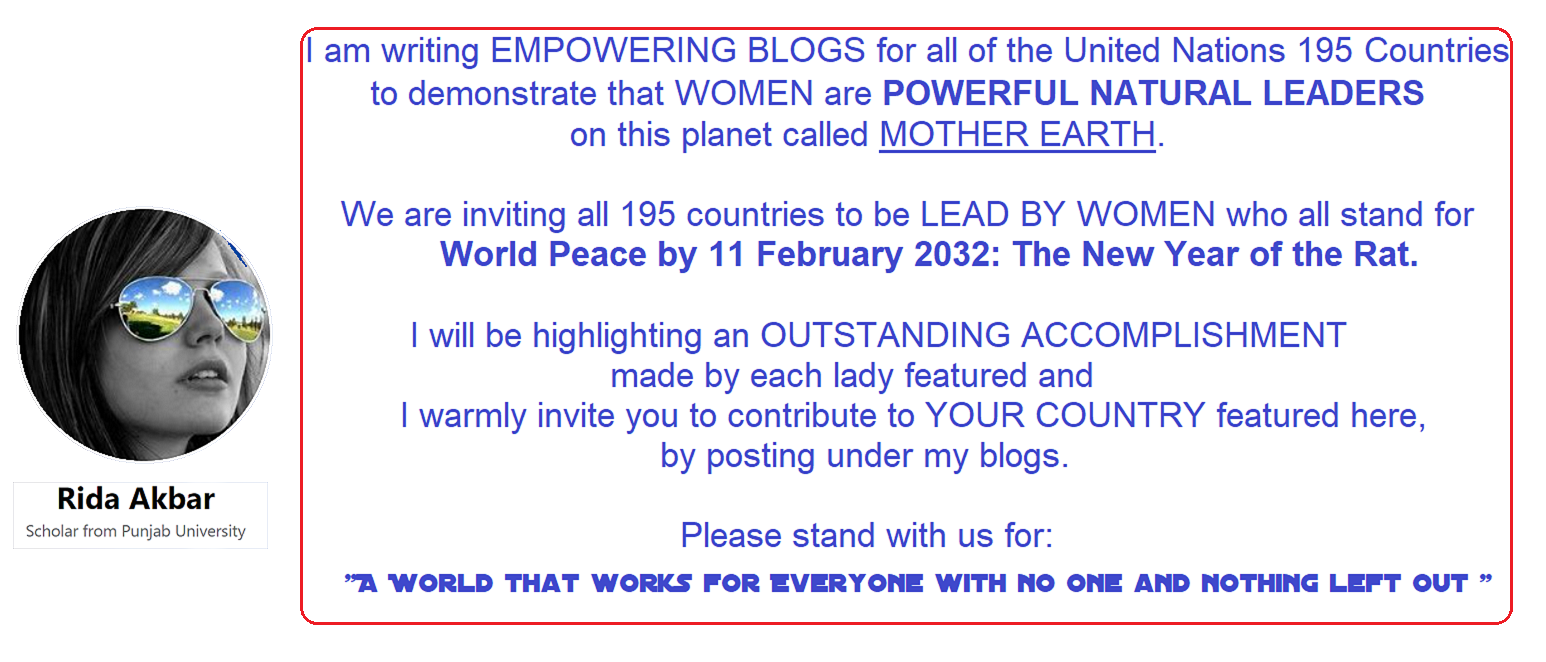 Sheikh Hasina Wazed, byname Sheikh Hasina, Wazed also spelled Wajed, (born September 28, 1947, Tungipara, East Pakistan [now in Bangladesh]), Bengali politician and leader of the Awami League political party, who twice served as prime minister of Bangladesh (1996–2001; 2009– ). Hasina is the daughter of Bangladesh's first President and founding father Sheikh Mujibur Rahman, the eldest of his five children.[2] Her political career has spanned more than four decades. She previously served as Opposition Leader from 1986 to 1990, and 1991 to 1995, then as Prime Minister from 1996 to 2001. She has been leading the Bangladesh Awami League (AL) since 1981. In 2008, she returned as Prime Minister with a landslide victory. In January 2014, she became Prime Minister for a third term in an unopposed election, as it was boycotted by the Opposition, and criticised by international observers. She won a fourth term in December 2018, following an election marred with violence and criticised by the Opposition as being rigged. Hasina is considered one of the most powerful women in the world, ranking 39th on Forbes Magazine' list of The World's 100 Most Powerful Women in 2020, 26th in 2018,] and 30th in 2017. She has also made a list of "top 100 Global Thinkers" of the present decade.] Hasina is a member of the Council of Women World Leaders, an international network of current and former female presidents and prime ministers. Sheikh Hasina was included in Time magazine's 100 Most Influential People in the World of 2018. Under her leadership Bangladesh has experienced democratic backsliding. Sheikh Hasina has been named as a Predator of journalists since 2014, by Reporters Without Borders in 2021 for curbing press freedom in Bangladesh.
Background and early life
Sheikh Hasina was born in Tungipara, East Pakistan, on 28 September 1947. Her father was Sheikh Mujibur Rahman, the father of the Bengali Nation, and the first President of Bangladesh. Her mother was Sheikh Fazilatunnesa Mujib She has said in many interviews that she had grown up in fear due to her father's political works She married physicist M. A. Wazed Miah in 1968, who was chosen for her by her father. During the peak of violence in the 1970 Pakistani general election, as well as her father's arrest, she had lived in refuge with her grandmother. She was active in the student politics of the University of Dhaka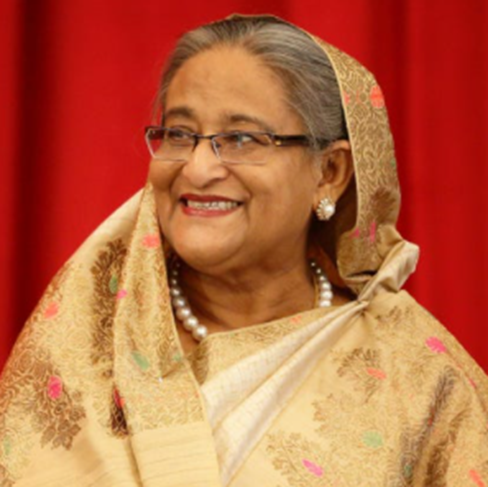 PC CREDIT: PHOTO BY GETTY IMAGES
Hasina was not in Bangladesh when her father, and most of her family, were assassinated on 15 August 1975 during a military coup d'état by members of the Bangladesh Army. She was in West Germany where her husband, M. A. Wazed Miah, was working as a nuclear physicist. She moved to Delhi in late 1975 and was provided asylum by India. Her son, Sajeeb Wazed Joy, studied at Indian boarding schools. During her time in India Hasina was not involved in politics, but became close friends with Suvra Mukherjee, wife of the future Indian President Pranab Mukherjee. Hasina was not allowed to return to Bangladesh until after she was elected to lead the Awami League Party on 16 February 1981, and arrived home on 17 May 1981.[15] She is the aunt of British MP Tulip Siddiq.
Early political career
1981–1991: Movement against military rule
While living in self-exile in India, Hasina was elected President of the Bangladesh Awami League (AL) in 1981.] The AL has been described as a "left-of-center" party.[22][23][24] Under martial law, Hasina was in and out of detention throughout the 1980s. In 1984, she was put under house arrest in February and again in November. In March 1985, she was put under house arrest for another three months. Her party, along with the Bangladesh Nationalist Party (BNP) under Khaleda Zia, continued to work to restore democratically elected government, which they achieved by the democratic election in 1991, won by the BNP. Hasina and AL participated in the 1986 Bangladeshi general election held under President Hussain Muhammad Ershad. She served as the leader of the Parliamentary Opposition in 1986–1987. She led an eight-party alliance as opposition against Ershad. Hasina's decision to take part in the election had been criticised by her opponents, since the election was held under martial law, and the other main opposition group boycotted the poll. However, her supporters maintained that she used the platform effectively to challenge Ershad's rule. Ershad dissolved the parliament in December 1987 when Hasina and her Awami League resigned in an attempt to call for a fresh general election to be held under a neutral government. During November and December in 1987, a mass uprising happened in Dhaka and several people were killed, including Noor Hossain, a Hasina supporter.
1991–1996: Transition to democracy and Leader of the opposition
After several years of autocratic rule, widespread protests and strikes had paralyzed the economy. Government officers refused to follow orders and resigned. Members of the Bangladesh Rifles laid down their weapons instead of firing on protestors and curfew was openly violated. Hasina worked with Khaleda Zia in organizing opposition to Ershad.[28] A huge mass protest in December 1990 ousted Ershad from power when he resigned in favour of his vice president, Justice Shahabuddin Ahmed, the Chief Justice of the Bangladesh Supreme Court. The caretaker government, headed by Ahmed, administered a general election for the parliament. The Bangladesh Nationalist Party led by Khaleda Zia won a general majority, and Hasina's Awami League emerged as the largest opposition party. Among three constituencies Hasina fought, she lost in two and won in one. Accepting election defeat, She offered her resignation as the party president but stayed on at the request of party leaders. Politics in Bangladesh took a decisive turn in 1994, after a by-election in Magura, held after the death of the MP for that constituency, a member of Hasina's party. The Awami League had expected to win back the seat, but the BNP candidate won through rigging and manipulation, according to the neutral observer who came to witness the election. Hasina led the Bangladesh Awami League in boycotting the parliament from 1994.
1996–2001: First premiership
Hasina with US President Bill Clinton at the Prime Minister's Office in Dhaka, 2000. The Awami League (AL), with other opposition parties, demanded that the next general elections be held under a neutral caretaker government, and that provision for caretaker governments to manage elections be incorporated in the constitution. The ruling Bangladesh Nationalist Party (BNP) refused to act on these demands Opposition parties launched an unprecedented campaign, calling strikes for weeks on end. The Government accused them of destroying the economy while the opposition countered that BNP could solve this problem by acceding to their demands. In late 1995, the MPs of AL and other parties resigned from parliament. Parliament completed its term and the 15 February 1996 Bangladeshi general election was held. The election was boycotted by all major parties except the ruling BNP, who won all the seats in the parliament as a result. Hasina described the election as a farce. The new Parliament, composed mostly of BNP members, amended the constitution to create provisions for a caretaker government (CTG). The 30 June 1996 Bangladeshi general elections were held under a neutral caretaker government headed by retired Chief Justice Muhammad Habibur Rahman. AL won the largest number of seats, 146, but fell short of the majority. Khaleda Zia, leader of the BNP who won 104 seats, denounced the results and alleged vote rigging. This was in contrast to what the neutral observers said, that the election was free and fair Hasina served her first term as Prime Minister (PM) of Bangladesh from 1996 to 2001. She became the first Bangladeshi PM since its independence to complete the entire term.[14] She signed the 30-year water-sharing treaty of the Ganges with India. Her administration repealed the Indemnity Act, which protected the killers of Sheikh Mujib, her father and first President of Bangladesh. Her government opened the telecom industry, which till then was limited to government-owned companies, to the private sector. In 1999 the government started the New Industrial Policy (NIP) which aimed to strengthen the private industry and encourage growth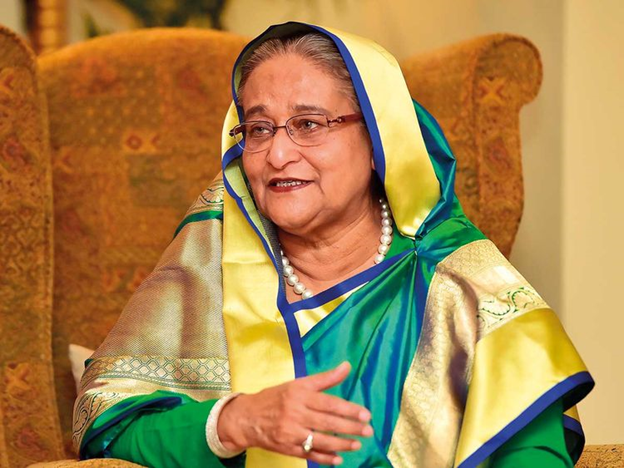 PC CREDIT: Bangladeshi Prime Minister Sheikh Hasina during an interview with Gulf News.Image Credit: Clint Egbert/Gulf News

Bangladesh joined two multilateral bodies, Bay of Bengal Initiative for Multi-Sectoral Technical and Economic Cooperation (BIMSTEC) and D-8 Organization for Economic Cooperation (D-8). The NIP allowed foreign companies to open 100 percent owned subsidiaries. In the 2001 Bangladeshi general election, although winning 40% of the popular vote (slightly less than BNP's 41%), AL won just 62 seats in the Parliament, while the 'Four Party Alliance' led by BNP won 234 seats, giving them a two-thirds majority in Parliament. Hasina herself ran in three constituencies,] and was defeated in a constituency in Rangpur, which included her husband's home town, but won in two other seats. Hasina and AL rejected the results, claiming that the election was rigged with the help of the President and the caretaker government. The international community was largely satisfied with the elections, and the 'Four Party Alliance' went on to form the government
2001–2008: Opposition period
The Awami League MPs were irregular in attending the Parliament during the following period In late 2003, the Awami League started its first major anti-government movement, culminating in the declaration by party general secretary Abdul Jolil that the government would fall before 30 April 2004. This failed to happen and was seen as a blow to the party and Hasina, who had implicitly supported Jalil.
2004: Assassination attempt
During her second term as leader of the opposition, political unrest and violence increased. MP Ahsanullah Master died after he was shot in May 2004. This was followed by a grenade attack on 21 August on an Awami League gathering in Dhaka, resulting in the death of 24 party supporters, including Ivy Rahman, party women's secretary. On 10 October 2018, a special court gave verdicts in two cases filed over the incident; the court ruled that it was a well-orchestrated plan, executed through abuse of state power, and all the accused, including BNP Senior vice-chairman Tarique Rahman (in absentia) and former top intelligence officials, were found guilty. The court handed down various punishments.] Shah A M S Kibria, Hasina's former finance minister, was also killed that year (2004) in a grenade attack in Sylhet. In June 2005, A. B. M. Mohiuddin Chowdhury, an incumbent of the Awami League, won the important mayoral election in Chittagong, the 'Port City' of, and second-largest city in, Bangladesh. This election was seen as a showdown between the opposition and the ruling party
2006–2008: Detention during the caretaker government and military intervention
The months preceding the planned 22 January 2007 elections were filled with political unrest and controversy. Following the end of Khaleda Zia's government in late October 2006, there were protests and strikes, during which 40 people were killed in the following month, over uncertainty about who would head the caretaker Government. The caretaker Government had difficulty bringing all parties to the table. AL and its allies protested and alleged that the caretaker Government favored the BNP. The interim period was marked by violence and strikes. Presidential Advisor Mukhlesur Rahman Chowdhury negotiated with Hasina and Khaleda Zia and brought all the parties to the planned 22 January 2007 parliamentary elections. Later Hussain Muhammad Ershad's nomination was cancelled; as a result, the Grand Alliance withdrew its candidates en masse on the last day possible. They demanded to have voters' lists published. Later in the month, President Iajuddin Ahmed was compelled to impose a state of emergency and thus Lt General Moeen Uddin Ahmed took over the Government. Political activity was prohibited. Fakhruddin Ahmed became the chief advisor with the support of the Bangladesh Army. In April 2007, Hasina was charged with graft and extortion by the military-backed Caretaker Government during the 2006–08 Bangladeshi political crisis. She was accused of having forced Bangladeshi businessman Tajul Islam Farooq to pay bribes in 1998 before his company could build a power plant. Farooq said that he paid Hasina for approving his projec On 18 April 2007, the Government barred Hasina from returning, saying that she had made provocative statements and that her return could cause the disorder. This was described as a temporary measure. The Caretaker Government had also been trying to get Khaleda Zia to leave the country. Hasina vowed to return home, and on 22 April 2007, a warrant was issued for her arrest for murder. Describing the case against her as "totally false and fake", Hasina said that she wanted to defend herself against the charges in court. On 23 April 2007, the arrest warrant was suspended,] and on 25 April 2007, the ban on Hasina's entry was dropped. After spending 51 days in the United States and the UK, on 7 May 2007 Hasina returned to Dhaka, where she was greeted by a crowd of several thousand. She told reporters that the Government should not have delayed her return. On 16 July 2007, Hasina was arrested by police at her home and taken before a local court in Dhaka. She was accused of extortion and denied bail, and was held in a building converted into jail on the premises of the National Parliament. AL said the arrest was politically motivated.[60] On 17 July 2007, the Anti-Corruption Commission sent notices to both Hasina and Khaleda Zia, instructing them to provide details of their assets within one week Hasina's son Sajeeb Wazed Joy was out of the country and said he would try to organise a worldwide protest. These arrests of the political leaders were widely seen as a move by the military-backed interim Government to force Hasina and Zia out of the country and into political exile. United Kingdom MPs condemned the arrest. On 11 April 2007, the police filed murder charges against Hasina, alleging that she masterminded the killing in October 2006 of four supporters of a rival political party. The four alleged victims were beaten to death during clashes between AL and rival party activists. Hasina was visiting the United States at the time. On 30 July 2007, the Dhaka High Court suspended Hasina's extortion trial and ordered her release on bail. On 2 September 2007, an additional case was filed against Hasina by the Anti-Corruption Commission regarding the awarding of a contract for the construction of a power plant in 1997, for which she allegedly took a bribe of 30 million takas and kept the contract from going to the lowest bidder. Six others were also accused of involvement. A graft case was filed against Zia on the same day On 13 January 2008, Hasina was indicted on extortion charges by a special court along with two of her relatives, her sister Sheikh Rehana and her cousin Sheikh Selim. On 6 February, the High Court stopped the trial, ruling that she could not be prosecuted under emergency laws for crimes alleged to have been committed prior to the imposition of the state of emergency. On 11 June 2008, Hasina was released on parole for medical reasons. The next day she flew to the United States to be treated for hearing impairment, eye problems and high blood pressure. Syed Modasser Ali, her personal physician, threatened to sue the caretaker Government over negligence regarding Hasina's treatment during her detention. The caretaker Government held mayoral elections in which AL won 12 out of 13 mayoral elections. The caretaker Government extended her two-month medical parole by one more month
2009–2014: Second Premiership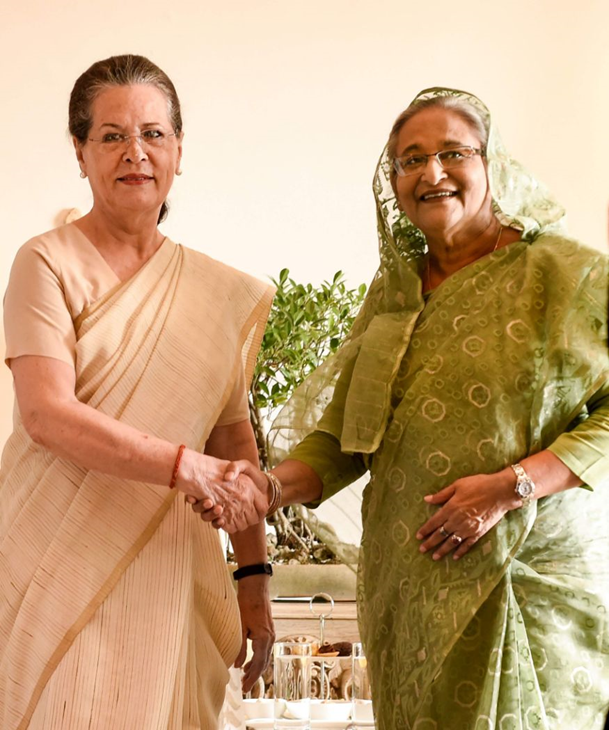 PC CREDIT: Congress interim President Sonia Gandhi met Bangladesh premier Sheikh Hasina, a day after she met Prime Minister Narendra Modi. (Image: PTI)
Hasina with British PM David Cameron in London (January 2011) On 6 November 2008, Hasina returned to Bangladesh to attend the 2008 Bangladeshi general election scheduled for 29 December. She decided to participate in the parliamentary election under the name of "Grand Alliance" with the Jatiya Party, led by Hussain Muhammad Ershad, as its main partner. On 11 December 2008, Hasina formally announced her party's election manifesto during a news conference, and vowed to build a "Digital Bangladesh" by 2021 Her Bangladesh Awami League and its Grand Alliance (a total of 14 parties) won the 2008 general election with a two-thirds majority numerically the party controlled 230 seats out of 299.] Khaleda Zia leader of the BNP-led coalition (4-Party Alliance) rejected the results of the election by questioning the Chief Election Commissioner "for stage-managing the parliamentary election".Hasina was sworn into office as the Prime Minister for the second time on 6 January 2009. Independent observers declared the elections were held in a festive and peaceful atmosphere.] After being Prime Minister, Hasina reneged on her agreement with the Jatiya Party to make Ershad, its leader, the President. Hasina removed many of her parties politicians who supported reforms forced by the previous caretaker Government. She had to confront a major national crisis in the form of the 2009 Bangladesh Rifles revolt over a pay dispute, that resulted in 75 deaths including Bangladesh Army officers. Some Bangladesh Army officers blamed Hasina for the deaths by not sending in the Army earlier. 2011, the Parliament removed the law that required non-party Caretaker government hold elections. In 2012, she maintained a hard line stance and refused to allow entry to Rohingya refugees fleeing Myanmar during the 2012 Rakhine State riots.[87]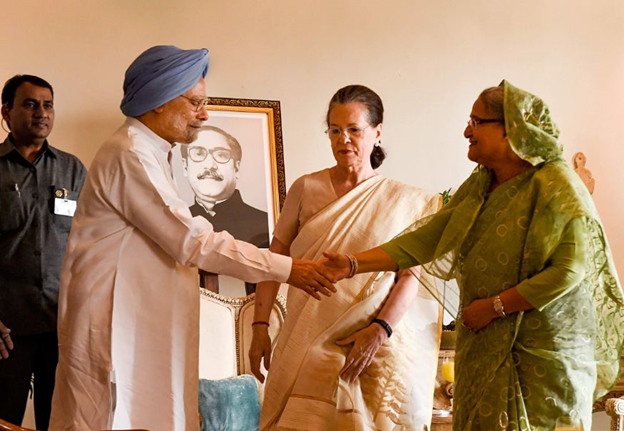 PC CREDIT: Former Prime Minister Manmohan Singh greets Bangladesh premier Sheikh Hasina as Sonia Gandhi looks on. (Image: PTI)
Hasina with Russian President Vladimir Putin in Moscow in January 2013 On 27 June 2013, a case against Hasina and 24 other Bangladeshi Ministers and security personnel was lodged at the International Criminal Court (ICC) for the alleged violation of human rights. She has been "credited internationally" for the achievement of some of the United Nations Millennium Development Goals. In 2012 a coup attempt against her by mid ranking army officers was stopped, with the Bangladesh Army being tipped off by an Indian intelligence agency. The Bangladesh Army described the army officers involved as being Islamic extremists. In 2012, she had a falling out with Muhammad Yunus, Nobel laureate and founder of Grameen Bank, following a Norwegian documentary that was critical of Yunus transferring money from Grameen Bank to an affiliate organisation. Yunus transferred the money back after the documentary aired but it increased scrutiny of the Bank by the Government and media in Bangladesh. Yunus lost control of his Bank following a court verdict. He criticised Hasina and other Bangladeshi politicians. She responded by saying she did not understand why Yunus blamed her when it was a court verdict that removed him from Grameen Bank. During this term, her Government-led and succeeded in forming the International Crimes Tribunal (Bangladesh), to investigate and prosecute suspects involved in the Bangladesh genocide, committed by the Pakistan Army and their local collaborators, Razakars, Al-Badr, and Al-Shams during the Bangladesh Liberation war in 1971.
2014–2019: Third premiership
Sheikh Hasina secured a third successive term in office with her ruling Awami League and its Grand Alliance partners, winning the 11th general election by a landslide. With 267 seats under its belt this time, the ruling alliance surpassed its 2008 poll success – when it secured 263 parliamentary seats. Sheikh Hasina's Awami League has run Bangladesh since 2009 and won 288 seats in this election. One of the leading opposition parties accused it of using stuffed ballot boxes. BNP, the main opposition party that has been out of power for 12 years and boycotted the 10th general polls in 2014, fared extremely poorly. Bagging only eight seats, the party and its Jatiya Oikya Front alliance have been marginalized to the weakest opposition ever, since Bangladesh's post-Ershad democratic restoration in 1991. A general election was held in January 2014 which was boycotted by the major parties of the opposition alliance, including BNP The election was controversial with reports of violence and an alleged crackdown on the opposition in the run-up to the election. 153 seats (of 300) went uncontested in the election, of which Awami League won 127 by default. Hasina's Awami League won a safe parliamentary majority with a total of 234 seats.[100][101] As a result of the boycott and violence voter turnout was lower than the previous few elections at only 51%. The day after the result, Hasina said that the boycott should "not mean there will be a question of legitimacy. People participated in the poll and other parties participated." Despite the controversy Hasina went on to form a Government with Ershad's Jatiya Party (who won 34 seats) as the official opposition. Further information: Bangladeshi general election, 2014
Hasina with G7 Leaders and guests, Shima Kanko Hotel in Japan, 2016 The election has been called "an electoral farce".The BNP wanted the elections to be held under a neutral caretaker Government and had hoped to use protests to force the government to do so. In March 2017, Bangladesh's first two submarines were commissioned.[108] In September 2017, Hasina's government gave temporary shelter and aid to about a million Rohingya refugees and urged Myanmar to end violence against Rohingya Muslims. The majority of the Bangladeshi people supported the government's decision to provide refugee to Rohingya. Hasina received credit and praise for her actions. Hasina supported calls to remove the Statue of Justice in Bangladesh Supreme Court. With some people saying the Government was bowing down to the pressure of those who have used religion for political ends.] Hasina is a patron of the Asian University for Women, led by Chancellor Cherie Blair, and including the First Lady of Japan, Akie Abe, as well as Irina Bokova, the Director-General of UNESCO
2019–present: Fourth premiership
Hasina won her third consecutive term, her fourth overall, when her Bangladesh Awami League won 288 of the 300 parliamentary seats. The leader of the main Opposition party, Kamal Hossain, declared the vote "farcical" and rejected the results. Before the election, Human Rights Watch and other rights organisations had accused the Government of creating an intimidating environment for the Opposition. The New York Times editorial board described the election as farcical, the editorial stated that it was likely Hasina would have won without vote-rigging and questioned why she did so. In May 2021, Hasina provided the inaugural address for the opening of a new headquarters for the Bangladesh Post Office, named the Dak Bhaban. In her address, Hasina urged for further development of the postal service in response to the COVID-19 pandemic in Bangladesh. Developmental measures outlined in the address include continuing the service's digital transformation, and the construction of cooling units in postal warehouses to pave the way for the sending of perishable food by mail.
The Padma Bridge graft scandal was a political incident in Bangladesh that involved the ruling Bangladesh Awami League's government who allegedly sought, in exchange for the awarding of the construction contract, large amount of money from the Canadian construction company SNC-Lavalin. The allegations were subsequently found to be false and without merit, and the Canadian Court subsequently dismissed the case. As a result of the allegations, The World Bank pulled out of a project to build Bangladesh's largest bridge, citing corruption concerns, cancelling $1.2bn (£764m) credit for the 6 km-long (four miles) road-rail bridge over the Padma River. Hasina removed the Communication Minister Syed Abul Hossain from office three months after dismissal of the case. On 11 July 2012, Mirza Fakhrul Islam Alamgir said the Awami League government should make public a letter sent by the World Bank, wherein the Bank brought graft charges against Hasina and three other figures. On 17 January 2016, Sheikh Hasina stated that an MD of a bank from the USA provoked the WB to cancel the loan On 24 January 2017, in a speech in parliament, Prime Minister Hasina blamed Muhammad Yunus for the World Bank's pulling out of the project. According to her, Yunus lobbied with the former United States Secretary of State Hillary Clinton to persuade the World Bank to terminate the loan. On 10 February 2017, an Ontario (Canada) Superior court justice dismissed the bribery-conspiracy case for lack of any proof. In 2018 Hasina's government passed the controversial "Digital Security Act 2018", under which any criticisms of the Government over the internet or any other media, would be met with various degrees of prison terms. This was heavily criticized both domestically and internationally for suppressing peoples freedom of speech as well as undermining press freedom in Bangladesh.
Hasina married M. A. Wazed Miah in 1968. Her husband died on 9 May 2009.[1][129] She has one son, Sajeeb Wazed, and one daughter, Saima Wazed. Saima's's father-in-law is former minister of Expatriates' Welfare and Overseas Employment and present minister of LGRD, Khandaker Mosharraf Hossain. Hasina's only living sibling is Sheikh Rehana who is also a Bangladesh Awami League politician.
Outstanding Achievements
Awards & Achievements
In 1997, alongside the Queen of Spain and the United States First Lady Hilary Clinton, she was invited to co-chair the 'Micro-credit Summit' which became an important humanitarian movement. In 1998, she was awarded the 'Mother Teresa Award' by the 'All India Peace Council'. She was given the award for her peace efforts involving the tribes of Bangladesh and her efforts to prohibit the use of anti-personnel mines, the first country in South Asia to make this move. In 1998, she was also awarded the 'M K Gandhi Award' in Norway's 'Mahatma M K Gandhi Foundation'. She received the honor for her significant contribution to promoting peaceful understanding and democracy in Bangladesh.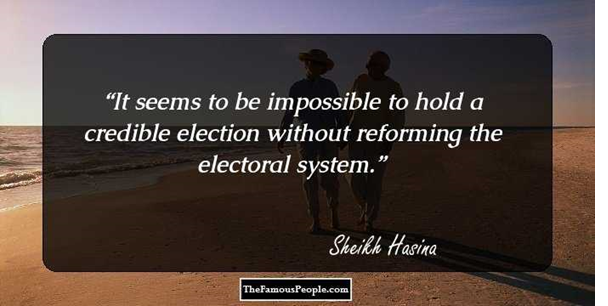 Sheikh Hasina: Leader who overcame all odds to push Bangladesh's success story
Much credit for Bangladesh's incredible rise goes to Sheikh Hasina Wajed, the daughter of Sheikh Mujibur Rahman and the longest-serving prime minister of the country. She is one of the only two women heads of state in Asia. Her soft manner and steely determination have often been discussed, but the world knows little about her political journey and her contribution to the growth of Bangladesh. Hasina's journey has been a fascinating one as has seen military rule, detention and has lived in exile. She has even survived assassination attempts. Her political career began in the late 1960s when she served as her father's political messenger during his numerous stints in jail. In 1975, she was in West Germany when her father, mother and three brothers were assassinated. She was left with no one but her sister and the incumbent PM spent the next six years of her life in exile in India. It was during this self-exile that Hasina was elected as the president of the Awami League. On her return to Dhaka in 1981, she became a prominent and outspoken advocate for democracy. In the years that followed, she fought the military generals of Bangladesh and initiated several steps to secure basic human rights for her countrymen. In 1996, Hasina became the Prime Minister of Bangladesh for the first time and in her first stint, she achieved laudable successes in many fields. The most significant achievements were the 30-year Ganges water-sharing treaty with India, the peace accord on the Chittagong hill tracts, construction of the Bangabandhu Bridge, allowances for distressed women, widows and the disabled and the 'Ashrayan' project aimed at eradicating homelessness. In 2009, she was re-elected and this time she oversaw the resolution of maritime disputes with Myanmar and India. Bangladesh's GDP growth surged to 6 per cent and an estimated 50 million Bangladeshis were elevated to the middle-income group. There was a slump in the poverty level from 38 per cent in 2006 to 24 per cent in 2013. In 2014, she secured the top office for the third time and the per capita income of Bangladesh rose to $1,602 with the poverty rate slumping further to 22.4 per cent. The forex reserves rose to $32 billion and in 2017, Bangladesh's GDP stood at $250 billion dollars. In 2019, the annual GDP growth was 8.15 per cent. Hasina has been bestowed with several honours, including the Mother Teresa award in 1998 and the Indira Gandhi Peace Award in 2009. She has also received the Unesco 'Peace Tree' award in 2014 and has featured on 59th place in the 2015 Forbes' list of 100 Most Powerful Women. In 2018, she received praise for accepting Rohingya refugees. She is also known for her wit and gentle diplomacy, but like any other leader, she's not been able to escape some controversies. Some say that under her tenure Bangladesh has witnessed democratic backsliding. It is an accusation which gets complex, the deeper one tries to dig